Benchmark Electronics (NYSE:BHE) is a Top 10 company in the electronic manufacturing services (EMS) industry. The company offers services from initial product design to volume production, including direct order fulfillment and post-deployment. These services are provided for OEMs of computers, medical devices, industrial control equipment for aerospace and defense, testing and instrumentation products, and also telecom equipment.
Benchmark is in a very low margin industry, with operating margins of only about 3%. Despite the fact that the company is often dealing with commodity type production, the business is a very attractive value today as it is priced at only 0.9 of tangible book. This is less than half the price of major competitors who have similar business prospects, and it is particularly puzzling when you consider that the industry growth rates are expected at close to 9% annually over the coming five years. With these thoughts in mind, I recommend Benchmark as a solid value stock today, and in this article, I'll present my thesis as to why this company deserves consideration for your portfolio.
Note: Unless otherwise stated, financial figures are sourced from the 2012 annual report.
Business Prospects - Growth Looking Bright for EMS Companies
The EMS industry has seen positive overall growth in the past few decades. In the past 10 years, revenues for Benchmark have grown about 3.5% CAGR, although quite erratic around the great recession years: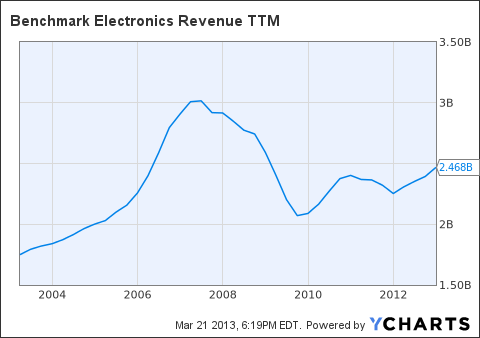 BHE Revenue TTM data by YCharts
Sales have been creeping up in the past few years again, but at $2.47B they are still well below the peak of $2.91B in 2007. According to an industry report from New Venture Research, the industry should grow at a CAGR of 9.7% in the coming five years. This is much faster than in the past five years, where Benchmark actually saw negative growth in EPS as well as sales. A second report from BCC Research predicts growth in the coming five years to be between 7.9% and 9.3%. Going forward I like the looks of this industry. A rough few years around the great recession and then again in 2011 with the Thailand floods has seen some unpredictability in revenue and earnings, but now with this all largely in the past, growth is again looking brighter. The industry has also branched out into many different segments in recent years, and for Benchmark this means that printed circuit boards for computers is by no means all that it does. It also offers full engineering solutions including product design, prototyping, and test automation. This trend should only continue to increase, as cost-conscious customers who are looking for ways to improve margins are starting to rely on EMS providers to move higher up the value chain where they can outsource even more services to them. Benchmark company management recently indicated it has a very positive view on growing outsourcing opportunities which should continue to drive revenue and earnings growth.
Looking specifically at Benchmark's recent performance, the company has maintained a relatively consistent sales split the past three years between the main industries it supports:

Recent Q4 2012 results were much better than expected, as the company beat its own guidance with revenues of $634 million - about 5% higher than forecasted. The company routinely beats analyst earnings estimates, having done so the past 5 quarters in a row. Benchmark attributed the strong sales in Q4 mostly to strength in the computing segment which grew to 33% of total sales, a higher percentage of the mix compared to all of 2012 shown above. The computing segment is not broken down in detail, but management alluded to strong growth in cloud computing, SaaS and Data storage as a major factor clearly offsetting weakness in the personal PC space. Also more than 25 new large bookings were made in the quarter, seven of those being major engineering customers with annual revenues expected to be $100 - $120m. Going forward however Q1 2013 is forecast to be soft, with revenue dropping to about $545m. There are some effects of seasonality here, as the past few years the computing industry has been much lighter in Q1. Also the company attributes this to ramping up of new customer projects, and forecasts much stronger demand in the second half of 2013. Overall though all segments are expected to show some uncertainty with continued macroeconomic challenges around the world, so growth can be expected to be lumpy and 2013 is likely to be slower overall than 2012.
An Attractive Valuation to go Along with Positive Growth Prospects
Relative Valuation
Benchmark has several major competitors in the EMS industry - a few of which are much larger. The largest is Hon Hai (Foxconn), the manufacturer of Apple's (NASDAQ:AAPL) iPhone. The two largest publicly-traded competitors include Flextronics (NASDAQ:FLEX) and Jabil Circuit (NYSE:JBL). Looking at an EV/EBITDA comparison with these later two, Benchmark would seem to be fairly priced:
| | |
| --- | --- |
| Company | EV/EBITDA |
| Benchmark Electronics | 5.02 |
| Jabil Circuit | 4.48 |
| Flextronics | 4.46 |
However, when you dig a little deeper and factor in other aspects, Benchmark seems undervalued. For example, the price to tangible book value of Jabil and Flextronics is consistently over 2, and Benchmark is now near its lowest point in 10 years at under 0.9: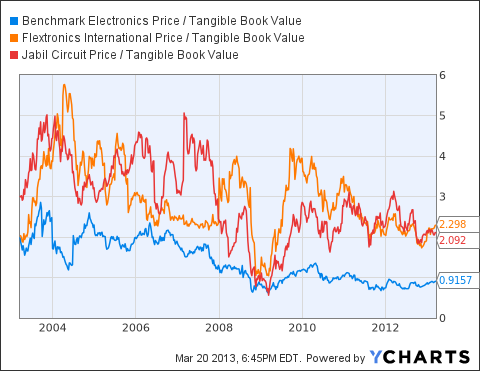 BHE Price / Tangible Book Value data by YCharts
This might make sense if the company was underperforming its peers, but clearly at the present time it is not. Revenue growth last quarter yoy was +13% which is well ahead of Jabil (+4.3%) and Flextronics (-18%). Granted management does expect a significant drop in Q1 2013, but clearly the company is executing just as well as Flextronics which has seen steep declines recently. All three companies have similar gross and operating margins as well. In terms of future growth, analysts predict long term growth of Jabil to be +12%, Flextronics to be +6%, and Benchmark around +11%.
Absolute Valuation
Looking at the expected EMS industry growth of about 9%, coupled with Benchmark's continued inorganic earnings growth through share buybacks, I think 11% is a reasonable figure to use for expected growth in free cash flow. In fact in the past 6 years, the company has given back 3-4% annually to shareholders in the form of buybacks. If this trend is to continue, growth can be even higher. Assuming 11% annual growth applied to the trailing free cash flow stream of 1.81/share, I estimate the company to be worth close to $28/share, which presents a very attractive margin of safety from today's price. This is not even counting the nearly $7/share in cash on the balance sheet which would bring it up to $35. Even if industry growth proves to be much slower than hoped due to increased competition or unforeseen technology changes, the shares should still be worth more than $20 as tangible book stands currently about this level. For those who put more weight on reported EPS figures rather than FCF, which is much lower at $1.01/share in the TTM, this would bring the valuation down to about $22 if you include cash on the balance sheet. Either way, I can feel comfortable the shares should be worth at a minimum $22, which in itself provides an upside of more than 20%. This is further supported by other valuation metrics, such as the median P/S value which stands around $20.6 currently, or the Graham Number which is considered a conservative valuation method and prices the company at $24.35.
Catalysts for 2013-2014
The company management stated that it expects a weak first half in 2013. However, demand should pick up after this point, and I see several catalysts going forward which could help the stock to appreciate towards a more fair valuation:
Improving economic sentiment in the developed world, including further stabilization in the European debt crisis will improve overall demand and drive growth.
Market consolidation could accelerate as the larger EMS players want to increase vertical specializations.
Continued strong growth in computing. Everyone is aware of the weakness in the PC market, but as the largest customer of Benchmark is IBM (not a PC OEM anymore), the company is benefiting from renewed investments in cloud computing infrastructure as technologies such as SaaS and Big Data are continuing to gain traction in the marketplace. The continued exponential growth of data storage in the coming decade should be a positive catalyst.
Growth in other key segments, including medical. In Q4, the medical business grew 10%, and this strength should also continue as the overall healthcare sector continues to see increasing demand fueled by aging populations.
Rebound in Telecom equipment spending is to be expected in the coming few years. Making up about 25% of Benchmark's business, the company should be well positioned to take advantage of increasing Capex spending by major telecom providers, which is forecasted to be 4% growth in 2013 and much higher in some sub segments due to 3G upgrades and LTE roll outs. In Q4 2012, Telecom was actually weak, so any rebound here will further strengthen the growth story.
Continued success in winning new bids. The company reported very strong sales in Q4 2012 with seven new major projects. The current backlog stands at about $1.5B, and management sees continuing momentum here as customers are increasingly looking to cut costs with the current uncertainty in the macroeconomic environment. This is causing EMS providers to become increasingly important and starting to deliver higher value added services.
The Bottom Line
Priced below tangible book, I don't see very much downside potential for Benchmark. The company is a well established player in the EMS industry and has relatively strong growth expectations going forward with various potential catalysts in the coming few years. Despite some tough years through the great recession followed by the Thailand floods, the company has weathered the storm very well and shown that it can adapt to changing industry dynamics. With future prospects looking very good, it doesn't make sense the company should be priced near the bottom of its 10-year P/B range. Therefore with potential upside well in excess of 50%, I like the risk/reward profile of this company and I think it is a good bet for the remainder of 2013.
Disclosure: I am long AAPL. I wrote this article myself, and it expresses my own opinions. I am not receiving compensation for it (other than from Seeking Alpha). I have no business relationship with any company whose stock is mentioned in this article.
Additional disclosure: I may initiate a long position in BHE over the next 72 hours.