Chiquita (NYSE:CQB) is attempting to turn-around this beleaguered brand. In this article we will investigate whether the bonds are appropriately reflecting the risk of this issue by investigating Chiquita and Dole (NYSE:DOLE) to see what they say about the following:
The gross margin trend
The SG&A level
The leverage and balance sheet cushion
Gross Margins and SG&A
The trend for gross margins for CQB has been less than encouraging as seen in the table below yet the bonds seem to be pricing in a rebound of the margins to levels seen in 2011 and 2010. It is my belief that this optimism is misguided based on the comparable margins of Dole which suggests that not only is an improvement unlikely, it is quite plausible that margins have further to fall.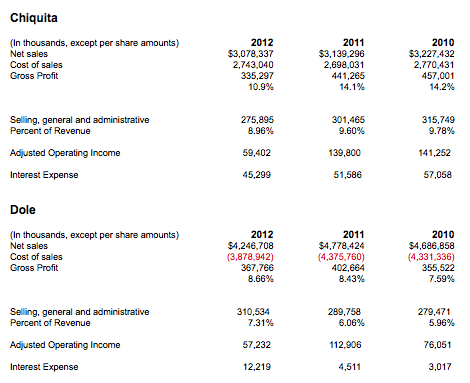 In addition, SG&A and interest coverage tell an equally concerning tale. Dole operates with a lower SG&A rate with appreciably lower interest expense. This is not a prescription for margin expansion.
Leverage and Balance Sheet
There are number of issues with the assets supporting the debt of CQB. Current assets have continued to decline and more concerning, they are reliant on perishable inventories that do not do well in a distress/restructuring scenario. So, if margins fail to improve as anticipated, the structural nature of the company's balance sheet actually make it more likely that they will decline further.

The fall back for this credit is the PP&E which is highly specialized and unlikely to do well in a distress situation. In fact, the most likely acquirer of the assets is Dole but is unlikely that they would submit a strong bid to help a major competitor raise cash.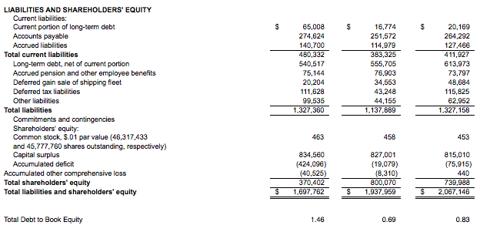 Lastly, while the total debt level has come down over the last three years, the equity cushion has been depleted much more rapidly, further limiting the maneuverability of the company. The current income statement does not suggest that the book equity value will turn favorable any time soon. The most likely scenario is that the book equity will continue to decline further reducing the company's flexibility.
The wild card in this analysis is the value of the brand. There is an argument to be made that a high quality suitor similar to the circumstance with Heinz could materialize but this is far too remote a possibility.
Conclusion
At a current yield of 6.37%, it appears to me that there are far more attractive issues relative to the risk of the Chiquita bonds (CUSIP: 170032AT3). If you own either the bonds or the equity of CQB, exercise caution.
Disclosure: I have no positions in any stocks mentioned, and no plans to initiate any positions within the next 72 hours. I wrote this article myself, and it expresses my own opinions. I am not receiving compensation for it (other than from Seeking Alpha). I have no business relationship with any company whose stock is mentioned in this article.