Today we see gold breaking southward and already having fallen through the $1600/ounce level, which is certainly troublesome but not worth panicking over at this point. We are still within our comfort area in the +/- category for the yellow metal and with our bullishness on the over stock market, economy in general and belief that inflation shall creep into asset prices soon...well we see money being made.
We are not buyers of everything this morning or with reckless abandonment, but rather diligent buyers of value and yield if we can find it. It is not yet time to say "damn the torpedos, full speed ahead," but it soon could be if Europe would ever get its act together.
Commodity prices this morning are as follows:
Gold: $1597.10/ounce, down by $7.40/ounce
Silver: $28.775/ounce, down by $0.04/ounce
Oil: $95.44/barrel, up by $0.63/barrel
RBOB Gas: $3.073/gallon, up by $0.0104/gallon
Natural Gas: $3.911/MMbtu, up by $0.046/MMbtu
Chart of the Day
Oil & Natural Gas
This morning we want to point out a name which we have not discussed in a while which our readers who are traders should remember quite well. Kodiak Oil & Gas (NYSE:KOG) is a name which we have traded in and out of successfully and highlighted in our articles. It is one of those stocks which has rewarded its long-time shareholders and allowed traders favorable entry points to set up positions and then rotate out of. We have found the $9/share area to be one of those entry points, for both bullish and bearish trades. A lot of money can be made when one enters on the right side in this area. We tend to be of the camp right now that would wait for a pullback to the $8.80 or maybe even $8.60/share range before buying but long-term we do see this one getting back above $9.50 and surely $10/share on the success of the Bakken.
The other Bakken name we have been discussing is EOG Resources (NYSE:EOG) which we think is one of the more conservative plays in the unconventional oil and natural gas space. The production growth and strength of the balance sheet shall allow the company to be an acquirer moving forward and present them with opportunities that many others are not presented with. That has been our thinking all along, and yesterday the company actually did move into another play with their deal to work with ZaZa Energy (NASDAQ:ZAZA) in the Eaglebine. EOG will become the majority partner earning up to 75% in the 100% owned ZaZa acreage and 50% in the 75% owned ZaZa acreage. On the surface this looks like a good deal for both companies and we would add that it creates good value in ZaZa shares as they will benefit from having EOG as a partner as well as the potential that their partner may one day want to own 100% of this joint venture.
We have been asked our opinion on the situation at Continental Resources (NYSE:CLR) and we would view this as a buying opportunity. It is rare that anyone gets the opportunity to buy a great company just coming off of highs at a discount because of some outside force or factor which has little if anything to do with the day-to-day operations of the company. Yes the largest shareholder could lose a portion of his stake, and a very large portion at that, but the future ex-wife is not going to just begin a fire sale of her shares and destroy the overall value of what she can get. Rich people have professionals to deal with this and there would probably be an agreement whereby the husband agrees to the shares being turned over in a settlement on the condition that only x number or x% of the can be sold in any month and/or year. That is our take on it anyways.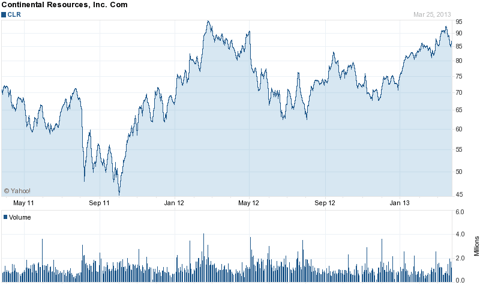 Chart courtesy of Yahoo Finance.
'Cliff Watching'
As promised we are continuing to watch the saga unfold in the share price at Cliffs Natural Resources (NYSE:CLF) and yesterday it appeared that the shares found some support around $20.50/share. In situations when investors are trying to build their confidence back up, it is the small victories which lead to bigger things and yesterday was a small victory. For the time being it appears that $20/share will be serving as a floor here and that we can continue to call this section 'Cliff Watching' instead of 'Cliff Diving' - something that should be a relief for shareholders! There is still a lot of trouble ahead for both the coal and iron ore industries ahead, but with the beating that Cliffs has taken over the past few months and recently, we believe that the worst should be over...assuming management does not have any more surprises or missteps in store for shareholders.
Days like yesterday are what embolden shareholders to believe...more bottom left to the upper right price action is needed here as opposed to the all too familiar upper left to lower right price action investors have become accustomed to.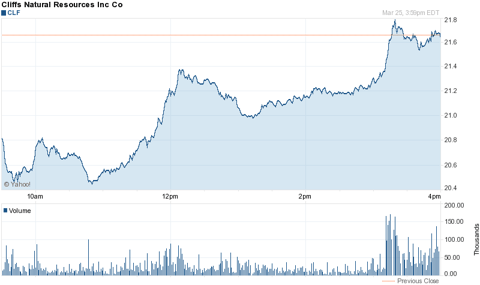 Chart courtesy of Yahoo Finance.
Disclosure: I have no positions in any stocks mentioned, and no plans to initiate any positions within the next 72 hours. I wrote this article myself, and it expresses my own opinions. I am not receiving compensation for it (other than from Seeking Alpha). I have no business relationship with any company whose stock is mentioned in this article.