Apple (AAPL) has quietly climbed four percent in the past month and investors are holding their breath to see if an Apple rally is forming. Apple started 2012 with a strong run but has been one of the worst performing stocks in 2013. Optimism surrounding the company has diminished and the media is now extremely critical of Apple. Now more than ever it is important to monitor developments for Apple and its competitors. Below I will layout the reason why I continue to recommend Apple and, as a supplement, present complementary option strategies. For details on my methodology please consult the first article in the series as well as my Instablog.

(Source: Yahoo! Finance)
Apple finished another strong week as shares jumped 4.1% on positive news. I have been following both Apple and Google (NASDAQ:GOOG) very closely and Google's relative outperformance is finally starting to reverse. In the year ending March 8, 2012, Google had outperformed Apple by nearly sixty percent and the true divergence between the companies began in December 2012. If we fast-forward to March 4, 2013, you can see from the chart above that AAPL has jumped ten percent while Google has lagged approximately one percent. It is critical to follow these two companies in tandem as investors commonly shift their technology allocation between these two best of breed companies.

From a technical orientation, Apple certainly appears overbought as both the Relative Strength Index (RSI) and Money Flow Index (NASDAQ:MFI) crossed into overheated territory. After a brief reversion to the mean, the metrics jumped sharply higher and the stock is again technically overbought. This pattern emerged earlier in 2013 when Apple quickly jumped ten percent and the shares subsequently retested the lows of the year. Note that I only say that the stock is technically overbought as technical analysis is simply another tool in an investor's toolkit. The real questions are why did Apple jump ten percent and is the rally sustainable? Below I am going to highlight the five major Apple developments from the past week and discuss the potential impact on Apple's stock. Based upon these stories, especially the T-Mobile news, I believe the Apple rally has more gas left in the tank and I recommend a long strategy.
T-Mobile To Promote iPhone
T-Mobile is poised to make the Apple iPhone the center of its 'Uncarrier event', according to rumors, in a move that should give Apple another large base of potential customers. T-Mobile is currently the fourth largest carrier in the United States and the only carrier that does not currently offer the iPhone for sale. Most importantly, T-Mobile focuses on budget conscious consumers and could pave the way for iPhone sales to a relatively untapped market in the US. Do not underestimate this news due to T-Mobile's small footprint - this is the type of deal that can have an outsized impact on Apple's bottom line due to the demographics targeted. If Apple does release the rumored plastic iPhone Mini it will need to rely on carriers such as T-Mobile to make it a success.
Blackberry Z10 Released in United States With Quiet Launch
Blackberry (NASDAQ:BBRY) released is hail-Mary phone in the US on Friday and the stock tumbled eight percent on reports that the phone was not receiving special attention from carriers. Monday was not much better for the firm as the stock declined another four percent after a Goldman downgrade from 'Buy' to 'Neutral'. Apple receives preferential store placement at AT&T (NYSE:T) and Verizon (NYSE:VZ) stores but Blackberry phones do not receive the same level of attention.
"You walk into an AT&T store and there's no special announcement and there's not a lot of fanfare," said Colin Gillis, tech analyst at BGC Partners "That's an issue the company is facing." Blackberry needs the Z10 and its latest smartphones to be huge successes to revitalize the brand. Investors were excited about the prospects of a new Blackberry operating system but the hype is quickly fading and the company will have to perform to sustain any type of rally. If the Z10 flops, there may not be enough time for Blackberry to recover and launch a Z11. Gillis maintains a $7 price target on BBRY and believes that "many people are not going to find compelling reasons to buy it unless they are a diehard BlackBerry fan" - I tend to agree. I believe the Z10's 'failure to launch' was one of the main catalysts behind Apple's two percent climb on Friday.
Smartwatch Hype Is Growing
Ever since the Apple iWatch story gained traction, the rumors of competitors working on a similar smartwatch have intensified. In the past week Samsung has confirmed that it is working on a smartwatch while LG and Google are rumored to be working on similar devices.
Perception can be reality when it comes to rumors and the mere fact that four different firms are rumored to be working on smartwatches helps to validate the market. I wrote about the rumored iWatch in February and I still believe that it is a diminutive potential market for Apple and is merely a stepping-stone to more advanced wearable computing. Having said that, the watch industry is still a $60B industry and it is never wise to underestimate Apple when it plans to enter a new industry. Just as iTV boosted Apple shares without being close to a launch, the iWatch should have a similar effect. The iWatch could serve a very important purpose for Apple in mitigating the hype surrounding Google Glasses, which could be released as early as this year. Apple has a tremendous opportunity to release a slick, minimalistic watch that will contrast favorably with Google Glasses.
Apple Hires Chief Technology Officer From Adobe
Apple reported that Kevin Lynch, Adobe Chief Technology Officer, will be joining Apple to be Vice President of Technology and report to Senior VP Bob Mansfield. It is unknown what Lynch will be doing at Apple but he has famously spared with Apple in the past regarding Adobe Flash. Steve Jobs was extremely critical of Flash and wrote a famous letter bashing the software. To this day iOS devices still do not support Flash and it has not held back the platform in any meaningful way. It is too early to speculate on what Lynch will be doing at Apple but he has been active in expanding Adobe's cloud services so he may be a good fit to assist Apple in growing its cloud offerings. iCloud is currently the most popular cloud service in the US and the potentials for iRadio and other features are virtually limitless. Apple can use Lynch's expertise at monetizing cloud services and bridging the 'freemium' gap that will simultaneously increase revenue and increase user satisfaction. This is a longer term catalyst but should be very beneficial to Apple, unlike many of its recent high-profile hires.
Apple Bolsters Mapping Efforts With Acquisition
Apple confirmed the acquisition of a small startup company, WifiSLAM, with expertise in indoor mapping by using WiFi signals for a rumored $20M. It is believed that this acquisition will ultimately contribute to Apple's mapping offering, as indoor mapping will become more important as Google launches its Google Glasses in the near future. The $20M price for the acquisition is a drop in the bucket of Apple's massive cash hoard but this is a sign that the firm is staying active in the M&A space despite not completing any massive deals. As a reminder, the technology powering Siri was acquired by Apple in a relatively small deal. Ultimately I do not believe this is a meaningful catalyst for Apple as they will likely act extremely cautious after the recent Apple Maps debacle. Indoor WiFi mapping sounds like a potential killer app in the future but you can be sure that Apple is going to wait until it is ready for primetime before launching.
Below I present three possible scenarios and the potential returns for the Apple options:
Apple Down 5%
Apple Unchanged
Apple Closing at 50 Day Simple Moving Average (NYSE:SMA)
These scenarios are forecasts and there is no guarantee that they will come to fruition. For more information on the fundamentals of covered calls, consult Investopedia. I utilize conservative covered calls to simultaneously generate income and reduce your effective cost basis.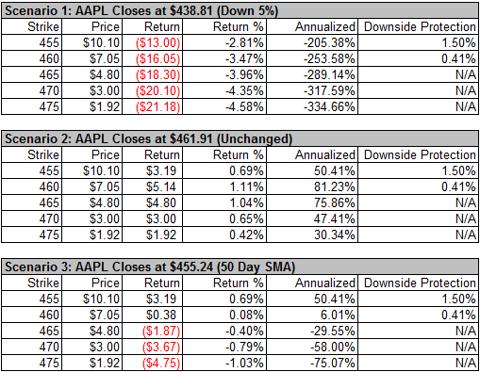 Additionally, if you would like even more information, I have prepared a sensitivity analysis for absolute return and percent returns, respectively. After studying the information above, these two charts make it easy to pick a strike price based on where you believe Apple will close at the end of the week. Estimate where you believe Apple will close and select the strike price with the highest return.
Last week mini options were offered for Apple under the option symbol of AAPL7 and you will see them in a non-standard option chain representing ten shares of the underlying. Instead of multiplying the option price by 100 per contract, investors will multiply the premium by ten per contract. This opens up Apple option trading to a much wider audience and facilitates covered call strategies if you have at least ten shares of Apple. Additionally, the barrier to writing cash-secured puts has been dramatically lowered by the creation of mini options.

With this information, executing a buy-write on AAPL March 28 $455s is the preferred risk-return strategy as an opening Apple transaction. The option has a potential return of $3.19 (time value) and should provide coverage against a slight drop. Note that premiums are generally lower this week with the market closed for Good Friday and volume should be low with Passover this week. A more aggressive approach is to write the $470s currently trading at $3 - this strategy is excellent for long-term Apple investors who want to generate income while still staying long the stock. An alternative approach is to sell out-of-the-money $450 puts and collect the $1.88 premium without having to purchase the stock outright. Note that if the stock declines to the strike price, you are obligated to buy the stock (or closeout the position). You should always consider the risks (particularly with naked calls or puts) raised in this article in light of your personal circumstances (including financial and taxation issues) in consultation with your professional financial adviser.
Please refer to profile page for disclaimers.
Disclosure: I am long AAPL, GOOG, T, VZ. I wrote this article myself, and it expresses my own opinions. I am not receiving compensation for it (other than from Seeking Alpha). I have no business relationship with any company whose stock is mentioned in this article.
Additional disclosure: Author is short AAPL7 March 28 $470 Calls.Please refer to profile page for disclaimers.