Some groups have given rosy outlooks for US economic growth in the range of 2%-3% in FY2013. Other groups are much more pessimistic. Given past experience, the rosy outlooks generally get revised downward over the course of the year as negative factors come into play. As much as I would like to believe there will be good growth in the US in 2013, a number of factors make me believe otherwise. First the US Q4 2012 GDP growth was only +0.1%. This was a considerable drop from the +3.1% growth in Q3 2012.
How distressed are current times? The EU GDP growth was down by -0.9% in the Euro Area and -0.6% in the EU 27 in Q4 2012. These numbers were down significantly from the -0.6% and -0.4% in Q3 2012 respectively (year-over-year figures). Japan's GDP growth was -0.7% year-over-year in Q4 2012. The OECD (most western developed countries) GDP contracted by -0.2% in Q4 2012. The negative growth of these other major economies has to put a damper on the US economy. These countries will buy fewer US goods. They will try to dump more of their own goods in US markets. This will make it harder for US firms to remain profitable. Let us give this factor a -0.5% effect on US 2013 GDP as a ballpark figure. It may perhaps deserve a stronger weighting.
With the above environment as a back drop, the US raised the payroll taxes in January 2013 by 2.9%. Plus it raised a number of taxes on the rich, including a 3.8% Obamacare surtax on investment income. Mark Zandi of Moody's estimates these new taxes may trim -1.4% from US GDP growth in Q1 2013 (and probably roughly as much for the rest of 2013). Since then Obama has put the sequester into effect. The CBO, a historically conservative organization, estimates that the sequester will knock -0.6% off US GDP growth in 2013; and it lead to the loss of 750,000 US jobs. Adding the above GDP growth losses together, you get a loss of about -2.5% in US GDP growth from whatever the number would have been otherwise. Even if you thought US GDP growth was going to be in the 2%-3% range, these numbers have to make you reconsider that thesis.
Perhaps this chart of the last US and EU recessions is worth a thousand words. It shows the GDP growth rate changes quarter-over-quarter during the time of the last recession up through Q4 2012.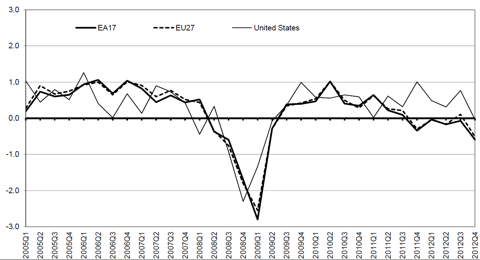 Click to enlarge
If you look closely at this chart, it makes a convincing argument that a new US recession is on the way, especially considering the above-mentioned negative data. The EU is already in recession. No one doubts this of the Southern European countries. However, even Germany, which accounts for 30% of the Eurozone GDP, contracted -0.6% in Q4 2012 over Q3 2012. All of the other major European countries' economies contracted as well. The EU recession seems to be worsening. On top of this, both the Euro and even more so the Yen have been falling against the USD recently. This makes US goods more expensive in those countries. It makes their goods cheaper in the US. This isn't good for US businesses.
When an investor is faced with this kind of situation it makes sense to look for a booming economy. Still who wants to trust China, India, Russia, or the smaller emerging growth nations in times that may become even more troubled? A good solid US sub-economy may instead be a better answer.
The economy of Texas is forecast to grow by 3.9% in 2013. With all of the new unconventional oil fields (and even some conventional ones or Secondary or Tertiary recovery ones), the Texas economy is getting a huge boost. Not only do they have to explore for and develop the oil, NGLs, and natural gas, they have to build, service, and market new pipelines to service all of these new fields. They have to build pipelines to bring further oil from such hubs as Cushing, Oklahoma to the Texas Gulf Coast and/or to Texas refineries. Plus the refineries and other chemical plants get to expand to service all of this new oil and gas wealth. Overall unconventional oil and gas activity contributed approximately $238B in added value to the US economy in 2012. This number is expected to grow dramatically in future years. One of the biggest and most prolific US fields, the Eagle Ford Shale, is in Texas. Texas also has a number of other fields in the Anadarko Basin, Barnett Shale, etc. The map below shows many of the US unconventional shale fields.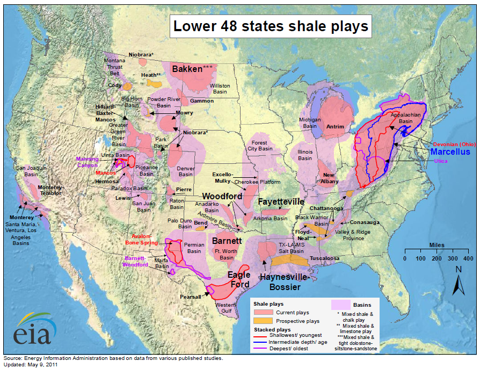 Click to enlarge
As you can see a good proportion of these fields are in Texas. That means the Texas economy will be preferentially stimulated by this new oil and gas activity. It means the Texas GDP growth forecast for 2013 of +3.9% has a much stronger chance of occurring than the forecasts of other state economies with less new stimuli.
A lot of new money means the real estate market in Texas should be very healthy. This also means the banking industry in Texas should be healthy. With the Fed directly propping up both the real estate market and the banking industry with massive QE and near-zero rates, an investor has even more reason to believe Texas banks should do well. Two of the top regional Texas based banks that I have identified are ViewPoint Financial Group Inc. (VPFG) and Texas Capital BancShares Inc. (NASDAQ:TCBI).
ViewPoint Financial Group Inc. operates as the holding company for ViewPoint Bank, which provides financial services in the Dallas/Fort Worth Metroplex. It provides the typical banking accounts and a wide range of loan services. It also offers brokerage services for investment and insurance. It is headquartered in Plano, Texas (near Dallas). The following chart showing VPFG's core earnings CAGR of 51% per annum since 2008 says almost all you have to know about this stock.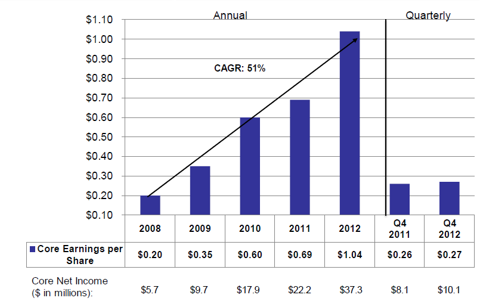 Click to enlarge
You will find very few banks with a chart as great as the one above.
VPFG's revenue and expense growth chart is impressive too (see below).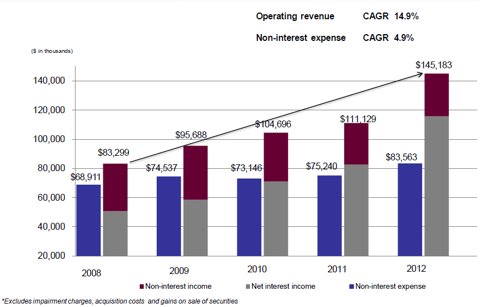 Click to enlarge
With the above kind of revenue growth, it is easy to see why VPFG has great core earnings growth.
Some of the other highlights of its Q4 2012 include:
Net Income was $35.2 million, up 34% year-over-year.
Q4 had core EPS of $0.27 versus $0.26 in Q4 of 2011.
Total loans increased +$689.1 million annually (or +33.4%)
Organic growth of +$466.2 million (+23%) fueled by strong C&I and CRE growth.
YTD NIM (Net Interest Margin) of 3.61%, up 70bps from 2.91% year over year.
Tangible common equity of $490 million or 13.48% of tangible assets.
Good asset quality with NPLs/Loans of 1.61%.
In addition to the above data, VPFG has an average analysts' next 5 years EPS growth estimate per annum of 12.00%. It has a PE of 20.88 and an FPE of 16.89. It carries a mean analysts' recommendation of 1.7 (a buy). VPFG even has a small amount of recent insider buying. It pays a dividend of about 2.0%.
The two-year chart of VPFG provides some technical direction for this trade.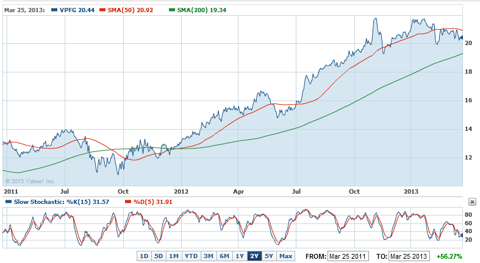 Click to enlarge
The slow stochastic sub chart shows that VPFG is near oversold territory currently. The main chart shows that VPFG is in a weakening uptrend. The fundamentals suggest that the uptrend should continue. VPFG is a buy. However, you probably want to average in over the course of 2013. The threat of a US recession is very real. The overall market is also currently overbought. The stock would probably follow the overall market down for either a pullback or a recession-induced fall.
Texas Capital Bank, the principal subsidiary of Texas Capital Bancshares, is a commercial bank that delivers highly personalized services to Texas-based businesses. It is headquartered in Dallas, Texas.
Data from the 10-K demonstrate TCBI's growth well, especially comparing December 31, 2008 results to December 31, 2012 results:
Interest Income increased from $248.9 million to $398.5 million.
Interest expenses decreased from $97.2 million to $21.6 million.
Net interest income increased from $151.7 million to $376.9 million.
Non-interest income increased from $22.5 million to $43.0 million.
Non-interest expense increased from $109.7 million to $219.8 million.
Income from continuing operations before taxes increased from $37.8 million to $188.6 million.
Net Income increased from $24.3 million to $120.7 million.
Total assets increased from $5.141B to $10.541B.
Loans held for investment increased from $4.028B to $6.786B.
Loans held for sale increased from $496.4 million to $3.175B.
Total deposits increased from $3.333B to $7.441B.
Stockholders' equity increased from $387 million to $836 million.
Net income per share increased from $0.87 to $3.09.
Tangible book value per share increased from $12.19 to $19.96.
Book value per share increased from $12.44 to $20.45.
Net interest margin increased from 3.54% to 4.41%.
Return on average assets increased from 0.55% to 1.35%.
Return on average equity increased from 7.46% to 16.93%.
Net charge-offs to average loans decreased from 0.35% to 0.10%.
Q4 2012E total capital ratio was 12.12%.
Q4 2012E tier 1 capital ratio was 10.06%.
Q4 2012E tangible common equity/total tangible assets was 7.73%.
The above generally show great growth. The stock price also has shown great growth. There is no reason to think that the growth in assets, stock price, etc. will not continue for many more years into the future. In fact with all of its new oil and gas, Texas should be booming for many years to come, especially for a well-run commercial bank.
The two-year chart of TCBI provides some technical direction for this trade.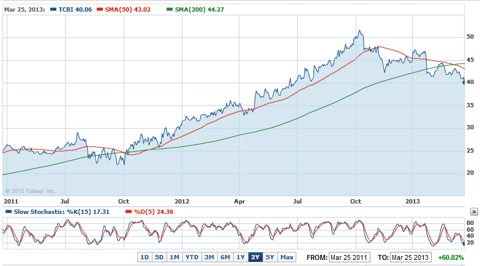 Click to enlarge
The slow stochastic sub chart shows that TCBI is near oversold levels. The main chart shows that TCBI is in a weakening uptrend. The 50-day SMA has recently crossed over the 200-day SMA moving downward. This may indicate an end to the uptrend. However, the fundamentals are still good. It has a PE of 13.31 and an FPE of 11.16. It has a mean analysts' recommendation of 2.4 (a weak buy). However, its Price/Book ratio is 1.95. This is considerably higher than VPFG's 1.48 ratio. I would tend to prefer VPFG. Also TCBI has a next five years EPS growth forecast per annum of 9.26%. TCBI is still a buy.
However, you again need to worry about the same overbought overall market (NYSEARCA:SPY) and about the chance of a US recession. Averaging in over the course of 2013 is a good idea. Further TCBI recently announced a 6 million share non-cumulative perpetual preferred share issue with a dividend of 6.50% at a liquidation preference of $25 per share. This issuance may be depressing the stock price temporarily. Some shareholders may be liquidating their positions in order to buy the preferred shares. This should be a very temporary down move if this is so.
NOTE: Some of the fundamental financial data above is from Yahoo Finance.
Good Luck Trading.
Disclosure: I have no positions in any stocks mentioned, but may initiate a long position in VPFG, TCBI over the next 72 hours. I wrote this article myself, and it expresses my own opinions. I am not receiving compensation for it (other than from Seeking Alpha). I have no business relationship with any company whose stock is mentioned in this article.