On Monday April 6, 2009, the Centers for Medicare & Medicaid Services (CMS) announced that the national average growth percentage per capita for Medicare Advantage plans will rise 0.81% in 2010 compared with preliminary estimate of 0.5% announced Feb. 20. This is a measure of the expected rate of growth for expenses in Medicare fee-for-service programs, and one of several factors used to calculate Medicare Advantage payment rates, which also vary by county and patient health, among other factors.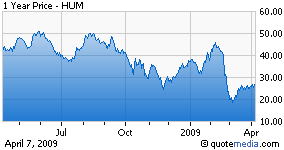 The 2010 increase is higher than the half-percent gain CMS unveiled when it announced preliminary rates in February, but much lower than increases of 4.24 % and 5.71 % published for rates this year and in 2008.

CMS also announced that a proposed 3.74% reduction to Medicare Advantage plans based on discrepancies in coding between the plans and traditional government-run Medicare would be lowered to a 3.41% reduction, and be implemented in 2010, rather than over three years as previously anticipated.

With more than 1.4 million Medicare Advantage members, Humana (NYSE:HUM) is the second-biggest provider of private Medicare plans, which now derives more than half of total revenue from Medicare related programs. Notwithstanding the decision being overturned by Congress, the company could potentially raise premiums or alter cost sharing arrangements for current members enrolled in plans to absorb the cuts and preserve current margins. Our Buy on Humana remains intact at current levels.
--Chris Kallos