I got an email on March 22, regarding an article on Seeking Alpha that was written by Mr. Maltzberger. In his article he explained that sales of the BlackBerry (NASDAQ:BBRY) Z10 in his area are really disappointing. What he wrote in his article really made me curious. Is that right, that the "Z" in Z10 stands for ZERO?
I wasn't sure if the answer was "YES," so after I read his article, I did a little research about Z10 sales in Indonesia - especially in my area, Bali. I had already read in the news about the launching of the Z10 in Indonesia. On March 13, 2013, when the Z10s first went on sale to the public at Senayan City, Jakarta, there were around 900 people in line just to buy this phone. The price was IDR 6.9 million - about US$ 711.
My next step was to go and visit a few mobile shops in Denpasar, Bali. In the first shop I asked if they had any Z10s for sale, and they said that they hadn't received any yet. So I continued to the next shop and I saw a lot of customers inside. One of the salespersons came to me and asked:
Salesperson: "May I help you, Miss?"
Me: "Yes, do you have the new Z10 for sale?"
Salesperson: "I am sorry but the last Z10 that we have was just taken by that lady."
I turned my head and looked at the cashier. I saw a young lady carrying a plastic bag containing a Z10. She had a broad smile spread across her face.
Me: "Do you know when the next stock will arrive?"
Salesperson: "I think soon because we have a lot of orders for the Z10 from our customers. We've had a lot of phone calls asking about it and also many people coming to the store to inquire. If you are interested please leave your phone number. We will contact you when they come in."
So I left my telephone number with them and asked another question:
Me: "How many Z10s have you already sold this week?"
Salesperson: "Actually the Z10 was available in Bali two weeks ago, but we started to sell it in our shop around one week ago. We've sold 10 phones so far."
Me: "And what's the price?"
Salesperson: "For the black color the price is IDR 7.3 million (US$ 756), and for the white color the price is IDR 7.6 million (US $ 789).
I was a bit surprised at that because as far as I know the price for the Z10 in Jakarta is only IDR 6.9 million. But in Denpasar, Bali, the price is higher and it's sold out. I left the store with more curiosity, and I decided to visit another shop. After visiting five different stores, the answer that I got was always that they were sold out, and I needed to leave my telephone number.
On the way home I stopped at the BlackBerry Center shop. I went inside and I asked the lady in there how many Z10s they had. She smiled:
"I am sorry but we don't have any stock at this time, but if you want you can leave your telephone number."
It was a popular answer. I tried to visit one more store, just one block away from the BlackBerry Center shop. I asked the same question and the answer was:
Salesperson: "Yes we still have two left, but only black ones."
Me: "I like the white color. Do you know when you will have the white one in stock?"
Salesperson: "I'm sorry I don't know, but if you don't mind you can leave us your telephone number."
My afternoon of shopping and research was completely different than that of Mr. Maltzberger. Some may wonder if BlackBerry will survive for the long term. I remember on November 2011, when the BlackBerry Bold 9790 was released in Indonesia, crowds of thousands of people clamored for them. Indonesia was the first country in the world to get this new phone. Hundreds of police were deployed for fear of riots. When the phones sold out many people fainted.
BlackBerry seems to have avoided that kind of chaos in the release of the Z10. Part of the reason for the riots over the initial release of the Bold 9790, was a limited time discount of half off the usual price, which was around US$ 520.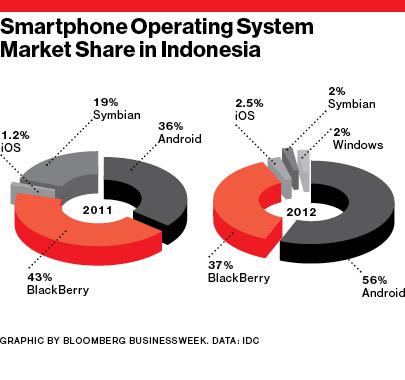 The above chart shows that although Android phones are marking significant inroads, so far BlackBerry still has not lost its magic in the Indonesian market. As Gregory Wade, the Head of BlackBerry Asia said at the Mobile World Congress in March, "Indonesia is a proving ground for the expansion of BlackBerry in Southeast Asia, and Indonesia is also an important part of RIM's strategy in Asia."
People in the US tend to forget just how strong an appeal BlackBerry has in other countries like Indonesia. BlackBerry had high hopes of recapturing US market share - maybe that will still happen. At the very least its market share will improve from what it is now. Indonesia is the 4th most populous country in the world and an indication of how the rest of the world supports BlackBerry. Once the official sales figures are released I think most people could be pleasantly surprised. Interestingly enough when results and sales figures are released on March 28, the sales in Indonesia won't be counted, as the Indonesian release was after the quarter cut-off date of March 2nd.
BlackBerry's stock is falling after the US launch - that often happens. Things get hyped up before the launch and then when the phones do go on sale it's somehow anti-climatic. The same thing happened when the last Apple (NASDAQ:AAPL) phone went on sale. Perhaps this recent pullback could be viewed as a buying opportunity.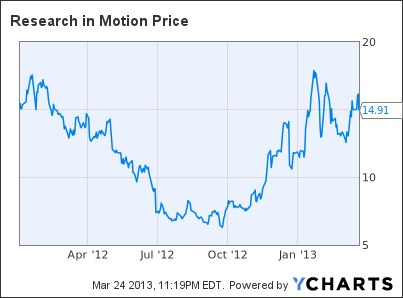 For what it's worth, I tried the Z10 and I like it but I will wait for the Q10 to come out before deciding which one I will buy. I am long BlackBerry.
Disclosure: I am long BBRY. I wrote this article myself, and it expresses my own opinions. I am not receiving compensation for it (other than from Seeking Alpha). I have no business relationship with any company whose stock is mentioned in this article.