Having watched Sesame Street as a child, and watching Sesame Street today with my own children, I appreciate the important lesson embedded in discussing both the number of the day and the letter of the day. To be sure, no one does those things better than the Count and Cookie Monster.
With apologies to those Sesame Street icons, we will now introduce '4' as the number of the day and 'C' as the letter of the day.
Specifically, we are going to discuss four 'Cs' and their meaning for the market:
Cyprus
Copper
Caterpillar and
China
Cyprus
Just when everyone thought policymakers had a handle on managing things in the eurozone, their assumptions were put to the test in a stupefying decision by the EU, IMF, and ECB to make a EUR 10 bln aid package for Cyprus conditional on the island nation imposing a repressive tax on bank deposits to help fund the bailout.
Depositors were to receive an equity stake in Cyprus banks in return, yet that was a tasteless carrot for depositors who had placed their full faith and credit in the idea that their money is safe deposited in banks.
The peculiar condition immediately invited accusations that it was intended to hit at money-laundering efforts on the part of certain Russian depositors who - how shall we put it? - are kindred spirits with Tony Soprano.
Whatever the rationale, the original structure of the bailout deal poked a hornet's nest, inviting talk of a possible Cyprus exit from the eurozone and reinvigorating concerns about the eurozone debt crisis.
Cyprus itself barely registers from an economic standpoint with an annual GDP of $24 bln that accounts for just 0.2% of the eurozone's annual economic output. Nonetheless, global financial markets initially reacted negatively to the Cyprus situation because:
The conditional factor was a total surprise, deviating sharply from prior bailout arrangements
It laid waste to the sanctity of deposit insurance
Making the bailout conditional on taxing bank deposits to help pay for it risked inviting a run on banks in Cyprus and other troubled countries that would only make matters worse in the eurozone and
It raised serious doubts about the ability of policymakers to manage the problems in the eurozone effectively
On Tuesday, the Cyprus parliament voted down the proposal to tax any bank deposits. Over the weekend, it was agreed that deposit accounts under EUR 100,000 would not be taxed, but that deposit accounts over EUR 100,000 at the Popular Bank of Cyprus (aka "Laiki") and the Bank of Cyprus will be subject to a levy of around 30%, according to reports. Laiki will also be wound down.
There is still a great deal of uncertainty related to Cyprus... BUT... the US equity market has taken it in stride thus far, viewing it more as an excuse to take some profits than anything else.
The CBOE Volatility Index spiked 20% last week after scraping five-year lows in the prior week, but with the S&P 500 slipping just 0.2% for the week on moderate volume, it is a stretch to say there was a genuine fear factor surrounding the Cyprus situation. The Dow Jones Industrial Average even established a new, all-time intraday high two days after the Cyprus headlines first hit.
The Cyprus situation needs to be kept on the radar, but the market's resilience in the past week suggests it is not considered a matter of grave concern - certainly not at this juncture - due perhaps to the sensible conclusion that Cyprus is insignificant from an overall economic standpoint and the understanding that central banks have made it clear that they will do all they can to prevent financial systemic risk (even when they are contributing to it).
Copper
One of the reasons behind the market rally this year is that there is an abiding faith in the idea that economic growth will accelerate in the second half of the year.
That belief has been validated by a number of incoming economic reports that have shown a pickup in consumer spending, business spending, home sales, and job growth. Many economists have contributed to the optimism by revising their 2013 GDP growth forecasts higher based on those reports, most of which have covered economic activity during January and February.
Entering the year, we expected 2013 GDP growth to be between 1.0% and 2.0%. The data we have seen thus far leads us to think growth will now be between 2.0% and 2.5%.
Updated economic projections from the Federal Reserve, which were released last week, showed a slight change in the central tendency range for 2013 real GDP growth. In December, that range was pegged at 2.3% to 3.0%, but it now stands at 2.3% to 2.8%.
We remain on the low side of things, because we think the effects of the higher payroll tax, higher gas prices, and budget austerity measures could still have more of a drag effect than early-year data have indicated.
If there is one constant about growth forecasts, it is that they are subject to change because new inputs for economic models arrive regularly.
Despite all of the reported optimism about improving growth prospects, there is one economic indicator of note that continues to trail the growth optimism reflected in rising stock prices. That indicator is copper.
For reasons that are not altogether clear, copper prices have weakened noticeably during the equity market rally. LME copper warehouse stocks have surged 74% since the start of the year.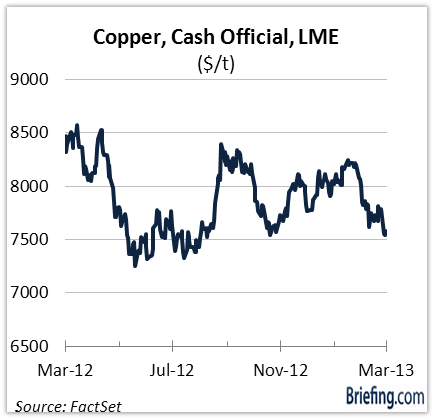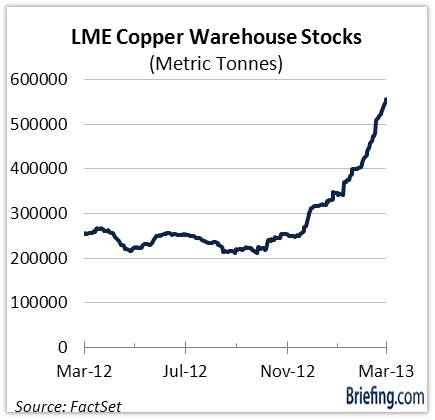 What is unclear is whether the surge in copper inventories is a function primarily of supply growth exceeding demand growth or demand simply not being there. It is possible that both factors are in play with reports indicating China has slowed its purchases of copper.
Copper is a leading economic indicator, but it will probably only be in hindsight that market participants can reconcile the weak price action with economic performance. In due time, it will be understood better if excess production is driving prices lower - a good thing as it pertains to profit margins for users of copper - or whether weak demand is the real culprit.
Caterpillar
The Dow Jones Industrial Average has been a stellar performer in 2013. At Friday's close, it was up 10.6% for the year. The S&P Industrials sector in turn was up 9.8%.
Those strong performances make Dow component Caterpillar's (NYSE:CAT) performance all the more disappointing, and at the same time perplexing. Caterpillar, the maker of construction and mining equipment, is down 2.4% year-to-date.
Caterpillar started the year on a banner note, surging 9.8% in January. Since then, it has dropped 12.1% while the S&P 500 has risen 2.9%.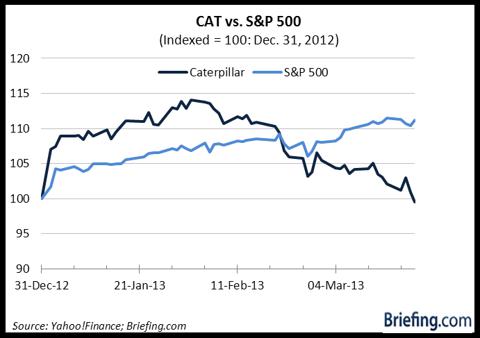 The fallout occurred in the wake of the company's fourth quarter earnings report that was accompanied with some disappointing guidance. At the time, the company said it wasn't going to provide specific guidance for the first quarter, but that it was expecting first quarter revenue to be more than $2 bln lower than the year-ago period since dealers were working to lower their new machine inventories.
Caterpillar did offer some wide-ranging guidance for FY13, saying it was projecting earnings of $7.00-9.00 per share. The Capital IQ consensus estimate was $8.61 when that guidance was issued, but investors didn't necessarily like that one could drive a Caterpillar truck through the guidance range nor the understanding that earnings per share would be down 6% year-over-year at the midpoint.
The company noted it saw economic conditions improving, but felt they were still relatively weak. It is forecasting overall world economic growth of at least 2.5% versus its estimate of 2.3% for 2012.
Dealer statistics provided by Caterpillar in the interim have done little to change the negative sentiment that afflicted CAT after its fourth quarter report. Last week, Caterpillar reported that worldwide retail sales of machines declined 13% in February and that worldwide power systems sales fell 7% versus declines of 4% and 7%, respectively, in January.
The first quarter is typically a seasonally weak period for dealer sales, but it is notable that Caterpillar hasn't seen a sales decline in the first quarter since 2010.
The fact that demand for its equipment is down as dealers work off excess inventories is a reminder that the real economy isn't operating with the same vigor as the stock market is. Many cyclical stocks have been given a pass in this respect as they have benefited from the notion that things will continue to look better as the year unfolds.
CAT's underperformance is perplexing, therefore, since there are few companies as industrially-oriented and in position to benefit from a cyclical recovery as Caterpillar.
Caterpillar's stock isn't a tell-all indicator because there are company-specific issues involved here. However, with a 5-year average return on equity of 33.2% indicating this is a very well-run company, the continued underperformance of CAT's stock could soon be seen as a bigger warning sign of economic growth failing to live up to the market's heightened expectations for the second half of the year.
China
Ah, China.
If things are good in China, the S&P futures trade higher reportedly on the belief that the country is avoiding a hard landing and successfully working toward instituting a consumer-driven economy. If things are bad in China, the S&P futures trade higher reportedly on the belief new stimulus will be provided to ensure the country avoids a hard landing and that it succeeds in instituting a consumer-driven economy.
It is often win-win situation when it comes to assessing developments in China, partly because participants don't know exactly what to believe when it comes to China. The fallback position has often been to believe that the glass is half full. Lately, however, that conviction has been put to the test as worries about rising inflation and a growing property bubble in China have dampened the bullish enthusiasm surrounding China's growth story.
Strikingly, with many equity markets around the globe getting off to a robust start in 2013, China has started the year with a whimper. The Shanghai Composite is down 2.0%. The iShares FTSE China 25 Index Fund, meanwhile, is down 8.9%; however, it has dropped 11.9% since the start of February.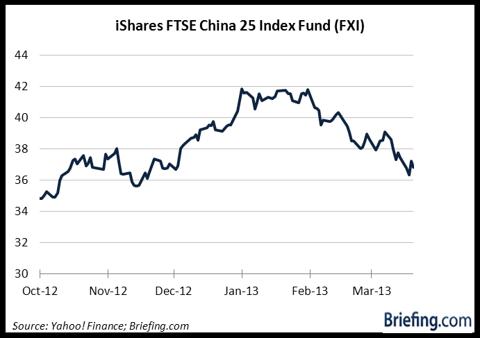 For all of the talk about global growth forecasts improving because China's growth is beginning to accelerate again, the underperformance here is another head-scratcher.
Some pundits will suggest it is a symptom of the renewed confidence in the US growth story that is drawing capital away from foreign markets. Some will suggest it is a harbinger of credit-related troubles that have their roots in ghost cities and soaring property prices. Others might focus on the potential of growth disappointing in 2013 as rising inflation prompts new tightening measures. The OECD is forecasting 8.5% real GDP growth for China this year.
Whatever the case may be, China's equity market isn't behaving in a manner one might think it would given that China's growth is often cited as a key factor for global economic activity picking up in 2013.
Other equity markets can do fine without China's equity market doing well, as we are now seeing. However, they won't do as well if the growth story in China falters as the year unfolds since many companies are pinning their own profit growth expectations on growth in China living up to heightened expectations.
Economic data coming out of China will be important to watch as it will inevitably affect the movement in commodity prices and assumptions about earnings prospects around the globe.
What It All Means
While a cursory view of the S&P 500's performance would lead to a quick conclusion that everything must be going just fine, there are some developments below the surface that raise questions about such a conclusion being drawn.
It is clear from the situation in Cyprus that things are not just fine in the eurozone. In turn, the underperformance of copper, Caterpillar, and China makes things less clear as it relates to the conventional wisdom that economic growth will accelerate in the second half of the year. They should all be doing better than they are on such assumptions.
We will of course know more in due time. If growth fails to accelerate as many participants think it will in the second half of the year, or those assumptions are challenged in a major way before then, Oscar the Grouch may push the Count and Cookie Monster aside to talk about a correction, which also begins with the letter 'C'.
Disclosure: I have no positions in any stocks mentioned, and no plans to initiate any positions within the next 72 hours. I wrote this article myself, and it expresses my own opinions. I am not receiving compensation for it. I have no business relationship with any company whose stock is mentioned in this article.