Western Union (NYSE:WU) is the global leader in personal money movement and payments. It holds the leading market share in an industry where eBay (NASDAQ:EBAY) with its PayPal division, MoneyGram International (NYSE:MGI), Bank of America (NYSE:BAC) and American Express (NYSE:AXP) are using technology and pricing in an attempt to penetrate. It also owns a globally recognized and trusted brand, has a healthy cash flow, a good free cash flow conversion ratio, and a simple to understand yet difficult to replicate business model. If these factors don't tickle your curiosity the fact that it is currently undervalued and that a 30% drop in its stock price at the end of Q3, 2012 created a good entry opportunity should. If globalization and immigration are certainties, Western Union is best positioned to service the inevitable financial links that emerge from people having multiple home countries. Western Union definitely deserves your consideration if institutional investors (90% of float held by institutional and mutual funds owners) have any clout in your considerations of stocks you buy.
The Company:
Western Union facilitates money movement and payments globally. It uses a network of about 510,000 directly and indirectly affiliated agents in about 200 countries to facilitate consumer-to-consumer transactions, consumer-to-business and business solutions. At the end of 2012 these services made up 81%, 11% and 6% of its total business respectively. By collecting transactions fees, as transactions are completed its receivables turn over and exposure to bad debts is very limited. By the nature of its business, its performance closely mirrors the overall economic performance of outbound countries, countries from where payments are initiated. I included the graph below to show how closely overall performance has mirrored GDP growth in the U.S. When the U.S. economy does well, unemployment drops, disposable income rises, and income earners have a higher propensity to send money to friends and family around the world.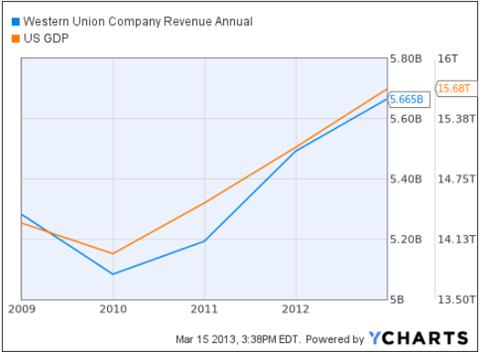 The Challenges
Western Union experienced a steep dive at the end of October 2012 when Q3 numbers were released. Revenues came in flat year-over-year and from the previous 2 quarters. EPS met estimates, though only after a 4% reduction in overall shares. The company also reduced guidance for the rest of the year and some competitors, like American Express, reported gains in revenue growth. The chart below shows the drop area/gap (denoted by the red circle) wherein lies the grab for opportunistic buyers to trade on Western Union's stock.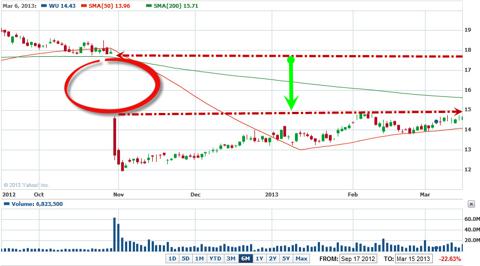 Source: Yahoo Finance
To call this gap an opportunity without fully questioning why it has stayed open for so long will be a gross underestimation of market efficiency. I have no intent to challenge the market at this time so I will attempt to look at some of the reasons why this gap has remained open and why I think it is an entry opportunity for interested buyers.
Ownership interests - As previously stated Western Union is a stock that is overwhelmingly owned by institutions and shareholders. Overwhelming institutional ownership usually results in steady and calm volume movements. This was obviously not the case in the above chart directly below the red circle and has not been the case ever since compared with previous quarters. The animated levels of movements since that drop indicate increased interest which has led to buying and selling per the candlestick notations. As much as this presents a challenge if an institution should instantly sell off, there are lots of owners sitting in the $17.00 - $18.00 range who need the stock to trend up to at least breakeven. They provide the protection you need on the upside as long as you do not get greedy when the stock appreciates.

Source: Yahoo Finance
Revenue - Revenue growth has been flat but the underlying which is more of an outcome than a cause. Growth has been stymied by pressure on lower transaction fees which has put pressure on the company to grow the number of transaction just to hold revenue steady. MoneyGram is the only direct competitor to Western union so it makes sense to look at both companies to understand the competitive environment. The chart below helps with perspective on the gap between the two companies in overall revenue and revenue growth. I look at this gap, denoted by the red arrow, as the distance by which they Western Union could act on transaction fees if it decides to get aggressive with MoneyGram Inc. The bottom line is that revenue has been flat for both companies and Western Union's drop was a penalty for expectations rather than reality of the economic environment they both operate in.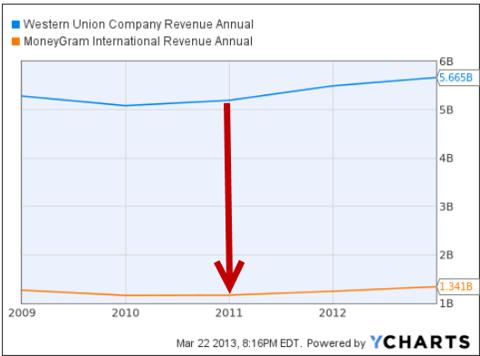 Competition - the threat to Western Union comes from many angles. Traditional and direct competitors like MoneyGram, overlapping competitors like PayPal and newer entrants like Bank of American and America Express. That is one way to look at the competitive landscape. Another way to look at it is that country regulations and infrastructural challenges provide a substantial entry barrier for new comers. Western Union is a trusted global brand and provides the only option for governments and customers where the banking sector is inadequately developed. Their network of agents housed within local businesses play the role of banks with little required set up costs. In addition to these competitive advantages Western Union has deployed web based and mobile platforms to initiate and complete transactions. At the end of 2012 they had about $5B in current assets which allows them the flexibility to acquire newer companies or technologies that could be disruptive in their space. MoneyGram Inc., its closest peer, has a market cap of about $999.76M compared to $8.3B. I would consider MoneyGram as healthy competition rather than an immediate threat. The table below from Scottrade shows key industry and peer highlights.
Source: Scottrade
What I noticed:
A few things jumped out at me when I was reviewing this stock:
Perception of the company - I would say Western Union is underrated even though in most cases it is not rated at all. The company has a market cap above $8B, is consistently profitable, has a globally recognized brand, and has succeeded in navigating regulatory and operational hurdles to create similar experience across the world.
Valuation - Despite its consistency and size Western Union's P/E is lower than that of its peers and industry (see table above). Consistency and maturity has not worked in its favor. MoneyGram Inc. which has been more prone to fluctuations (revenue and EPS) is priced more favorably in absolute price and P/E than Western Union. If Western Union's P/E were to creep toward 15X, which will still be lower than peer and industry, its price will be in the $24 range, not the $14 that it is currently in. In the chart below notice the inconsistency in the MoneyGram line versus the Western Union line and also how often it has dipped below zero.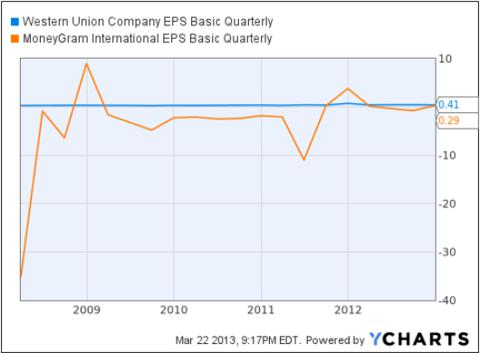 Cash and Free Cash Flow -I found the free cash flow conversion rate from revenue to be quite impressive. Per the numbers on the chart Western Union converted $309.10M to free cash flow from $1.42B of revenue. Western Union also holds a very high level of cash and equivalents with an equally impressive cash ratio. I was surprised that it has not been in the rumor mill for a takeover because a PE firm can easily acquire it and use its cash reserves to fund some of the incurred acquisition costs. It also meets Buffet's criteria of simple to understand, branded, and generates cash. Western Union could pop if it is acquired or if it acquires a smaller firm in a high growth area. Either way the investor wins out.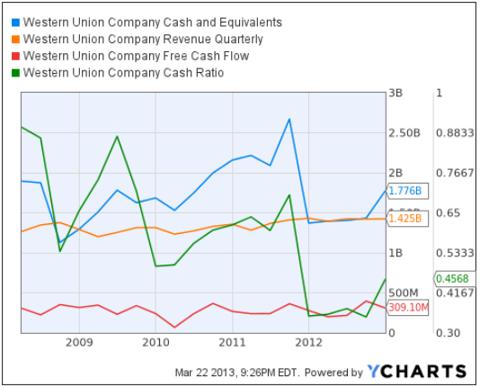 The Trade:
This stock is currently trading below its 200 day average of $15.58. The volumes have been higher than usual since the rapid drop in October which indicates that there is increased interest in the stock. The increased volume is not huge enough to be from institutional holdings implying that there are day traders moving it up and down per the candlesticks in the chart above. I am comfortable buying this stock at about $14.50 and holding until about $17.00. After $17.00 there are a lot previously held positions that will break even and there is no telling what the bigger holders could do at that point. If they decide to sell it could have a noticeable and lasting effect on the stock. I would buy at $14.50 and sell at $17.00 for about a 17% gain. If the stock stalls to get to $17 it has a 3.4% dividend yield that can boost overall returns.
Disclosure: I have no positions in any stocks mentioned, but may initiate a long position in WU over the next 72 hours. I wrote this article myself, and it expresses my own opinions. I am not receiving compensation for it (other than from Seeking Alpha). I have no business relationship with any company whose stock is mentioned in this article.