In the last 3 months, Nike's (NYSE:NKE) stock price has surged 12.25%. If you are excited by that, you would probably jump at this one. Nike's stock price jumped 73.8% in the last 5 years. And that includes the period of Great Recession (2007-2010) as well. Mark Parker's effort toward the company might be showing in the investors' appreciation through the rising stock price.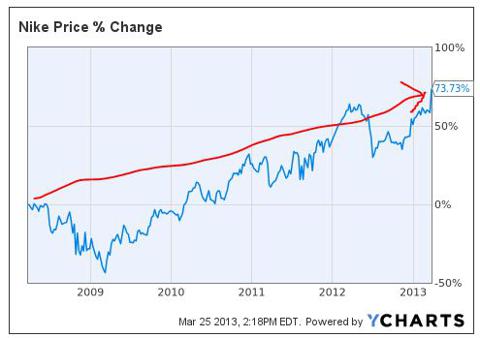 Click to enlarge
(Click to enlarge)
But here's a fact. Historical prices can never be used to identify future growth patterns. We are more interested to know how Nike would probably do in the next couple of years.
For that, we have to check a couple of factors.
Revenue Growth
If you look at the chart below, QoQ revenue growth seems to be pretty strong for Nike. Strong revenue growth is always the lifeline of the company. With strong revenue collection follows profitability.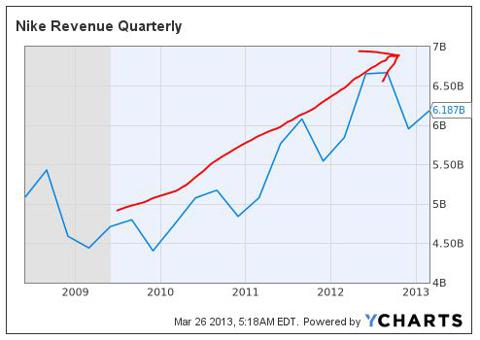 Click to enlarge
(Click to enlarge)
Having said that, let us take a look at another chart that might interest you. We are talking strictly about YoY quarterly revenue growth percentages here.
What I am going to say is a bit theoretical but the pattern concerns me. 2008 was still a strong year with double digit growth when the Great Recession already started by mid-2007. Needless to say, the double digit growth got toned down to single digit and then further pushed down to negative in the next couple of years. Similarly, in 2012, we saw double digit YoY quarterly revenue growth again. And it again got driven down to single digit in 2013. Considering the lingering eurozone crisis, the politically unstable U.S. and slowing global economy, are we looking forward to further setback in revenue growth?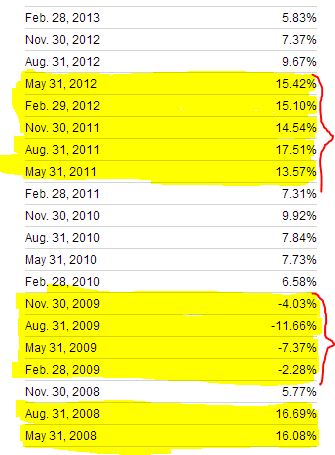 From the recent data by Nike, future orders are still steady at a moderate rate though. Taking a look at the image below, North America should drive some revenue growth while the Chinese market shows moderate demand in the coming Q4 quarter. However, futures and advance orders are just a small part of Nike's revenues and just help to notice a trend. Futures/advance orders never match actual revenues, remember.

Click to enlarge
(Click to enlarge)
The Chinese Market
While the company seems to be going strong in Canada, there has been a slack in the European and Chinese markets. Let us look at the graph below.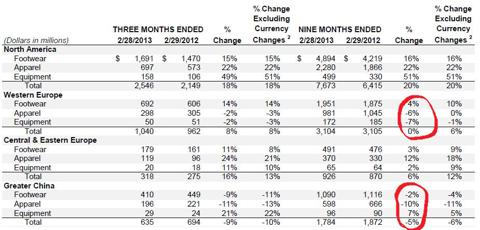 Click to enlarge
(Click to enlarge)
As Donald Blair, CFO of Nike, said in the latest earnings call transcript:
"Q3 revenue for Greater China declined 10% on a constant currency basis and fell 9% on a reported basis. EBIT decreased 20%. We are continuing to take decisive actions to reestablish a pull market in China and our Q3 results reflect the impact of those actions, as both revenue and gross margin were below the prior year.

As Charlie indicated, we are seeing some early signs that our strategies are taking hold. While we are making progress, we are not done. We will continue to work with our retailers to right-size inventory, accelerate sell-through and improve retail productivity. Consistent with our accounting policies, we have made provisions for expected returns and discounts in our Q3 results and we will be tightening the amount of product we ship into the market over the next few quarters. As a result, we expect Q4 reported revenues for Greater China will be lower than the future's orders would indicate."
I would like to note here, almost the whole of the Asian region's demand has been affected.
Morgan Stanley analysts said the company management has demonstrated strong execution, but results would take longer than expected. They are hinting toward China, where 7 quarters of inventory hangover after Beijing Olympics, coupled with continued labor cost inflation, are likely to weigh on the company.
Balance Sheet Analysis
With a strong asset utilization score of 1.639, the company seems to be balancing its capital funding and usage quite efficiently. Cash and equivalents increased 27% to $2.6 billion in Q3 of FY13. Short-term investments surged 26% to $1.5 billion in the most recent quarter. Along with that, long-term debt rose by only 2% while shareholders' equity rose by 5%. The company's inventory rose 4% to $3.3 billion, which indicates growing demand from the consumers (and thus, higher revenue). While capital expenditures rose to $143 million last quarter, it is properly managed with rising income and declining debt.
Click to enlarge
(Click to enlarge)
Income Sheet Analysis
While the rising selling, general and administrative expenses did get my attention at first, it is properly compensated with much-higher increments in gross, operating and net margins. Let us take a look at the image below.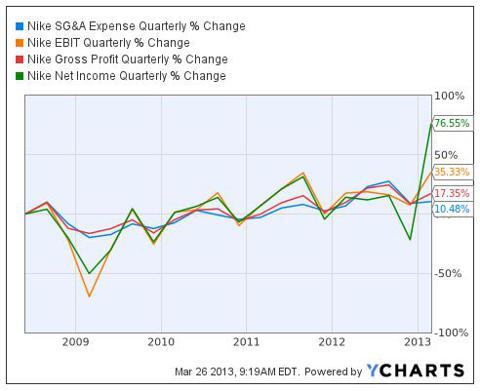 Click to enlarge
(Click to enlarge)
Looking at the table below, Nike's margins look impressive, even in this transition phase to owned distribution in UK and China. The only other company that can boast better margins than Nike is Crocs, Inc. (NASDAQ:CROX). Then again, with Nike's market cap being 53 times that of Crocs, I would not consider Crocs a threat yet. Apart from that, the rest of the companies, such as Deckers Outdoor Corp (NASDAQ:DECK) and Dick's Sporting Goods (NYSE:DKS) are doing well but not as good as Nike again. Some of the competitors such as K Swiss (NASDAQ:KSWS) and Skechers USA (NYSE:SKX) are running in the negative even. In short, compared to its immediate peers, Nike stands out.
| | | | |
| --- | --- | --- | --- |
| Companies | Gross Margin % | Operating Margin % | Net Margin % |
| Nike, Inc. | 43.4 | 12.36 | 9.21 |
| Crocs, Inc. | 54.12 | 13.01 | 11.69 |
| Deckers Outdoor Corp | 44.69 | 13.22 | 9.12 |
| K Swiss Inc. | 34.61 | (13.81) | (15.61) |
| Sketchers USA Inc. | 38.84 | (8.33) | (4.21) |
| Dick's Sporting Goods | 30.6 | 8.29 | 5.06 |
Valuation Analysis
Even though EPS (TTM) increased, earnings yield fell. This means that even when the company is earning more, the price is just too much to justify that. It must be remembered that Nike's PE ratio is already 23.46, much higher than 10.42 of Crocs and 13.82 of Deckers Outdoor Corp. In fact, PE ratio rose by 26.95%, whereas theoretically, the percentage should be zero. That's alarming, but it is still hard to say in which direction the price would go in the short term.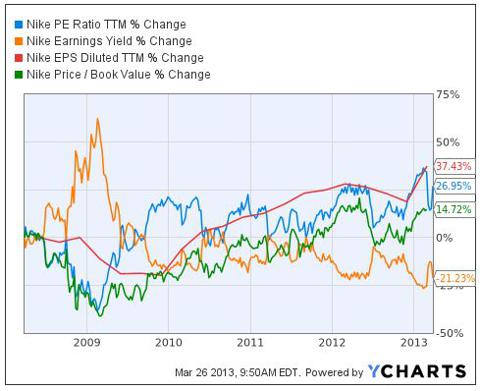 Click to enlarge
(Click to enlarge)
Technical Analysis
Even when you consider the technical statistics, it is hard to decide about the movement of the price. While there has been a recent breakout, we are getting signals of an overbought market. While both Chaikin MF indicator and the MACD divergence index show lower lows and higher highs, it is safe to say that an uptrend is in motion. Having said that, the RSI signal almost touches the 70 level, which is a sign of an overbought market.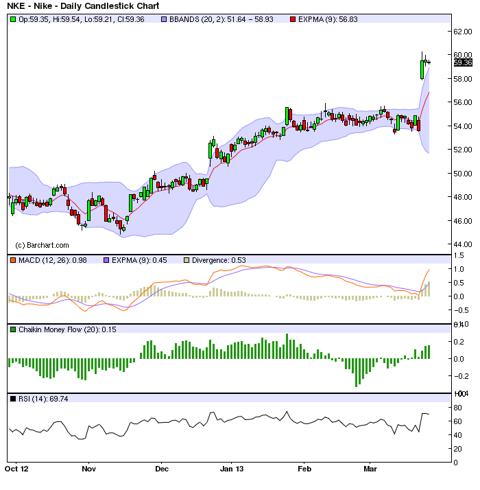 Click to enlarge
(Click to enlarge)
In the last six months, there have been equal movements either direction, whether positive or negative. At the moment, there is a strong chance that the price would linger at the current level for the next quarter as well.
Conclusion
Although there is much hullabaloo about Nike these days, I would say Nike is a moderate buy at the moment. I love Nike's products myself and would like to see it succeed as a company in the future. Having said that, it presently seems to be at a stage where it needs to prove its worth in the market. The almost-average margins, the transition phase and the global economy crisis - all these make me so pessimistic that I cannot put my last dollar on this company yet. A moderate buy is not good enough for me.
Disclosure: I have no positions in any stocks mentioned, and no plans to initiate any positions within the next 72 hours. I wrote this article myself, and it expresses my own opinions. I am not receiving compensation for it (other than from Seeking Alpha). I have no business relationship with any company whose stock is mentioned in this article. Numerical data vary according to sources, and should only be used in comparisons.