I am not a prognosticator by any means. I tend to look at trends and events in order to make my investing decisions, no matter what the share price of a particular stock might be at any given time. I cannot time the markets, I cannot claim to buy or sell stocks at the best times aside from being occasionally lucky.
If I like a stock, I look at some very basic fundamentals and decide to either buy it or not. Our Team Alpha Retirement Portfolio has been developed over the course of 15 months and we have bought stocks at some of their lower prices, some at higher prices, and some fairly priced.
Turn on any business channel and all of the talking heads are weighing in with their market predictions; the market is too high and needs to correct, the market is way too low and the sky is the limit, the market will move sideways until something else happens.
Well guess what, they are all correct, but I have absolutely no idea of which will be next, or if it will last for any length of time to make any major short-term impact on anyone's portfolio. What I THINK is that dividend stocks, and the market as a whole, are undervalued and headed higher over the longer term.
As a matter of fact, with the overall market P/E being at its current level, I believe that the entire market has much more room to run higher with all of the confluences (is that a word?) of events and actions.
History is on my side of course because the direction of the markets has always been up over the long term.
Events And Actions And Earnings
1) With interest rates as low as they have been, income seeking investors have been slammed hard with virtually every fixed income investment. Even annuity payments are at ridiculously low levels compared to their costs. In light of the ongoing Fed policy of ZIRP as well as their purchasing of mortgage backed securities and longer-term Treasuries, I see absolutely no let up in sight.
2) Earnings have been coming in fairly good, but not great, for public companies reporting. The housing market has been recovering and the banks have kept foreclosed homes away from flooding the market (shadow inventory) to keep that ball rolling. This has spurred some economic growth, some employment, and some consumer confidence, but definitely not overly wonderful. As long as the Fed keeps cheap money flowing, corporate America can continue to slowly expand.
3) Global economic issues have also tempered an accelerated growth pace, and to me that means we might be looking at slow but steady growth with the help of an accommodating Federal Reserve. The result has been a stock market that has regained all of its losses from the great recession, yet has a rather tame P/E ratio.
As the chart below shows, the P/E ratio of the S&P 500 is below the number when the market was last at the current levels.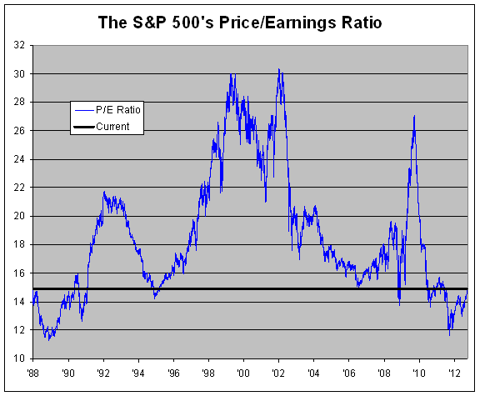 Team Alpha Is Poised To Move Higher
Dividend stocks have been the cat's meow for the last few years. It is hardly a secret that fixed income investors, mostly those of us retired or seeking income, have been looking for yield. Not actually chasing it, but it seems as though we have.
Our Team Alpha portfolio now consists of Ford (NYSE:F) Chevron (NYSE:CVX) Apple (NASDAQ:AAPL), McDonald's (NYSE:MCD), Exxon Mobil (NYSE:XOM), Johnson & Johnson (NYSE:JNJ), AT&T (NYSE:T), General Electric (NYSE:GE), BlackRock Kelso Capital (NASDAQ:BKCC), KKR Financial (KFN), Procter & Gamble (NYSE:PG), CSX Corp. (NYSE:CSX), Realty Income (NYSE:O), Coca-Cola (NYSE:KO), Annaly Capital (NYSE:NLY), Cisco (NASDAQ:CSCO), Bristol-Myers Squibb (NYSE:BMY), Healthcare Select Sector SPDR (NYSEARCA:XLV), and iShares S&P U.S. Preferred Stock Index Fund (NYSEARCA:PFF).
Team Alpha has a well balanced core group of dividend paying stocks that as of right now are mostly below the P/E ratio of the S&P 500.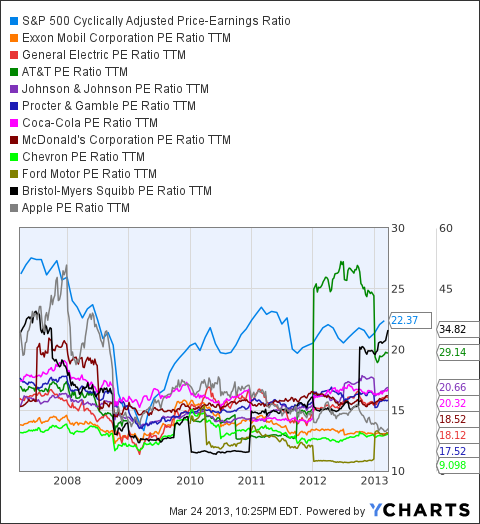 As you can see from this chart, the core group of dividend winners are selling below the current P/E ratio of the S&P 500; XOM, GE, JNJ, PG, KO, MCD, CVX, F, and AAPL are all selling around multi year highs but have P/E ratios below average, except for T, and BMY. The rise in each of these companies' share price shows how money is flowing into these dividend stalwarts (yes I know I included AAPL and GE in this mix even though they are not champs yet) which obviously fuels even more capital appreciation.
In turn, the companies are also coming in with good earnings and rewarding shareholders by regularly increasing dividends. I look at this cycle, and see no changes in the short, near, or intermediate terms.
The Team Alpha Portfolio Is Paying Off
The 4.72% yield on cost is producing over $6,150 annualized, on an initial investment of $100k (currently valued over $135k). With a solid mix of stocks noted above, as well as a prudent allocation strategy, I believe that this portfolio can grow another 10-15% through the balance of 2013.
At some point, the markets will pause, but in the longer term, I feel that the Dow, by virtue of the fact that it contains the biggest and the best dividend paying stocks, could go over 16,000 this year, and as long as the earnings, events, and actions noted above remain in place, 2014 and beyond could see even more remarkable numbers.
Yes, I see the glass as only half full right now!
Disclosure: I am long AAPL, BKCC, BMY, CSCO, CSX, F, GE, JNJ, KO, MCD, NLY, O, PFF, T, XLV, XOM. I wrote this article myself, and it expresses my own opinions. I am not receiving compensation for it (other than from Seeking Alpha). I have no business relationship with any company whose stock is mentioned in this article.