By Cagdas Ozcan
Waste Management (NYSE:WM) is one of the best dividend paying stocks in the market. The company pays an annual dividend of $1.46 per share, yielding 3.80%. It is important to look at free cash flows while evaluating the dividend stability of a company. Waste Management's free cash flows have been pretty impressive over the past three years. However, in order to gauge the ability of the company to maintain its dividends, we decided to use out free cash flows model. Here, we will try to evaluate the trend in free cash flows as well as some important debt metrics.
Free Cash Flows
 

Free Cash Flows

 

2012

2011

2010

Net Income

$860

$961

$953

Depreciation and other noncash charges

$1,297

$1,229

$1,194

Funds from Operations (FFO)

$2,157

$2,190

$2,147

Change in noncash current assets

$195

$140

$83

Change in noncash current liabilities

$57

$139

$45

Operating Cash flows

$2,295

$2,469

$2,275

Capital Expenditures

$1,510

$1,324

$1,104

Free Operating Cash Flow

$785

$1,145

$1,171
Source: SEC Filings
Over the past three years, the company has experienced some volatility in its net income. Especially in 2011 the net income went up and then again fell in 2012. The same pattern is evident in funds from operations of the company. Increase in net income was substantially smaller than the fall experienced by the company in the previous year. Capital expenditure is a substantial expense for the company, and over the past three years, capital expenditures have steadily increased. At the end of 2010, the firm spent $1.1 billion in capital expenditures; however, by the end of 2012 the capital expenditures for Waste Management had gone up to $1.5 billion.
The company generates healthy free cash flows. However, over the past three years, free cash flows for Waste Management have declined substantially. The decline has occurred mainly due to an increase in the capital expenditures. As a result of a decrease in free cash flows, payout ratio for the company has gone close to 100%. Waste Management paid $704 million in cash dividends over the past twelve months, and generated $785 million in free cash flows, which puts its payout ratio at about 90%.
Essential Metrics
| | | | |
| --- | --- | --- | --- |
|   | Essential Ratios |   |   |
|   | 2012 | 2011 | 2010 |
| Funds from Operations(FFO)/Total Debt | 0.24 | 0.24 | 0.25 |
| FFO/Capital spending requirements | 1.43 | 1.65 | 1.94 |
| (Free Operating Cash Flow + Interest Expense)/ Interest Expense | 2.61 | 3.38 | 3.48 |
| Debt Service coverage | 1.03 | 1.46 | 2.33 |
For my analysis, I have used four ratios. First ratio indicates that FFO of the company offers light coverage to total debt of the company, and the ratio has declined slightly over the past two years. However, the trend in dividends shows that the low coverage for debt has not resulted in a decline in dividends. The second metric indicates that capital expenditures of the firm are easily covered with the FFO of the company. Since capital expenditures are a substantial expense for the company; it should not have any trouble meeting its capital requirement.
Last two metrics in the table indicate that the firm is able to meet its interest and debt payments sufficiently. Interest coverage is extremely strong for the company, and it should not face any trouble paying its interest obligations. Furthermore, debt service coverage is also covered with cash flows. Debt service coverage for the past twelve months has come down due to an increase in the short-term debt. Overall, the solvency position of the company is solid.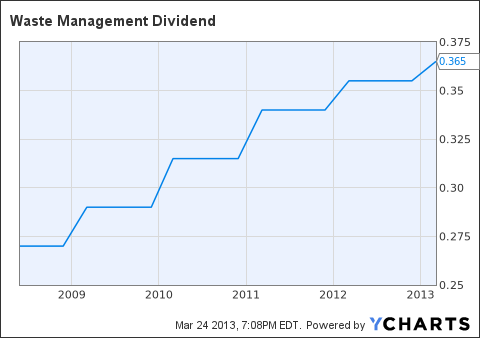 WM Dividend data by YCharts
Summary
Waste Management possesses strong pricing power, and the company operates in a relatively stable and low-growth environment. As a result, cash flows for the company have been solid over the years. Stability in cash flows and revenues have allowed the company to maintain an attractive dividend yield, which has attracted a lot of investors. Our analysis indicates that Waste Management's dividends are nor under threat in the short-term. However, if the trend in cash flows and debt metrics continues; the company might have a trouble maintaining current dividend levels. The reduction in the debt service coverage is worth to keep an eye on.
Disclosure: I have no positions in any stocks mentioned, and no plans to initiate any positions within the next 72 hours.
Business relationship disclosure: EfsInvestment is a team of analysts. This article was written by Cagdas Ozcan, one of our equity researchers. We did not receive compensation for this article (other than from Seeking Alpha), and we have no business relationship with any company whose stock is mentioned in this article.