After Cisco Systems' (NASDAQ:CSCO) second quarter report in February, I encouraged investors to wait for a pullback. Cisco shares had rallied strongly in the months prior to the report, and the quarter's results did not justify the complete rally in my opinion. After that report, shares continued even higher, as US markets have rallied to new highs. Last week, Cisco shares tumbled after a surprising analyst downgrade. Shares have lost about 5.5% since their recent high, and that provides an excellent chance to analyze a potential entry into the name.
First, the downgrade:
FBR Capital downgraded Cisco to Underperform from Market Perform, and reduced their price target on the name from $22 to $17. They issued the following statement:
"We believe Cisco will become increasingly more challenged to offset weaker-than-expected routing and switching demand as it works to transition to a more software- and service-centric business model," the analyst said in its downgrade report. "Looking ahead, we see the potential for additional negative technological trends that could significantly blur the lines between routers, switches and servers."
They followed with three more critical expectations:
A slow, but meaningful, reduction in the number of routers and switches deployed into networks.
The adoption of an increasingly larger mix of white box, lower-margin product.
The announcement of new competitive products and vendors that could negatively affect gross margins at both companies and across the space. We encourage investors to take profits, and we move to the sidelines as we work to better understand the significant changes occurring across the networking landscape.
As the space gets more competitive, I'm not sure that it's a surprise that gross margins will come down. As I detailed in Cisco's latest report, Q2 GAAP gross margins fell from 61.29% in the prior year period to 60.70%. Three years ago, that number stood at 64.51%. However, Cisco has been able to offset some of those gross margin losses on the operating side and further down the income statement. Despite the previously mentioned 382 basis point decline in gross margins over the past three years, operating margins have only declined by 109 basis points, and net profit margins were down just 55 basis points (after adjusting for the tax break).
I understand some of the concerns that the research firm gave. But to give an underperform rating and a price target that implied a 21.55% drop in the stock (from the prior day's close) seems a bit harsh to me. According to Thomson/First Call data, 40 analysts currently have ratings on the stock. 10 have strong buys, 18 have buys, 8 have holds, and 4 have underperforms. The average price target among 32 analysts is $23.44, implying about 13% growth from Friday's close, while the median target at $24.00 implies 15.7% growth. The price target range is $14 to $26, which means that most of those analysts have targets at the upper end of the range, since the median is $24.
Focusing on dividend yields:
One of the reasons I encouraged new investors to wait on Cisco was due to a drop in the dividend yield. With Cisco shares rising, it's obvious that the dividend yield would come down. Those in the name already don't care, because the stock was appreciating quite nicely. However, those with no position didn't participate in the rally, and were looking at a much lower yield.
When Cisco announced the 75% dividend raise in August, the stock was yielding 3.27% on an annual basis, based on the close right before earnings. That put Cisco's yield on par with that of Microsoft (NASDAQ:MSFT). At the time I wrote my previous Cisco article, the yield was down to 2.67%, and it hit a bottom of about 2.55% recently. At that yield, Cisco's dividend yield was barely above that of Apple (NASDAQ:AAPL).
Cisco shares have decreased slightly since my latest article, and the yield is now a hair under 2.70%. It's still a decent yield, and if shares pull back a little more, we could approach 2.75%, which would probably be a better buy point for investors. The table below shows some price to yield points.

With a name like Cisco, I usually encourage waiting for the yield to increase between 5-15 basis points before buying. Given my last article was at 2.67%, I'm thinking that investors could start at 2.75% and average in every 5 additional basis points. Cisco's dividend is also quite safe, in case you were wondering.
Industry / Tech comparisons:
It's always good to provide some sort of context, so in this section I'll provide some comparisons to Cisco. I'm going to use two names in the networking space, Juniper Networks (NYSE:JNPR) and Riverbed Technology (NASDAQ:RVBD). I'm also going to compare Cisco against two top tier tech value names, Microsoft and Intel (NASDAQ:INTC), as I've compared these three tech giants in the past.
So the following table shows some comparisons. The growth numbers are in terms of current expectations for each name's current fiscal year ("CFY") and next fiscal year ("NFY"). The price to earnings ratios are based off those current expectations. I've also provided dividend yields, when applicable, and the amount of each company's stock buyback left (at end of most recently reported fiscal quarter), against their market cap (Friday's close). Two quick notes. For all names except Intel, these estimates are for non-GAAP earnings, which means the P/E's below are lower than they would be if we were using GAAP estimates. Also, the fiscal years for these names can vary a bit. Cisco's current fiscal year ends in July 2013, Microsoft's is June 2013, and the other three are calendar 2013 for their current fiscal year.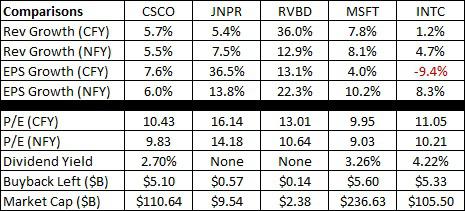 In the networking space, Cisco is a more established and mature name, so you would expect the growth numbers to be a little lower. Juniper and Riverbed obviously provide more growth, which is why those two names trade at a bit of a premium. Cisco does pay a dividend, which the other two do not, but does it make up for less growth? Some investors would say no. All three names are buying back stock now.
In terms of Cisco as a tech giant, Microsoft provides more growth, and offers a larger dividend, while trading at a lower valuation. The one difference here is that Microsoft's buyback does not have as much remaining on it. Cisco has a slightly lower dollar value left, but trades at a market cap less than half of Microsoft's. When comparing Cisco to Intel, Cisco offers a bit more growth at a cheaper valuation, but offers a significantly lower dividend. Also, Intel's buyback is a little stronger right now, something I recently covered.
Overall, Cisco's valuation appears very fair compared to both the networking and large tech names. Again, markets are elevated and if we were to get a pullback, you would see some of these valuations come down a bit. Right now though, you can't say that any of these valuations are ridiculously high or low.
Final Thoughts:
The recent analyst downgrade has provided an interesting opportunity when it comes to Cisco. Should the markets finally pull back a little, Cisco could head back down towards $20, which would push the dividend yield up to the 2.75% or even 2.80% range. Cisco's valuation is very fair right now, and a 2.70% yield plus a decent stock buyback are something to keep an eye on. Cisco shares had been on a tear until a week ago, and the latest decline provides an opportunity to again look at the networking giant.
Disclosure: I have no positions in any stocks mentioned, and no plans to initiate any positions within the next 72 hours. I wrote this article myself, and it expresses my own opinions. I am not receiving compensation for it (other than from Seeking Alpha). I have no business relationship with any company whose stock is mentioned in this article.
Additional disclosure: Investors are always reminded that before making any investment, you should do your own proper due diligence on any name directly or indirectly mentioned in this article. Investors should also consider seeking advice from a broker or financial adviser before making any investment decisions. Any material in this article should be considered general information, and not relied on as a formal investment recommendation.