With Easter coming soon, I thought it would be appropriate to write an article about The Hershey Company (NYSE:HSY). HSY's offers 10 seasonal products specific to the Easter holiday, focusing primarily on chocolate bunnies and eggs; not to mention my personal favorite seasonal treat, the wondrous Cadbury Egg (which happens to be sold in the United States by Hershey). I really started paying attention to Hershey's stock towards the end of last summer. The stock sat in the $72/73 range for the last six months of 2012 lingering on my radar but doing its best not to catch my attention. I kick myself on a daily basis for allowing this to happen.
During this period of time when wanting to add a food processing position to my portfolio I decided to go with SunOpta Inc (NASDAQ:STKL). At the time I was more interested in growth potential and I wanted exposure to the health food movement. Since then my research has lead me to believe that a dividend growth strategy is what is best for me. I still hold SunOpta; I still believe in the company's expansive abilities, though I do plan on reallocating these funds into a security that fits more closely into my current long-term plan (unless STKL decides to establish an unlikely dividend) when the opportunity arises. But I digress. I wanted to explain my reasoning for purchasing shares of SunOpta as an example of dramatic irony. I was considering HSY while looking for a growth stock but decided to go elsewhere. Well, Hershey's most recent 10-K form clearly shows why the stock has sky rocketed from $74/share to $86/share since January first; I wasn't the only person in this market interested in growth and Hershey Co. delivers, with a 2% dividend.
Company Overview
The Hershey Company began in 1894 when Milton Hershey decided to create a sweet chocolate coating for this caramel treats. Since then, The Hershey Company has become the largest chocolate producer in North America. HSY is among the world's leaders in the chocolate and sugar confection business with more than 80 brand names under its governance and yearly revenues exceeding $6 billion. Some of these iconic brands include: Hershey's (also, Kisses), Reese's (also, Pieces), Twizzlers, Mounds, Kit Kat, Almond Joy, and York - who doesn't love peppermint patties? The company also sells Breath Savers Mints, Bubble Yum Gum, and Ice Breakers mints, sours, and gum.
Company Growth Figures:
Hershey Co. has offered investors steady and reliable growth for years. This is in regard to its sales figures and its dividend. HSY's five-year compound growth rate for net sales is 6.1%. The company's five-year net income CAGR is 25.3%. HSY's advertisement expenditures have grown massively as well. In 2012 Hershey spent $480 million on advertisement compared to $414 million in 2011, $391 million in 2010, and $241 million in 2009. This advertisement falls in line with the company's goals of maintaining its stronghold on its American and Canadian market share while expanding its influence in important foreign markets such as Mexico and China.
HSY's EPS growth rates are also impressive. The company released its fourth-quarter EPS number of $0.74/share on January 31, which showed 5.71% growth YoY. HSY's one-year EPS growth rate is 5.81%. The company's five-year EPS growth rate is 25.62%. The earnings estimates look promising for HSY with a projected $3.64 EPS this year, a $3.99 EPS in 2014, and a $4.31 EPS in 2015. These estimated future figures combined with expected continuance of its historical dividend growth make HSY's stock look sweet indeed.
Dividend Information
The Hershey Company's website tracks its dividend performance back to 1997 where the full year's total payout was $0.32/share. HSY has consistently increased its dividend payouts since then with its 2012 full-year total amounting to $1.56 (a 386% increase in 15 years). You won't see HSY on any of the commonly followed DGI historical ranking charts because it froze its dividend growth for 10 consecutive quarters from 2007-2009. While I like to see annual dividend increases I also respect the company's management for making this unpopular, yet responsible decision. As you can see in the chart below, HSY's EPS took a big hit in 2008. Once the EPS figures bounced back the dividend growth continued and I cannot fault management for making this cautious decision that is congruent to my own investing philosophy.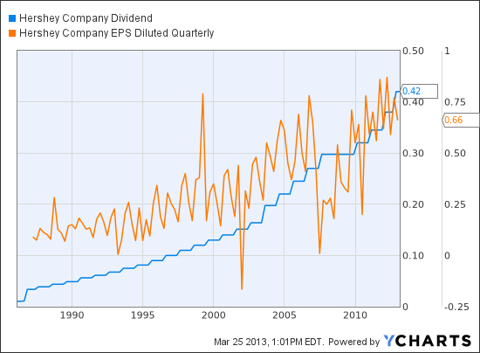 HSY Dividend data by YCharts
Hersheys currently pays a $0.42 quarterly dividend after a 10.53% quarterly increase declared 1/31/2013. This represents a 1.96% yield at its current valuation. This recent increase of 10.53% is above the company's five-year dividend growth rate of 6.57% showing HSY's confidence in its current sales and income growth trends.
HSY also offers a DRIP program, and more information can be found at the company's website.
I like Hershey Co. so much because it is not purely an income play. Due to the company's increasing sales and earnings numbers, HSY stock has appreciated greatly in the last five years. On March 25, 2008, HSY stock closed at $38.64. Today, the stock is trading in the $86 range. Without having collected or reinvested dividends, this represents a 120% return over a five-year period. Including dividends collected, this return figure rises to 141%.
Valuation
Even with so much growth data, I worry about HSY's current multiples: the company trades at a 30x P/E ratio, though this number is 23.7x looking forward 12 months. This is typically above the threshold that I look for when screening dividend growth stocks. HSY has been hot for some time now without a significant drop in stock price in the last two months. I'd like to pick up a stock like this in the 20-25x P/E arena. Entry point is important to me as an investor and I'll be watching closely for a pullback in the coming months. Its clear to me that the $73 range that I first considered for this stock is long gone but I'd like to pick up shares of HSY in the $80 range as this seems to be more in line with its long-term technical trend.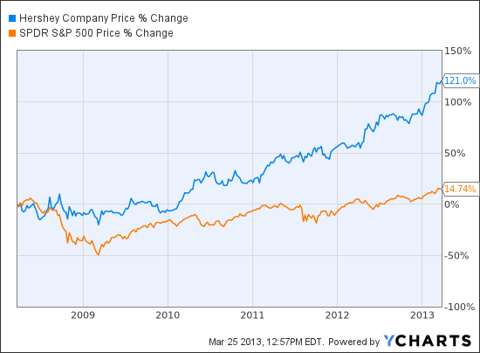 HSY data by YCharts
Disclosure: I am long STKL. I wrote this article myself, and it expresses my own opinions. I am not receiving compensation for it (other than from Seeking Alpha). I have no business relationship with any company whose stock is mentioned in this article.