American Capital Mortgage (NASDAQ:MTGE) is a hybrid mortgage REIT (mREIT). It is run and managed by the same top-notch team that manages American Capital Agency (NASDAQ:AGNC). Unlike AGNC, which invests solely in agency MBS, MTGE has a portfolio mix of both agency and non-agency investments. As of year-end 2012, MTGE had a book value of $25.74. The company recently announced its Q1 2013 dividend of $0.90 per share and went ex-dividend last week. At current prices, MTGE trades at a 2.5% discount to book value and yields about 14.3%.
Click to enlarge images.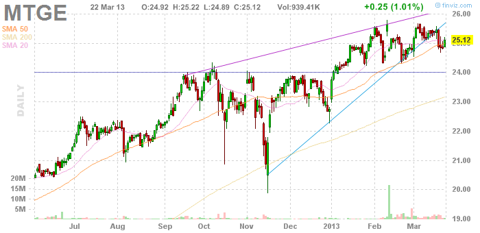 Click to enlarge
MTGE had a stellar full-year 2012. The company paid out $3.60 in dividends and increased its book value by $4.87 per share for a total return of over 40%. MTGE reported and incredible $8.90 of net income in 2012 and $3.24 of net spread income.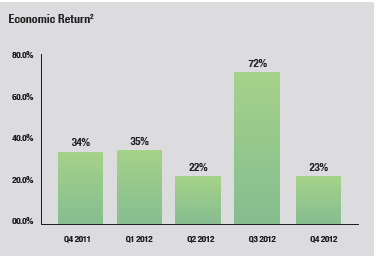 A large part of the reason for MTGE's success last year can be attributed to the recovering housing market. Across the board housing prices were up 7% in 2012. This has led to improvements in the fundamentals for MTGE's investments.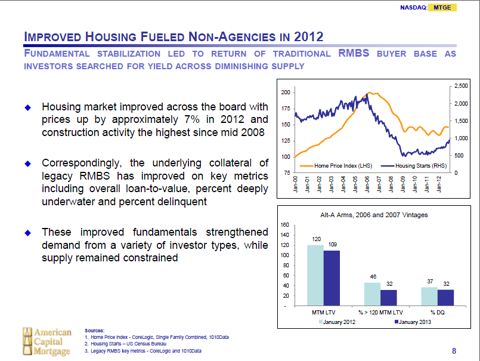 Click to enlarge
As of Q4 2012, MTGE had a capital allocation mix of: 72% agency and 28% non-agency. However, the portfolio mix is 90% agency and 10% non-agency due to the effects of leverage. MTGE employs a fairly large amount of leverage, with its agency investments levered 8.8x and non agency investments 1.6x. Of the agency investments, about 83% are lower loan balance and HARP loans, which usually have much lower CPRs. As of January 2013, the CPR for MTGE's portfolio was only 6%.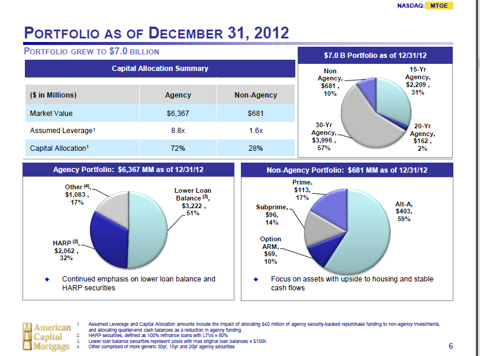 Click to enlarge
MTGE non-agency investments have different leverage ratios, with the riskier investments having less leverage. MTGE seeks a gross ROE of about 6%-9% from its non-agency investment portfolio.

Click to enlarge
MTGE's strategy of having both agency and non-agency investments can really be seen in its net interest margins (NIM). As of Q4 2012, MTGE had a NIM of about 2.07%. This is a much higher NIM than what a pure-play agency mREIT would achieve. For example, AGNC's NIM for Q4 2012 was 1.63%.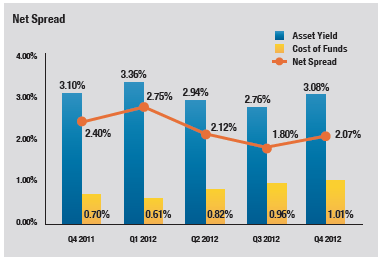 Conclusion
At current prices, MTGE is trading below book value and it may be a buying opportunity. However, MTGE is not a risk-free investment, as it is highly levered to the improving housing market, but it does offer the opportunity for outsized returns. MTGE is, in my opinion, a slightly more "risk-on" investment than AGNC primarily due to its holdings of non-agency debt and increased leverage.

Disclosure: I am long AGNC. Also, I may go long MTGE. I wrote this article myself, and it expresses my own opinions. I am not receiving compensation for it (other than from Seeking Alpha). I have no business relationship with any company whose stock is mentioned in this article.
Disclaimer: The opinions in this article are for informational purposes only and should not be construed as a recommendation to buy or sell the stocks mentioned. Please do your own due diligence before making any investment decision.