Closed-end funds (CEFs) that invest in large cap stocks have materially underperformed the Russell 1000 (Large Cap) Index over the past stock market cycle as measured by the ETF iShares Russell 1000 Index Fund (NYSEARCA:IWB). Additionally, the sector portfolio holdings of the three CEFs that invest in large cap stocks don't appear materially different than that of the large cap ETF (IWB). (See table below).
Case Closed: This is a logical conclusion given the advantages of a large cap ETF like IWB over a CEF. Such advantages include: size and portfolio diversification; low expense ratio (0.15% versus average 1.5% for CEFs); no managed distribution policy, i.e., IWB doesn't typically make return of capital distributions; market liquidity. For investors looking to participate long-term in large cap stocks, case closed!
click to enlarge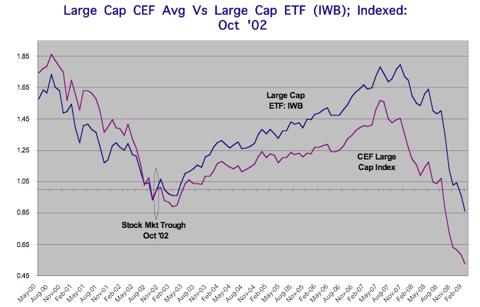 Click to enlarge
But Wait: There is one CEF metric that might make two of the three large cap CEFs an interesting trade. This is the materially wide current discount spread to their respective average year-end historical discounts. Currently, Blue Chip Value Fund (NYSE:BLU) and Zweig Fund (NYSE:ZF) are trading at a discount spread of -15.3% and -18.7%, respectively. If the stocks gravitated to their average historically discount, the share price would appreciate 18.8% and 23.7%, respectively. (During the early phase of a stock market recovery, CEFs discounts have a tendency to contract.)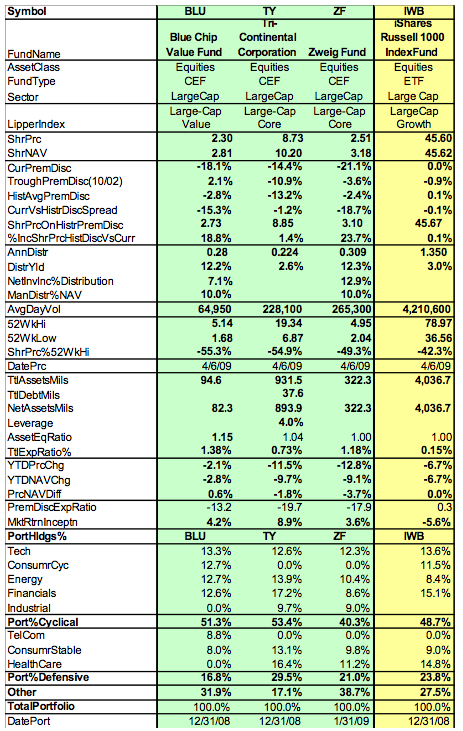 Faux Distributions: Both CEFs pay a distribution yield around 12%. Both BLU and ZF employ managed distribution policies that are based upon 10% of year-end NAV.
This means they are making significant return-of-capital distributions in difficult stock market environments. This reduces NAVs.
Low Entry Point: Given the CEFs' low cost per share, it provides an easy entry point for large cap investors willing to assume a modicum of risk. This is a short-term 3-to-6 month trading idea. If the trade fails to materialize, it's like falling out a 2nd story window and breaking your leg, as oppose to a 20 story window and crushing your head.
Disclosure: Author owns BLU, TY and ZF.