With a subsidiary of Cheniere Energy (NYSEMKT:LNG) announcing the signing of another long-term supply contract, the stock has become overheated with a RSI approaching 80. Investors need to be concerned that the newest deal won't lead to sales until 2018 at the earliest and could face a block by the federal government.
The company plans to be one of the leading domestic LNG exporters. It owns a 61% interest in Cheniere Energy Partners, L.P. (NYSEMKT:CQP), which owns the Sabine Pass facilities. Cheniere Energy Partners plans to construct six natural gas liquefaction trains that are in various stages of development to produce a total of 27 mmtpa.
With Cheniere Energy, the question has never been whether it could obtain long-term contracts considering the advantage of cheap domestic natural gas over the costs of foreign gas. The real issue is whether that gas will ever make it outside these borders with pressure to block exports and the possibility for dramatically higher prices by the time the LNG trains are built in Louisiana.
Centrica Deal
The deal involves Centrica, owner of British Gas that serves around 12M homes in Britain, purchasing 91,250,000 MMBtu of annual LNG volumes upon the commencement of Train 5 operations. Under the sale and purchase agreement, Centrica will purchase LNG on an FOB basis for a purchase price of $3.00 plus 115% of the indexed monthly Henry Hub price. The contract has a 20-year term, commencing on the date of first commercial delivery of LNG.
This deal combined with a previously one with Total Gas & Power (NYSE:TOT) provides Cheniere with the contracts needed to move forward with obtaining the regulatory and financing needs for the fifth train at the Sabine Pass.
The table below highlights the target dates for each train: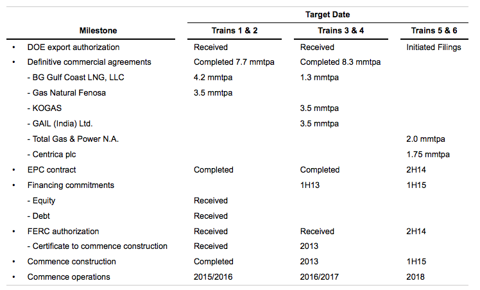 Click to enlarge
Pressure To Block Exports
Pressure continues to exist to block the export of natural gas whether from the Sierra Club wanting to block hydraulic fracturing to manufacturer Dow Chemical (NYSE:DOW) wanting cheap natural gas for production.
According to the Wall Street Journal, the chair of the Energy and Natural Resources Committee is planning a bill that could include restrictions on natural gas exports. With up to 20 companies seeking permission to ship natural gas to countries lacking a free-trade agreement, Senator Wyden from Oregon is attempting to find common ground, which could mean a limit on exports equal to 10% of daily production.
Considering the bill pits Dow Chemical against Exxon Mobil (NYSE:XOM), one has to assume that the energy company will not have favored status in the current administration. With exports from Cheniere expected to hit full stride in 2016, the next presidential election could be very much impacted by the issue of natural gas exports. Free trade versus protectionism could be a huge theme by then.
Stock Chart
Ultimately it comes down to valuation as the stock is now worth $6B though most of the facility work to export gas hasn't been completed. Not to mention, the trains aren't expected to ramp up until 2016. The below chart highlights the lofty move of the stock suggesting at least a pause in the short-term: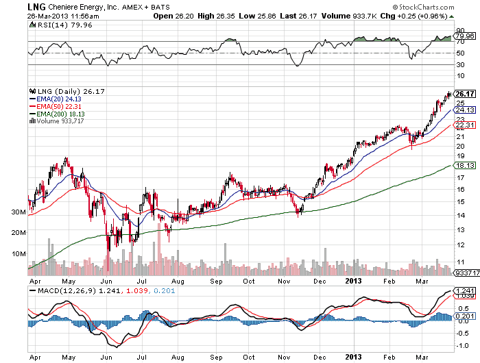 Click to enlarge
Conclusion
Investors in Cheniere Energy need to understand the powerful lobby of environmentalists and manufacturers such as Dow Chemical especially in the current democratic controlled oval office. The stock is now overbought and several years will pass before for the first LNG is exported. Investors piling in now aren't likely to be rewarded.
Disclosure: I have no positions in any stocks mentioned, and no plans to initiate any positions within the next 72 hours. I wrote this article myself, and it expresses my own opinions. I am not receiving compensation for it (other than from Seeking Alpha). I have no business relationship with any company whose stock is mentioned in this article.
Additional disclosure: The information contained herein is for informational purposes only. Nothing in this article should be taken as a solicitation to purchase or sell securities. Before buying or selling any stock you should do your own research and reach your own conclusion or consult a financial advisor. Investing includes risks, including loss of principal.