Introduction
Apple (NASDAQ:AAPL) is the world's largest technology company in terms of market capitalization and generated over $54 billion in revenues in the last fiscal year. However, the stock has been under pressure over the last few months due to growth and competition concerns. Apple has a sizeable market share of the US market and is now putting more resources in expanding into other big countries like India and China. The company has managed to win substantial share of India's smartphone market in recent times due to aggressive financing and marketing schemes. The company management has been equally aggressive in China, which it hopes will surpass USA as its No.1 market in the near future. The company plans to open many more stores to increase its street level presence in the world's most populous country. It is also trying hard to sign a deal with the world's largest telecom carrier China Mobile (NYSE:CHL) to sell iPhones. China is much more crucial than India to Apple's plans because not only does China have more people but also has a much higher per capital income. However, I feel that Apple might face a number of hurdles as it tries to catch a larger share of the Chinese technology spending. I am listing out some of those concerns.
1. Chinese Government
The biggest hurdle in Apple being able to meet its target will be the Chinese government. The Communist Party of China does not like any other entity getting influential in China. It is particularly hostile to foreign companies, which have managed to attain a substantial market share of the Chinese market. Foreign companies and governments have complained about the discriminatory government practices for a long time now. Google (NASDAQ:GOOG) was forced out of China due to the government's attitude on censorship and allegations of hacking of its servers. The success of Baidu (NASDAQ:BIDU) can largely be attributed to the favoritism shown by the Chinese government. It should be noted that Google is dominant in the Internet search in almost every country except China. The administration does not want foreign technology companies to earn too much money from the Chinese market. The country developed a new telecom standard (TD-SCDMA) to break the technology monopoly of US and European telecom companies. Huawei and ZTE, the two Chinese telecom giants have been caught in a number of controversies about their close relationship with the government. These companies have been repeatedly stopped from doing business in countries like India and USA. Huawei was prevented from buying 3Com.
Government seems already pissed off with Android
The Chinese government has started making noises about the dominance of the Android operating system in the local Chinese smartphone market. Top Chinese vendors such as Lenovo, ZTE and Huawei use the Android operating system for most of their smartphones. This has not gone down well with the Chinese government. It allows too much information about Chinese citizens going to a foreign company in real time. I have already highlighted this as one of the major threats facing the growth and dominance of the Android operating system.
Now it seems to be targeting Apple
The Chinese government media have recently targeted Apple with negative reports, which is not a good sign. There have been 3 recent instances of media attacks against Apple. First, government owned CCTV criticized Apple for poor after sales service and for charging Chinese customers for services, which it gives for free in other countries. Then a People's Daily report issued a negative report about Apple in which it described how college students were defaulting on loans taken for buying Apple products. In its most recent attack on 25th March, the People's Daily newspaper in a front page article lampooned the company for declining to give interviews.
2. Local Chinese Competitors are growing stronger
I had pointed out some time ago that Chinese smartphone companies may be a bigger threat to Apple than Samsung and other well known names. Chinese companies have entered the ranks of the top 10 smartphone vendors in 2012, thanks to the size of their huge domestic market. Lenovo, ZTE and Huawei have established large market shares in the Chinese market and are now looking to aggressively expand into the foreign markets. Lenovo which is the world's 2nd largest PC seller is looking at tablets and smartphones to offset the declining revenues from PCs. Huawei and ZTE are already two of the largest telecom equipment suppliers in the world and are levering their telecom expertise to make a mark in the mobile computing space. Huawei showcased a stunning new premium smartphone during the recent CES show. These companies with their huge resources and government backing are set to carve out a larger marketshare of the global market.
Top Five Smartphone Vendors, Shipments, and Market Share, Q4 2012 (Units in Millions)
| | | | | | |
| --- | --- | --- | --- | --- | --- |
| Vendor | 4Q12 Unit Shipments | 4Q12 Market Share | 4Q11 Unit Shipments | 4Q11 Market Share | Year-over-Year Change |
| 1. Samsung | 63.7 | 29.0% | 36.2 | 22.5% | 76.0% |
| 2. Apple | 47.8 | 21.8% | 37.0 | 23.0% | 29.2% |
| 3. Huawei | 10.8 | 4.9% | 5.7 | 3.5% | 89.5% |
| 4. Sony | 9.8 | 4.5% | 6.3 | 3.9% | 55.6% |
| 5. ZTE | 9.5 | 4.3% | 6.4 | 4.0% | 48.4% |
| Others | 77.8 | 35.5% | 69.2 | 43.1% | 12.4% |
| Total | 219.4 | 100.0% | 160.8 | 100.0% | 36.4% |
Source: IDC
3. Large majority cannot afford the premium iPhones and iPads
Apple is a seller of premium products which allows it to post one of the highest margins in the electronics industry. However, this may pose a problem for Apple in China, where the vast majority of the citizens cannot afford Apple products. The per capita income of USA is 9 times more than the per capita income of China. Apple would need to introduce much cheaper products in order to get a greater marketshare of the overall smartphone and the tablet markets. There are already rumors that Apple is preparing to come out with a cheaper iPhone in order to serve the emerging market customers.
4. Americas are almost 3 times larger than Greater China sales
Apple does not breakout USA and China specific revenues in its reports, however using "Americas" as a proxy for USA and "Greater China" as proxy for China, you can see that the "Americas" segment makes almost ~3x the revenues that "Greater China" does. Even with the 67% growth increase in Greater China sales compared with 15% in Americas, the absolute sales increase in these two regions was not very different (~$2.8 billion compared to ~$2.6 billion). The reason is the much larger base of sales in the "Americas" region.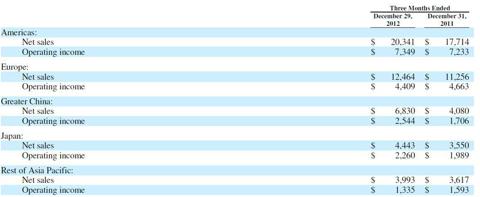 Click to enlarge
Source - Apple
Summary
China is Apple's fastest growing market by a long margin and already contributes ~12% of its total revenues. However, it will not be easy for Apple to maintain its growth rate in China given the hurdles described above. Apple will have to engage more deeply with the Chinese government and probably use the US government in putting pressure on China. The US government has recently played hard ball with India over solar panel exports. Despite First Solar (NASDAQ:FSLR) dominating the Indian solar energy market, US have filed a WTO case against India over domestic content requirements. It is too difficult to predict how the Chinese government and Apple fight will play out in the future. The only thing one can say for certain is that Apple will face increasing problems as its size grows in China. Overall, I remain optimistic about Apple's stock given its cheap valuation and upcoming catalysts such as the iPhone 5S and iWatch.
Disclosure: I have no positions in any stocks mentioned, and no plans to initiate any positions within the next 72 hours. I wrote this article myself, and it expresses my own opinions. I am not receiving compensation for it (other than from Seeking Alpha). I have no business relationship with any company whose stock is mentioned in this article.