Three things tell us that the Street has changed its mind regarding Best Buy (NYSE:BBY). These are:
The stock going up nearly 100% since the start of the year;
A flurry of upgrades where previously there were only downgrades;
And -- as we can see in the table below -- a significant drop in its short interest.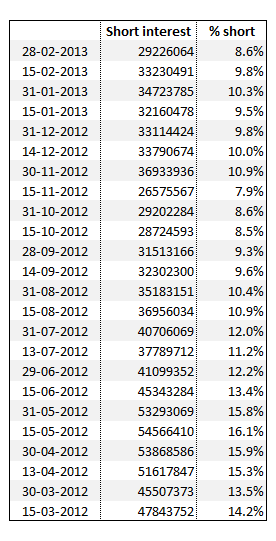 Best Buy managed this feat due mostly to two factors:
 
First, Amazon.com (NASDAQ:AMZN) has been forced to start collecting sales taxes in California, Texas and Pennsylvania;
Second, Best Buy decided to price-match Amazon.com and other online retailers. This, at least in the States where the competitors were forced to start collecting sales tax, probably ended the "showrooming" effect in one fell swoop.

As of now, the market is giving the benefit of the doubt to Best Buy's new management. Even though Best Buy's valuation, at 3.4 times EBITDA, is not demanding, and the short interest is still high at 8.6% of the outstanding shares, the fact is that Best Buy can only continue this run if the factors leading to it persist in the future. That is, if Best Buy stops bleeding market share and is able both to return to growth and to (mostly) keep its margins intact. After all, at the present EPS consensus for 2013, $2.17, Best Buy already trades at 10.7 times earnings, and such is already a regular valuation multiple.
But if Best Buy is to do well …
This brings with it significant implications. Best Buy is a direct competitor to the largest of Amazon.com's segments - Electronics and General Merchandise (EGM). EGM comprised 66.9% of Amazon.com's U.S. revenues. And the U.S. is the only place where Amazon.com can still be called "profitable". Indeed, it might be that Best Buy is the largest single most relevant Amazon.com competitor at this point.
It can thus be said that Amazon.com's huge valuation - it trades at 173 times the ever-falling 2013 consensus estimates -- was, up until the start of the year, predicated on Amazon.com destroying Best Buy, much like it supposedly did to Borders and Circuit City.
So, if Best Buy is no longer bleeding, and indeed, has higher and more stable EPS estimates than Amazon.com itself, the showrooming catastrophe seems to be losing strength. What now? How can the market simultaneously believe that Best Buy is no longer doomed, and yet Amazon.com still trades as if it is?
The answer, obviously, is it can't. In the following months, either Best Buy resumes its slide, or Amazon.com has to be re-priced for the new reality where Best Buy fights back successfully.
Conclusion
Much like I said regarding retail commercial real estate, the market cannot continue believing in Best Buy's recovery and Amazon.com's dominance. One or the other has to turn out to be false. At this point, it's looking that it will be Amazon.com's dominance which will come up the loser, given how Best Buy has been exceeding what's expected of it at the same time Amazon.com has mostly been under-delivering badly, both in terms of earnings, and recently --- with the Q4 $1 billion miss and guide down - in terms of revenues.
Disclosure: I am short AMZN. I wrote this article myself, and it expresses my own opinions. I am not receiving compensation for it (other than from Seeking Alpha). I have no business relationship with any company whose stock is mentioned in this article.