Anyone who reads this blog knows my affinity for retail stocks, particularly apparel retailers. Simple businesses with measurable demand yet so complex and diverse in execution and strategy. More importantly, retail stocks can be quite volatile as investors fall in and out of love with the stocks almost as quickly as consumers fall in and out of love with various fashion trends. Just a few months ago, I wrote about how investors have unfairly punished retail stocks over the last year. In the last few weeks, we've seen just how quickly they're willing to pile right back in. In fact, on a technical basis, many are showing signs of strong reversals.
At the turn of the year, I was eyeing The Buckle (BKE) with both excitement and trepidation. Having seen the stock bounce strongly off lows in the teens, a combination of fear and greed kept me on the sidelines hoping that the stock might sell off back into the teens. In a testament to why you shouldn't try to time the market or try to be overly fine in your attempt to secure a few percentage points in your entry point, The Buckle continued to perform in the face of the current recession and never fell below $20 a share again. Instead, it's appreciated around 50% since the January 1, leaving scaredy-cat investors like me in the dust. But, The Buckle isn't the only quality retailer out there and, even with the recent market rally, there are still quite a few interesting opportunities out there.
J. Crew Group
J. Crew (JCG) is a former portfolio holding that I've written about a lot over the last few years. Long story short, I'm a big fan of what Mickey Drexler (the engineer of the Gap growth story in the 90s) has done with the Company. He's transformed the brand from a too-preppy, questionable quality teen retailer to a legitimate fashion brand with some tremendously unique retail locations. Further, he's quietly begun scaling a teen brand, Madewell, that I think has a chance to really drive growth in the future. As one of the few true growth stories left in apparel retailers, I think J. Crew could be a real winner once consumer spending perks up again. With all the great press from Michelle Obama lately, that could be sooner rather than later.
On a technical basis, the stock has begun the first phase of a healthy reversal with a strong breakout over its 50-day moving average. The expected result here is that the stock will at some point retest the 50-day before attempting a breakout over its 200-day moving average, which would signal a new long-term uptrend. With RSI and MACD weakening in the last few days, I would think there might be an opportunity to buy this stock at a lower level, near term.
Gap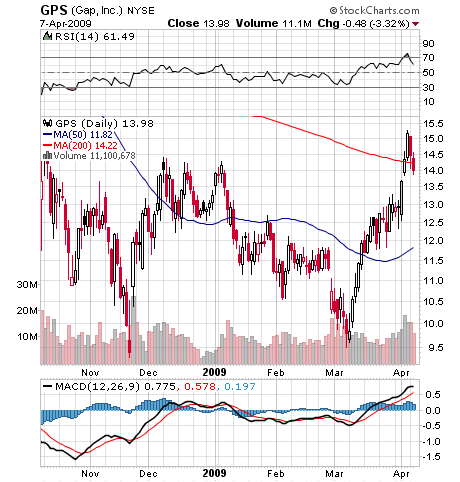 Gap (GPS) has fallen out of favor in the last few years. Mickey Drexler was pushed out of the company he built into a multi-billion dollar empire and a veritable hit parade of design teams and CEOs tried their hand at resurrecting the Company. After years of declining revenue and earnings and a correspondingly-attacked stock price, I think Gap may finally be interesting to investors again.
New CEO Glenn Murphy is the kind of professional manager that's needed for such a large, mature retailer. His focus on cost cutting, improving profitability and right sizing Gap locations has juiced earnings in the face of continuing poor revenue performance. Same store sales will have to begin improving for these changes to truly produce long term results, and I think new head designer Patrick Robinson is just the man to get feet back in the stores. Under his leadership, Gap's offerings finally seem headed in the right direction. Heck, Old Navy's Fall 2008 offerings were palatable for the first time in almost a decade.
On a technical basis, Gap's stock has rebounded swiftly and sharply off of lows in the $10 range. It has crossed its 50-day and 200-day moving averages in one fell swoop and looks to be making a quick test of the 200-day. It's hard to read too much into this movement, though I would say my safe entry point would be closer to $12-$13 versus the $14-$15 range right now. But, with a 2.4% dividend and a shareholder friendly Glenn Murphy aboard, it may not be a bad idea to begin loading up lest this run away.
Urban Outfitters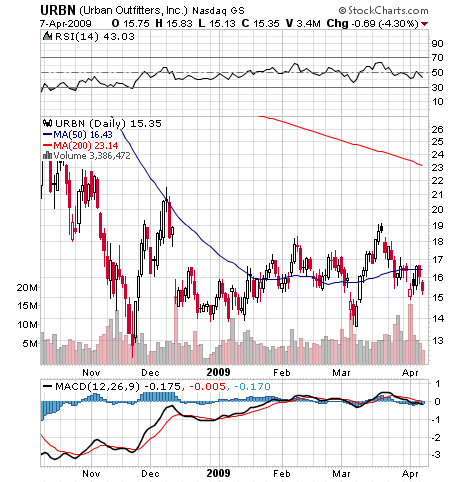 After flying high through 2009, Urban Outfitters seems to finally have succumbed to the recession and maybe even the changing of trends. It's hard to say for sure, but with a stock trading at just 12x P/E, it would seem as good a time as any to take a chance on this retailer. Urban's Anthropologie and Free People stores retain a cult-like following and the Company has demonstrated an uncanny knack for merchandising and trend setting for years. With a store base far from saturation, the growth story may not be over for URBN just yet.
On a technical basis, URBN, unsurprisingly, is one of the few retail stocks that has yet to really respond to the recent market rally. This may be more a result of perception than any fundamental weakness. J. Crew took its lumps as the market collapsed late last year. Gap has bucked the trend by improving profitability despite lower sales. And, URBN is just now announcing softness in its same store sales numbers possibly because its rapid growth over the last few years is catching up with it as stores from the 2007-2008 vintage enter the SSS pool. This is good news for anyone looking for an opportunistic entry point.
Full Disclosure: Author is not long any of the stocks mentioned in this post though positions can change at any time.