Share price of Lorillard (NYSE:LO) has declined by 8% over the past 12 months. At $40.02, the stock has recovered a bit from its 52-week low and offers a notable dividend yield at 5.5%. This investment is a strong buy at this level based on the following five compelling reasons:
1. Lorillard shares are inexpensive based on the company's solid financial performance relative to its peers' (see chart below). Consensus estimates on average predict the firm's revenue, EBITDA, and EPS to grow at 2-year CAGRs of 5.5%, 1.5%, and 10.8%, respectively. Compared with a group consisting of Lorillard's primary peers, while the firm's top-line growth estimate is above the peer average, its EBITDA and EPS growth projections are below par. Lorillard's long-term earnings growth is forecast to be 8.2%, slightly below the group average at 8.9%. On the profit side, however, the firm demonstrates a superior performance as most of its profitability and capital return measures are above par. Although Lorillard's debt to capitalization ratio is notably above the average, the firm's debt to EBITDA rate is fairly in line, suggesting a safe leverage condition. In terms of liquidity, Lorillard's free cash flow margin is slightly above par. Due to the strong profitability and the below-average debt to EBITDA leverage ratio, the firm was able to maintain a healthy interest coverage ratio. Both the firm's current and quick ratios are above the group averages, reflecting a healthy balance sheet.

Click to enlarge
To summarize, Lorillard's relatively weaker growth potential would likely be a primary drag on the stock valuation. However, given the company's solid profitability and liquidity performance, I believe the stock's fair value should trade quite close to the peer-average level. Nevertheless, the current price multiples at 8.2x forward EBITDA and 13.0x forward EPS (on next 12 months basis) are the lowest in the group and together represent an average discount of 14% to the same peer-average trading multiples. After accounting for Lorillard's long-term EPS growth estimate, the stock's PEG ratio of 1.6x is still the lowest in the group and 5% below the peer average at 1.7x, suggesting that market has likely not given enough credits to the firm's above-average profitability and liquidity and thus the shares are modestly undervalued on a relative basis (see chart above).
2. Lorillard's forward P/E multiple is currently trading at 11% below the same multiple of S&P 500 Index (see chart below), the deepest market discount in the tobacco group.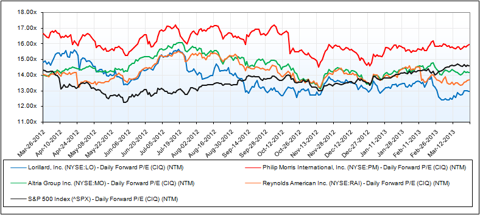 Click to enlarge
I believe the below-market valuation presents a great entry opportunity as the shares should reasonably trade at least in line with the market level provided that 1) the shares traded at a premium over the market most of the time in 2012 and the valuation premium averaged at 2.2% in the past 12 months (see chart above); 2) Lorillard's long-term EPS growth rate at 8.2% is in line with the average estimate of 8.2% for the S&P 500 companies; 3) the firm enjoys an industry/market-leading capital return and free cash flow performance; 4) the stock's 5.5% dividend yield is more than twice the 2.3% average yield for the S&P 500 Index; and 5) the company is also committed to a share repurchase program which provides an additional cushion to the price.
3. Given the lofty 5.5% dividend yield, the shares appear to have a limited downside. Since 2010, Lorillard has raised the dividend per share 4 times by 12.5%, 15.6%, 19.2%, and 6.5%, consecutively. As the annual free cash flow generated were more than sufficient to cover the annual dividend paid in the past few years, I believe Lorillard still has enough capacity to sustain the current pace of the dividend growth at least in the near future (see chart below).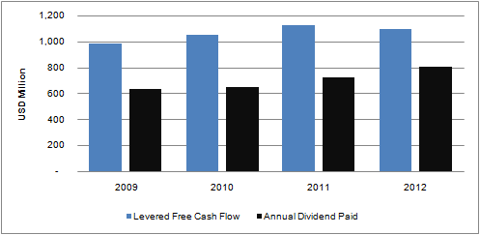 Click to enlarge
In addition, the Fed' continued easing policy would likely to continue supporting a strong demand for high-yield assets which would limit any further upside on Lorillard's dividend yield. As such, assuming a target dividend yield range from 5.5% to 6.0%, and supposing that the annualized dividend per share would be raised by just 5.0% from the current level at $2.20 to $2.31 in February 2014 payment period, this conservative scenario would result in a share value range from $38.50 to $42.00, or a fairly favorable price return band from - 3.8% to 5.0% even before considering the 5.5% dividend income throughout the holding period.
4. Market sentiment on the stock has recovered. The consensus revenue, EBITDA, and EPS estimates for 2013 and 2014 achieved their lowest level in about 3 months ago. Since then all the estimates have experienced multiple upward revisions. Analysts' long-term EPS growth rate initially dropped from 10.7% to 7.9% in 3 months ago, but then was recently raised to 8.2% (see charts below).

Click to enlarge

Click to enlarge

Click to enlarge

Click to enlarge
5. In a research note released in late February, Thomas Mullarkey at Morningstar commented on Lorillard's growth prospects, which appears to be fair (sourced from Thomson One, Equity Research):
"While America's other large tobacco companies have branched into smokeless tobacco products, Lorillard has remained keenly focused on the cigarette market and on growing its Newport brand. Even though the U.S. cigarette market has continually shrunk, Lorillard has been able to grow cigarette volumes over the past five years thanks to menthol becoming a larger piece of the overall tobacco market, the Newport brand gaining share of the menthol market, the recent launch of Newport Red, and robust growth of its value-priced Maverick brand. We view the possibility of significant FDA restrictions on the menthol cigarette market extremely unlikely given high probability of meaningful negative unintended consequence…Lorillard has ample opportunities to grow its cigarette volumes by continuing to increase its business in the western U.S. and by steadily investing behind Newport Red in the non-menthol category...Income investors may also find the company's 5% dividend yield an attractive alternative to bonds."
Given the above, investors should consider buying Lorillard stock as it offers the best value in the group at the $40 level.
All charts are created by the author except for the consensus estimate tables, which are sourced from S&P Capital IQ, and all financial data used in the article and the charts is sourced from S&P Capital IQ unless otherwise specified.
Disclosure: I am long LO. I wrote this article myself, and it expresses my own opinions. I am not receiving compensation for it (other than from Seeking Alpha). I have no business relationship with any company whose stock is mentioned in this article.