I've given Netflix (NASDAQ:NFLX) all the credit in the world for their tremendous fourth quarter report. The company beat estimates and issued Q1 guidance that was well above expectations. As a result, the stock has gone from just over $100 to more than $180 per share since the report, and it had nearly doubled going into that report. But as I look at the current analyst estimates for Netflix in 2013, I start to worry. On the heels of that great quarter and guidance, analysts have kept increasing their expectations, and rightly so. Since the Q4 report, the 2013 average revenue estimate has jumped from $4.07 billion to $4.27 billion, and analysts are currently expecting 18.2% growth. That number seems fair, but I'll come back to it later.
My main issue is with the earnings per share figure. Going into the Q4 report, analysts were expecting a profit of just $0.41 per share this year from Netflix. The current average estimate is for $1.37. Netflix analysts are expecting $2.99 in the following year, which means they believe Netflix can become fairly profitable again. But will Netflix be able to do so? Let's examine some key issues.
First, domestic streaming margins seems capped:
Right now, the largest percentage of Netflix's revenues are coming from domestic (United States) streaming. That should not surprise you. The following table shows Netflix's percentage of revenues among their three business segments.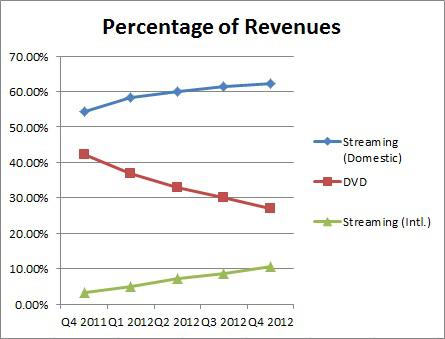 As you would expect, domestic streaming is becoming a larger part of the business, which is Netflix's goal. They want to move to a streaming only business eventually, which means killing off the more profitable DVD segment. That is a problem in of itself.
Over the past year, Netflix has done a great job improving the contribution margin of the domestic streaming segment. The segment's contribution margin has risen from 10.94% to 18.54%. However, as you see in the table below, that's only because the company has slashed marketing expenses as a percentage of revenues. This makes sense, because as you gain more and more subscribers, you don't need to market as much. Your subscribers become free marketing themselves, if they like the product.
But the table below shows that on a gross margin basis, domestic streaming isn't making any large strides. The benefit here is from cutting the marketing expenses, which means that gross margins are capped unless they can start getting those expenses under control. As I'll detail later, that probably won't happen soon, especially if Netflix continues to spend $4 million an episode on original programming. The table below shows some key domestic streaming financial numbers, with dollar values in thousands.

In Q4 of 2012, Netflix's total gross margin percentage was 26.38%, and their domestic streaming gross margin percentage was 28.68%. Thus, their isn't a lot of room for company gross margins to expand, and that's assuming that Netflix can get international gross margins over the long term to match domestic ones.
Overall contribution margins rely on no international growth:
Domestic Streaming contributions are getting close to topping out unless Netflix can somehow bring the "cost of goods sold" down. To me, it doesn't seem possible over the long-term as more players enter the space. Not only does this drive content prices higher, but it forces these names to go into more exclusive and original programming. Spending $50 million on a 13-episode show might seem good, but imagine the bundle of other content (movies, TV seasons, etc.) that they could buy for that price.
But here's the important part. Netflix is killing off the more profitable DVD business. DVD revenues went from $370 million in Q4 of 2011 to just $254 million in Q4 of 2012. At the same time, contribution profits for the DVD segment went from almost $194 million to $127.5 million. Q4 of 2012 was actually the first quarter where DVD contribution profits were not higher than the company total. That meant that streaming was actually losing on a contribution margin basis. Yes, this includes the losses from the international segment, but think about that for a minute. Streaming was not profitable.
So how does Netflix get to profitability here? Well, thanks to a rise in the postage rate, Netflix has guided to a midpoint of DVD contribution margins of around 44% in Q1 of 2013, compared to the 50.1% they saw in Q4. In fact, the decrease from DVD contribution margin in Q1 is projected to more than cancel out the rise from Domestic Streaming.
That means that the only way for Netflix to increase profitability in the short term is to improve the contribution losses from the international streaming segment. How do they do that? Well, it's easy, but it means they can't expand into any more countries for now. The table below shows how contribution margins (in percentage terms) have fared over the last year or so, with a Q1 projection as well.

Click to enlarge
*Based on midpoint of given guidance.
So domestic streaming contribution margins are expected to expand nicely, and domestic streaming accounts for nearly two-thirds of revenues. Also, international streaming contribution margins are expected to improve greatly. Despite all of this, Netflix's company contribution margin is only projected to rise by about 34 basis points. Don't forget, contribution margin does not include all operating expenses. Those expenses averaged about $112 million a quarter in 2012, which at that rate should be about 8% to 12% of revenues in the next few quarters. So you are looking at operating margins in the mid single digits, at best. Then you still have to take out interest expenses, which are rising after the latest debt raise, and taxes. Don't forget, all of Netflix's profits are coming from the US, which means a high tax rate. In the final three quarters of 2012, where Netflix was profitable, the average tax rate was more than 41.5%. That will take a chunk out of the bottom line.
Netflix can easily expand margins going forward if they don't expand internationally. The problem is that they need to grow the international business, which means losses will build again at some point and profits will take a hit. There is a chance that Netflix will enter some new markets later this year, which is why I think analyst estimates are a bit optimistic. If Netflix decides to enter new markets, you can bump up the revenue numbers just a bit, but the earnings per share estimates have to come down.
The share count is rising too:
Sometimes, people forget that there are two inputs into the earnings per share formula. The first one is obviously net income. Normally, investors think that rising net income means rising earnings per share. For the most part, that is true, but it is not always the case. The reasoning is simple. You also have to remember the diluted share count. Netflix stopped buying back shares during the second half of 2011 as their financial condition worsened. That, combined with the stock sale in late 2011 to raise funds has increased the share count quite a bit. The following chart shows the diluted share count over the past three years, in thousands.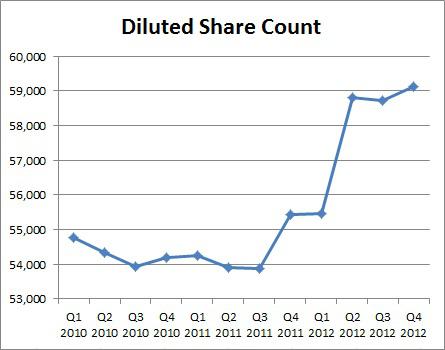 In fact, over the past five quarters, Netflix's diluted share count has risen by 9.76%. That's quite a staggering amount. It doesn't seem like much, because the rise in the yearly share count only cost the company about two and a half cents in 2012. But that's quite a staggering amount when you realize they only had a $0.29 profit.
The real difference is when the company actually returns to some solid profitability. In 2011, the company had a yearly profit of $226.126 million. That resulted in earnings per share of $4.16 based on a share count of 54.369 million. But let's use the 2012 count, 58.904 million, just for a minute. That earnings per share figure would be reduced to $3.84. Net income is certainly important, but the number of shares is as well. Don't forget that.
Even more competition:
In my last Netflix article, I discussed the ever growing competitive landscape that Netflix finds itself in. I've continued to detail the impressive growth of Amazon (NASDAQ:AMZN) in this space. Amazon's Prime service launched just over two years ago with about 5,000 titles to its collection. The service also provides other benefits to subscribers, like free two-day shipping and a free Kindle book each month. But it's the Prime Instant Video service that competes with Netflix. In just over two years, that collection has grown to over 38,000 titles. At the pace at which Prime is growing, I would expect to see that number potentially be close to 50,000 by the end of this year. Amazon has made it clear that it wants to be in this space, and they are backing it up with their dollar. Additionally, Amazon allows everyone to purchase select content on demand. If you miss an episode of your favorite show and it isn't streamed online for free, this service is very helpful. I've used it in the past.
Also, since my last article, Redbox Instant has officially launched. This is a partnership between Coinstar (NASDAQ:CSTR) and Verizon (NYSE:VZ). The service costs $6 a month for the streaming of movies, and the catalog started at around 4,500 titles. For another $2 a month, subscribers can get four Redbox credits to rent movies from the physical DVD kiosks. These are monthly credits that do expire at the end of each month, and for an extra $1 a month, you can rent Blu-rays instead of DVDs. As the article above states, this product was originally meant to be a competitor to both Netflix and Amazon. However, Redbox Instant is aiming to focus on newer movies, as well as the DVD business. This could fill in the gaps that Netflix doesn't tend to, or is trying to kill off (the DVD business).
In its fourth quarter investor letter, Netflix seemed to brush Redbox Instant (along with most of its competition aside). By now, I'm sure you've seen the following graphic, but just in case, here it is.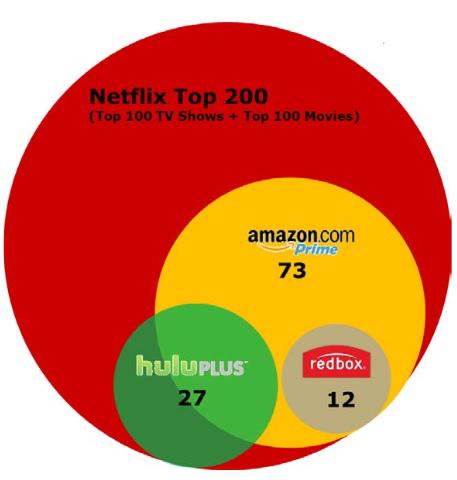 (Image taken from Netflix's Q4 investor letter)
Of the top 100 movies and top 100 TV shows viewed on Netflix during Q4, only 12 were available on Redbox Instant according to Netflix (the investor letter is dated 1/23/13). It's possible that the number has grown since then, but I can't confirm that now, and I'm not sure if Netflix would either. Here's the important part though. Redbox Instant launched with about the same number of titles as Amazon Prime did! Two years ago, Prime launched with just over 5,000 titles, and according to Netflix, Prime now has 73 of the "Netflix Top 200". That's in just two years, and Netflix has been around for a lot longer than that. Since the beginning of January, Prime has added another 5,000 or so titles. Think about where Prime may be in comparison to Netflix's Top 200 may be now.
Now I'm not saying that Redbox Instant is going to kill Netflix overnight. It most certainly won't. But if Redbox Instant focuses on newer movies and DVD rentals, it could be both a compliment and a competitor to Netflix. Not only could Redbox hurt Netflix's DVD business, but allow streaming users to access newer content. Additionally, adding another potentially strong player to the space could push up content prices, which is always a risk to Netflix.
But just like one of those "As seen on TV" commercials, there's more! Spotify, the on-demand music service, is reportedly interested in an on-demand video service. Spotify would be looking at original content, and could eventually compete head on with Netflix. This service would essentially be put it in a category with HBO, one that both creates and provides content. Spotify has a similar problem to Netflix, and that is razor thin margins. However, that hasn't deterred the firm from reaching a valuation of about $3 billion at its latest funding round.
Again, Spotify is not going to destroy Netflix overnight. But when another one of these services pops up every couple of months or so, it poses another unique threat to Netflix. Amazon competes on both streaming and original programming. Redbox Instant competes on both streaming and DVD, and wants to get to original programming. Throw in Spotify, HBO Go, Hulu, and the rest, and Netflix's wall might crack quicker than you think.
Final Thoughts:
Netflix gave very impressive Q1 guidance off the heels of Q4. The company believes that its shift towards original programming and the best overall value proposition will translate into more subscribers. However, Netflix cannot stand by and ignore their competition, which is getting stronger and more diverse each quarter.
The problem for Netflix going forward is growth versus profitability. For Netflix to improve profitability, it cannot further expand, which means that subscriber growth will stall. If Netflix further expands, it could push the company back towards losses, and the $1.37 or so that analysts project could prove to be extremely optimistic. Netflix's share count is also rising, which reduces earnings per share growth.
The key takeaway here is that Netflix investors are facing a new reality. During quarters in 2010 and 2011, Netflix had gross margins above 39% and operating margins north of 14%. Going forward, as Netflix kills off the more profitable DVD business, margins will continue lower. The company's gross margins may never cross 30% again, and operating margins would be lucky to reach half of their recent highs. Netflix is making a bold move into original programming that needs to pay off. If the company cannot gain meaningful subscribers, this wasteful spending will set this company back as much as their dreadful decisions in 2011 did.
Disclosure: I have no positions in any stocks mentioned, and no plans to initiate any positions within the next 72 hours. I wrote this article myself, and it expresses my own opinions. I am not receiving compensation for it (other than from Seeking Alpha). I have no business relationship with any company whose stock is mentioned in this article.
Additional disclosure: Investors are always reminded that before making any investment, you should do your own proper due diligence on any name directly or indirectly mentioned in this article. Investors should also consider seeking advice from a broker or financial adviser before making any investment decisions. Any material in this article should be considered general information, and not relied on as a formal investment recommendation.