In a few more days BlackBerry (NASDAQ:BBRY) will release its year-end financial results, and more importantly its 4th quarter results. There has been much discussion on the new Z10, with lots of speculation on both sides of the fence weighing in. The stock is heavily shorted, with 1 out of every 3 shares allocated to shorts. Thursday March 28th at 8 am EST, the earnings conference call will be a pivotal event in BlackBerry's history.
While the earnings data will only include info up to March 1st, it does give us insight into the acceptance of the BB10 operating system. I will give my estimates from all the information previously given, so that on Thursday Seeking Alpha users will have a good idea if the BlackBerry launch was a success.
Thorsten Heins the CEO of BlackBerry has commented on some recent news articles regarding takeover talks and underperformance. In regards to the Lenovo takeover talk Thorsten Heins stated "I don't know why they are going public with anything like that. To me, this is rumors and speculation. We are running our strategic review, and there are various elements in the review that we are considering, but I don't want to comment on that," he said. Additionally, last year BlackBerry passed a motion that would allow a 'poison pill' to be implemented if a hostile takeover was initiated. Basically, a share offering to existing shareholders to dilute shares, and to make the takeover much more expensive.
Foreshadowing for Thursdays earnings report and referencing underperformance, the BlackBerry CEO was quoted "In the context of the financial viability of the company that is where I shake my head sometimes and wonder what everyone is talking about. The company has no debt, I will report pretty good cash position by the end of March in my earnings call, so I think we did a really diligent job in, not just keeping the company afloat, but also bringing it back to health,". This sounds like we might even have a positive earnings call, but that is just speculation.
With all the verbiage during last weeks' AT&T (NYSE:T) BlackBerry Z10 release, the only thing now to end the speculation is the release of numbers on Thursday morning. With Friday being a holiday, that leaves a very heavy trading day.
I have gone through every financial statement going back to 2007, and created a spreadsheet to summarize the results.

Downward spiral
The reduction of BlackBerry handheld devices shipped started in Feb 2011. This is also the time when the former BlackBerry CEO stopped reporting average selling price for their devices. Three quarters later BlackBerry started to report financial losses on their books. From these previous levels we can extrapolate where BlackBerry needs to report to illustrate a recovery and a return to profitability.
Average Selling Price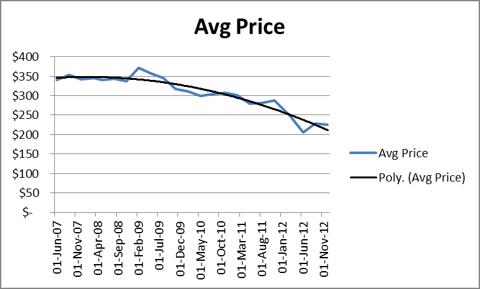 It appears that at the $300 average selling price and below, BlackBerry was concerned and the gross margins were adversely affected. A return to an average selling price above $300, with a price above $350 preferable is required. This is conditional on strong sales at this price point.
Volume
Volume needs to be placed in context as the BlackBerry Z10 has only been available for 30 days in limited markets. The US market will likely experience extremely low volume as most customers wait for the new device. The only measurable markets are Canada and the UK. The international launch in the Middle East and parts of Asia are reported by BlackBerry all together as other. The international market can give us insight into the numbers but will be mixed with other markets.
Canada is a market where Thorsten Heins, president and CEO of BlackBerry said "In Canada, yesterday was the best day ever for the first day of a launch of a new BlackBerry smartphone." In fact the CEO went further and stated it was as much as 50% higher. From that statement and the previous all-time high of 1.3M units, the new number for units shipped could be 1.6M. With sales only for 30 days a more realistic target would be 1M.
For the UK, sales have also been indicated by BlackBerry as strong. A target of 2M would be reasonable given the data and reports previously given. See previous article. Anything less than 1.5M would be problematic given the amount of positive spin BlackBerry has released.
Analysts
With so many opinions on BlackBerry, it is clear to me that there is some manipulation of the market and it is difficult to ascertain the truly unbiased opinions. Gus Papageorgiou, MBA, CFA of Scotia Capital Inc - Scotia Bank (NYSE:BNS) issued a report for investors with the following notes. This is provided as is for your information only. In following Mr. Papageorgiou for some time, I have found his reports to be unbiased.
Q1 largely in line with consensus - looking for 1M BB10 shipments. Our Q1 sales estimate of $3.0B is 7% higher than consensus due to higher ASP expectations on BB10 devices. Our EPS estimate of a loss of $0.31 is in line with the Street likely because our SG&A expectations are higher. We expect a loss of 1M subs, consistent with the Street.

Straying from the pact on Q2. We are looking for sales of $5.3B, 63% higher than the Street and EPS of $0.87 vs. a loss of -$0.10. Our BB10 volumes of 4.7M are 48% higher than the Street and our ASP of $550 is 13% higher. We are also looking for slight sub adds vs. the Street at a loss. Watch the gross margin. We continue to point out that the BB10 devices should have a very positive impact on the gross margins. We are expecting gross margins to head higher this quarter.

Sector Outperform. We believe the Street is pricing in such a weak F2014 that BB10 does not need to be an outstanding success to surprise. We would be buyers of the name.
Anecdotal
With the release last week of the Z10 through AT&T , there have been lots of reports on slow sales. While it is only the first weekend, it is alarming and causing some negative stock price action. I have read many of these reports and a common thread is that AT&T is not advertising the phones even within their stores. I am wondering if this has anything to do with BlackBerry's carrier relationships as Verizon (NYSE:VZ) is releasing the white Z10 model and AT&T is not. It is possible that Verizon has an exclusive agreement with BlackBerry in the US, and AT&T is not overly satisfied with this. The recent dramatic increase of BlackBerry advertising on TV and print media, has shown that BlackBerry is making an effort but is at the mercy of carrier participation.
The launch from T-Mobile and Verizon later this week will illustrate if this is a regional issue or a carrier specific issue.
Cheat sheet
The chart below is Infinity Group's estimates as previously discussed, as to where the numbers need to be. While we are very bullish on BlackBerry, if the minimum needed are not reached we will be strongly considering selling. Anything above the target price would indicate a successful launch.
| | | | | |
| --- | --- | --- | --- | --- |
| | Min Needed | Target | Record High | Record Low |
| ASP | $300 | $350 | $371 | $206 |
| Sales (CAD) | 0.8M | 1M | 1.3M | 0.1M |
| Sales (NASDAQ:UK) | 1.5M | 2M | 1.8M | 0.3M |
| Sales (Other) | 7M | 10M | 8.7M | 0.5M |
| EPS (quarter) | -0.28 (consensus) | 0.08 | - | - |
Note: Average selling price will need to be calculated manually as BlackBerry stopped reporting this metric in Q4 2011.
As the Thursday results will be very important, the guidance and anecdotal information provided by BlackBerry will be equally as important.
I will follow this article up with another analysis after the quarter results are posted on Thursday.
Disclosure: I am long BBRY, VZ, T, BNS. I wrote this article myself, and it expresses my own opinions. I am not receiving compensation for it (other than from Seeking Alpha). I have no business relationship with any company whose stock is mentioned in this article.