Netflix (NASDAQ:NFLX) shares are among the best performing in past six months, rising over 250% from late September lows. It has been a transitional process from utter desperation to uncontrolled euphoria. The shorts got crushed, and the gains were certainly magnified with a vicious short squeeze, as short interest was split in half from the late October high of 17 million shares to 8.4 million shares short in the latest reporting period. We are still in the euphoria stage, although Netflix has been in a tight trading range since early February, which means there is indecision in the air, or perhaps just a consolidation of recent gains. Is the optimism justified, especially if we look at the price to earnings ratio?
The market is clearly showing that the P/E ratio does not matter. The company is still in a growth and investment stage, and is willing to give up profitability to gain market share. So, the price to earnings ratio should not be looked at as a valuation tool. Going short a company just because it has a high PE ratio is not a good trading and investment decision. And valuation by itself sometimes does not matter, as future expectations which are a powerful driver of stock prices can have a more profound effect on the share price. And those future expectations might keep the stock overvalued for a very long time.
The transition from desperation to euphoria started in early October. Famous value investor Whitney Tilson was in the media suggesting the value of Netflix, and comparing it to Amazon ten years ago. A day later Citigroup went out saying that Neflix is a screaming buy saying that: "They continue to see NFLX generating almost $5.50 in U.S. EPS in 2013. That means one can buy NFLX U.S. at 10X P/E, with a free call option on NFLX International. That's highly reasonable". Only one day later, Netflix announced that "House of Cards" starring Kevin Spacey and Robin Wright will be available exclusively on February 1st 2013.
In late October Carl Icahn filed a 13D, showing a 9.98% stake in Netflix. He also said that Netflix has "significant strategic value due to its dominant market position and global growth prospects". By that time the shares were up over 50% in one month.
On December 4th, the company announced a licensing agreement with Disney (NYSE:DIS), which gives Netflix the right to receive first-run content from the media giant for several years. The agreement will begin with 2016 theater releases from studios under Disney including Pixar, Marvel and Walt Disney Animation. The share price surged 15% on the day and it increased slightly until the earnings report in early January.
The share price burst higher after the earnings report, which showed a 200% EPS surprise, smashing the forecast for subscribers, and giving an upbeat guidance.
All of this shows an incredible confluence of positive developments that created the strong momentum Netflix had in the previous six months. Analysts have changed their estimates drastically in the last 90 days, from $0.43 EPS for this year to $1.37, and from $1.41 to $2.99 for 2014.
Competition
More competitors are coming into the field. Time Warner's (NYSE:TWX) HBO is possibly the most dangerous competitor for Netflix, with its HBO Go streaming service. HBO has a broad international base, a place where Netflix is still lagging and massively investing. There is also Amazon (NASDAQ:AMZN) with its Amazon Prime service, Coinstar (NASDAQ:CSTR) and Verizon (NYSE:VZ) with their joint venture Redbox and Hulu. Amazon has signed deals with CBS and NBC Universal for exclusive rights for their contents. Since much of the competition is new in the field, it remains to be seen how they might impact Netflix.
Growth
Netflix has delivered strong revenue growth over the years. Earnings growth was strong too until 2012, which brought a 93% decline in annual adjusted earnings, and the lowest revenue growth in 4 years. Revenue growth is expected to accelerate to 18% this year, and earnings are expected to surge 372% this year, and 118% next year, although the company will not reach the earnings it had in 2011.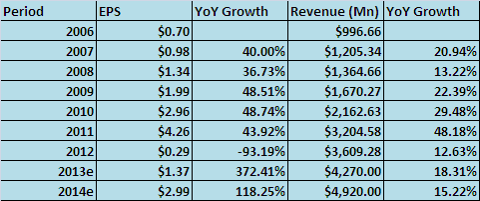 Source for data: Earnings.com, Ycharts
Price action
The price of Netflix remains in a tight consolidation since mid-February. The $200 level presents a key short term technical resistance. If it can push through that level, there might still be more gains to come, and more pain for the shorts.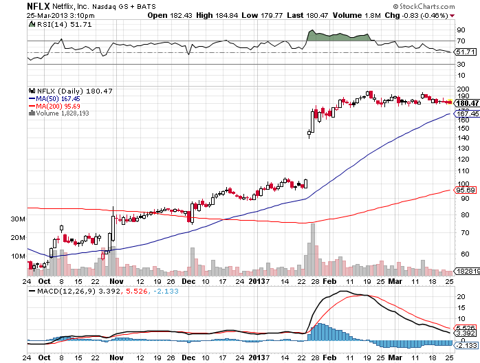 Conclusion
Netflix has managed to build substantial positive momentum in the last six months. New content like the "House of Cards", a meaningful deal with Disney, significant purchases by investors like Carl Icahn and Whitney Tilson, a powerful earnings beat in the fourth quarter and further efforts in international expansion have made quite an impact on the share price. The momentum could very well continue, as the shares are now in a tight range, perhaps waiting for another catalyst. There could very well be a negative catalyst, and the volatility might come back, but it is currently not prudent to go against the tide, and against such strong momentum. A breakout over the psychological level of $200 might bring more gains for Netflix shareholders.
Disclosure: I have no positions in any stocks mentioned, and no plans to initiate any positions within the next 72 hours. I wrote this article myself, and it expresses my own opinions. I am not receiving compensation for it (other than from Seeking Alpha). I have no business relationship with any company whose stock is mentioned in this article.