There is a lot of chatter in the market lately about how recent success experienced by real estate stocks - from homebuilders to REITs - is due for an Icarus moment as it falls back to earth. "The economy is still weak!" they say; "The housing market is still far below 2006!".
Both statements are very true. The economy is still weak, and the housing market's metrics are still below their peak in 2006 (although considering the fact that 2006 prices were inflated above what they should have been in a rational, non-bubble market, that measuring stick may not be the best one to use).
With that being said, there are a lot of positives about the market and its future that bode well for real estate stocks. An undercurrent of real strength is present in today's market, and that could sustain success for the next few quarters as momentum builds. Here's why.
Housing Prices Will (Probably) Rise Through 2013
You may have heard how housing prices already rose by 6.5% from January 2012 to January 2013, according to the FHFA. You may have also heard how prices haven't declined month-to-month since January 2012, another strong sign.
To top it all off, analysts from Morgan Stanley think prices will go up by 8% this year, from a prior forecast of 4%-6%. Other analysts expect similar increases. The FHFA number comes from properties backed by Fannie Mae (OTCQB:FNMA) and Freddie Mac (OTCQB:FMCC), but that number is solid since both agencies cover a majority of residential mortgages.
Sure, prices are still significantly below 2006 levels. But as mentioned earlier, that's a flawed comparison point anyway. Prices in 2006 were too high for the market, which is the definition of a bubble. We shouldn't want to be at 2006-level prices now anyway; that would suggest a market that is entirely too overheated.
Rising home prices are good for real estate stocks for several reasons. The most notable reason has to do with what investors have done over the past couple of years. Remember the fearsome shadow inventory of 10-12 million homes that was going to crush the market in 2011 and 2012?
Thanks to investors scooping up massive bundles of discounted homes, foreclosures, and short sales, much of that inventory disappeared.
Now, investors are sitting on properties that are appreciating in price. As prices rise, so will the value of these portfolios - which will fuel a rise in the value of stocks with significant exposure to appreciating real estate inventory.
We've already seen such a rise. Two examples: The Vanguard REIT Index ETF (NYSEARCA:VNQ) is up 17.6% over the past 52 weeks. The Dow Jones Equity All REIT Index has also risen 9.8% over the past year, as the chart below shows.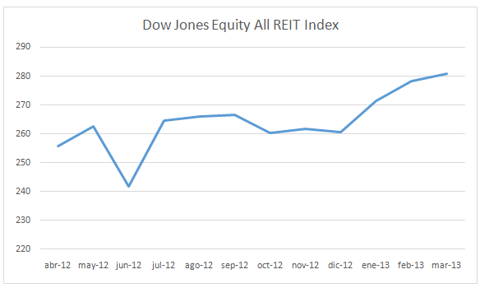 Of course, anyone can see that stock values have gone up, but that doesn't do much for prognostication.
The increase in home prices that is to come will continue to buoy the value of these stocks and any stock that has exposure to residential real estate.
Supply Is Getting Healthier - and So Are Homeowners
A rising tide lifts all boats; in this instance, the rising tide of appreciating home values is lifting the boats that are supply and homeowner equity.
First, supply. Foreclosures were a drag on the economy and the market as a whole because they flooded the market with plenty of cheap homes that not only pulled down prices, but also prevented homeowners from upgrading because instead of buying their home, other buyers/investors purchased distressed properties instead.
And, of course, there was the aforementioned shadow inventory that threatened to swamp the market - perhaps for years - with a wave of cheap properties.
Now, though, supply sits at a relatively healthy 4.8 months' worth of homes (six months marks a balanced market). This has improved significantly; two years ago, we had over 10 months of supply.
Those in the industry - from homebuilders to real estate firms - have been surprised at how constrained housing market supply has become in relation to demand. We are transitioning from a buyer's market to a seller's market because, put simply, more buyers and investors want homes and there aren't that many to go around.
It is not as if supply has been deliberately constrained, causing prices to be held up artificially. True, there is still a significant backlog of foreclosures in several key states, most notably Florida, that is holding back a mini-flood of distressed properties in those states from hitting the market. And the national foreclosure rate is still a bit too high.
But as a whole, supply is much more in line with a healthy market than what we've seen previously, even last year. That bodes well for homebuilders, as constrained supply and increased demand spur many homeowners to build new homes. In fact, homebuilding giant Lennar (NYSE:LEN) net income tripled in the first quarter thanks to a wave of new orders.
In addition, more homeowners are in the black when it comes to equity. True, close to 20% of homeowners are underwater - they owe more on their loans than the home is currently worth. But rising prices have reduced that number considerably, by 12% according to some estimates.
More equity for homeowners is (mostly) a good thing for homeowners. (I'll cover the 'mostly' part next). Having equity means homeowners are less likely to fall prone to foreclosure or short sales. It also means homeowners feel like they can work to sell their homes without fear and upgrade to a new home, which spurs home sales and pumps more fuel into the housing market's contributions to the economy.
That can be a bit of a double-edged sword, however; underwater homeowners ironically have helped the housing market over the last year by keeping more homes off the market, thus helping supply tighten. This is natural, but we can expect more homes to enter the market as equity rises. Of course, it is easy to overstate this effect; by and large, supply should stay tight throughout the next three quarters.
Should You Go Long?
Whether or not to invest in any real estate stocks is a personal decision. With that said, an objective look at data and trends suggests that real estate stocks, in general, should continue to do quite well. The housing market is not 'recovered' (whatever that means), but it is getting there.
As the recovery goes, so go real estate stocks - and perhaps your portfolio.
Disclosure: I have no positions in any stocks mentioned, and no plans to initiate any positions within the next 72 hours. I wrote this article myself, and it expresses my own opinions. I am not receiving compensation for it (other than from Seeking Alpha). I have no business relationship with any company whose stock is mentioned in this article.