By John Spence & Tom Lydon
PowerShares Senior Loan Portfolio (NYSEARCA:BKLN) is one of the best-selling ETFs in the first quarter with inflows of more than $1.4 billion. Investors have flocked to the fund in search of decent yields and protection from rising interest rates.
The ETF's inflows are notable for a fund with just under $3 billion in assets under management.
BKLN is appropriate for investors who are willing to take on additional credit risk and who may be looking for floating-rate bonds to protect against rising interest rates, says Morningstar analyst Timothy Strauts.
"Bank loans are denoted 'high yield' in large part because the firms issuing them are highly leveraged," he writes in a profile of the ETF. "Most investors typically become interested in bank loans when interest rates are expected to rise."
BKLN has a distribution yield of 4.59%, according to manager Invesco PowerShares. The ETF has an expense ratio of 0.66%.
Another ETF tracking the sector is the Highland/iBoxx Senior Loan ETF (NASDAQ:SNLN).
Some investors worried about rising interest rates and frothy conditions in high-yield corporate bonds have been favoring bank loan ETFs as an alternative.
Investors poured $1.4 billion into U.S. loan funds in the latest week, the second-largest inflow following the record $1.5 billion of deposits during the second week of February, Bloomberg News reports. U.S. loan fund assets under management have increased by 18.6%, or $14 billion, this year.
"Financial tastemakers have crowned leveraged loans the 'it' income asset class throughout 2013," reports Michael Aneiro at Barron's. "Loan funds have been soaking up attention and inflows all year as investors seek them out for their combination of current income and floating rates, which will come in handy whenever rates start rising for real."
PowerShares Senior Loan Portfolio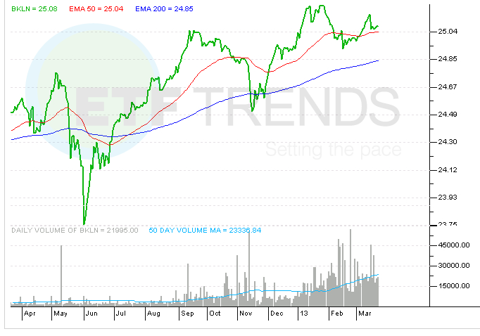 Disclosure: I have no positions in any stocks mentioned, and no plans to initiate any positions within the next 72 hours. I wrote this article myself, and it expresses my own opinions. I am not receiving compensation for it. I have no business relationship with any company whose stock is mentioned in this article.