After a very strong rally that has taken the S&P 500 Index (NYSEARCA:SPY) up by about 9% in just the first months of 2013, there are a few signs that the market might be topped out and due for a correction. This is important for investors to consider, especially as we edge closer to the "Sell in May and go away" time period. The price action of key stocks like Caterpillar (NYSE:CAT) and General Electric (NYSE:GE) could be warning investors now that the market is at or near a peak. For many investors, it might be a great time to take some profits and position portfolios for a potential sell-off in equities.
While there has been some positive housing data, and the markets have been in rally mode this year, it seems that stocks might have come too far, too fast. The S&P 500 Index was up about 15% in 2012, and if you add the gains for 2013, that brings the total returns to about 24%, just in the past 15 months or so. That is probably not sustainable in a world where many major economies are lucky to grow by 1 or 2% per year. This raises the question of whether or not the housing market and stocks are going up for the right reasons. Extremely low interest rates seem to be pushing investors into speculating in housing again and even in the stock market. A healthier rebound in the real estate market would be driven by a boom in hiring, not by increased investor speculation. The market rally also seems to be fueled in large part by the Federal Reserve, which gave the markets another boost a couple of weeks ago when it said the bond buying programs and easy money policies would continue. While most investors like to see asset prices rise, the market seems to know that the party might end when the Federal Reserve pulls back.
Many investors are also keenly aware that the stock market can experience seasonal weakness in May when many fund managers and others take profits in order to lock in gains and reduce risk during the summer months when many traders are on vacation. Volume can also drop in the summer months and that reduces liquidity and sometimes increases volatility. Now let's take a look at Caterpillar and General Electric charts, both of which clearly show that these major industrial stocks have underperformed the market averages in recent weeks: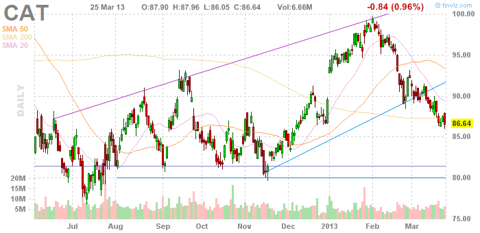 Click to enlarge
As the Caterpillar chart above shows, this stock topped out in January and it has since dropped significantly to about $86 per share. The stock has found support at about $80 per share during past sell-offs in recent months, and that could be where the stock is heading if the market experiences a correction. Caterpillar is a bellwether for the U.S. and the global economy since it manufactures heavy machinery, which is used in a range of industries including construction, farming, mining, heavy infrastructure, etc. It recently announced that sales in February declined by about 13%. Sales were down in Asia, and even in North America, which creates skepticism on the many bullish views for a housing rebound.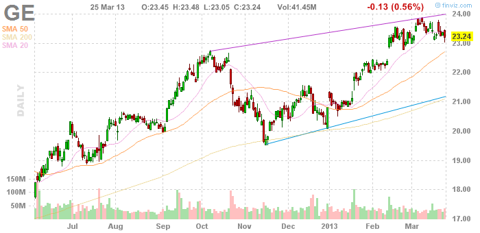 Click to enlarge
General Electric shares have fared better than Caterpillar's however, the stock has also started to show some weakness in March even as the S&P 500 Index has continued higher. In recent months, GE shares have found support at between $20 to $21, and that could be where it is headed if the market corrects. General Electric is a global leader in a wide variety of industries which includes financial services, turbines, generators, compressors, lighting, jet engines, aerospace systems, medical diagnostics, locomotives, diesel engines and many other products. These industries are highly sensitive to the health of the global economy, so if GE stock is underperforming in a market rally, it could be sending investors a message to sell stocks or at least to be more cautious.
Take a look at the S&P 500 chart below and it becomes more clear as to how both Caterpillar and General Electric have underperformed.
(click to enlarge)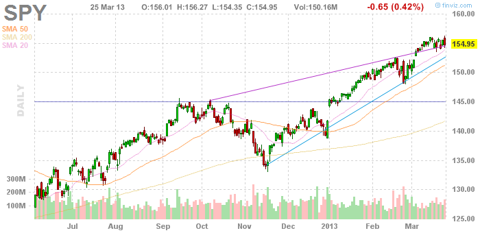 Click to enlarge
The S&P 500 Index chart shown above provides real contrast to the charts of Caterpillar and General Electric. Investors have been shrugging off concerns about the potential for a Chinese real estate market drop and the continued problems in Europe, however that might not last for long. It seems that some stocks like GE and Caterpillar, (which should be leading the rally, not lagging), are giving investors a forward-looking view into the global economy and it's just not that great.
The banking crisis in Cyprus might seem to be resolved for now, but it could be far from over with many unintended consequences. If you are in a country like Spain, Portugal or Italy where some banks still need to be re-capitalized, are you really going to keep your money in an institution that could end up taking or taxing your deposits?
Furthermore, with youth unemployment rates of up to 60% in some parts of Europe now, how much longer will this segment of the population remain calm before potentially resorting to the type of social unrest that S&P warns is a risk factor? With a major rally in the past few months, and the recent underperformance of major industrial stocks, it seems like taking profits is warranted now. Europe has not resolved the financial, banking and unemployment crisis and these issues could become magnified and quickly take our housing and stock market back down.
Data sourced from Yahoo Finance. No guarantees or representations are made.

Disclosure: I have no positions in any stocks mentioned, and no plans to initiate any positions within the next 72 hours. I wrote this article myself, and it expresses my own opinions. I am not receiving compensation for it (other than from Seeking Alpha). I have no business relationship with any company whose stock is mentioned in this article.
Disclaimer: Hawkinvest is not a registered investment advisor and does not provide specific investment advice. The information is for informational purposes only. You should always consult a financial advisor.