One investment sector that should be a no-brainer for the next decade is healthcare for the baby-boomer generation. Additionally, the worldwide obesity epidemic has opened opportunities for companies addressing that problem. However, as reimbursements are under the microscope, some investors have been tentative about bidding up healthcare stocks. In particular, medical device stocks have been laggards, as concerted efforts to reign in healthcare costs for these products would pressure revenue, margins and cash flow.
Companies in the medical device and equipment sector invest enormous amounts in research and development, and they generally require a marketing network to get their inventions off the ground. Years of planning and investment can finally turn around negative returns and yield good profits for the long term. This article features two such enterprises that are at that important inflection point, but have been obscured by the current negativity towards this group and other short-term obstacles. These two should benefit from the baby-boomer aging phenomenon, the obesity problem and other tailwinds.
Solta Medical, Inc. (NASDAQ:SLTM) designs, develops, manufactures and markets energy-based medical device systems for aesthetic applications primarily in North America, the Asia Pacific, Europe and the Middle East. The company offerings include: Thermage CPT system that provides non-invasive treatment options using radio-frequency energy for skin tightening; Liposonix system to destroy unwanted fat cells resulting in waist circumference reduction; a collection of surgical and non-surgical body shaping and skin repair products.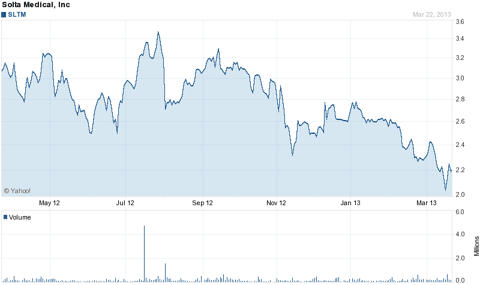 The poor performance on the above chart does not represent what you would expect from a leading-edge healthcare stock with 20%+ growth. The election of President Obama in November gave the Affordable Health Care Act permanent stature, along with a tough stance on controlling health costs. The December acquisition of Sound Surgical Technologies, an ultrasound liposuction equipment maker, further concerned shareholders with dilution and expenditure of valuable cash. Finally, the last quarterly report indicated that the first two quarters of 2013 would be penalized as SLTM "integrates" the acquisition.
These factors dampened the celebration that the company recorded a 60% increase in EBITDA to $12 million in 2012 and forecast another 50% increase in full year 2013, despite the muted contribution in the first two quarters. SLTM operates at a loss per GAAP accounting, but managed to generate about $ .37 per share in levered free cash in 2012. SLTM spends about $20 million, or about $.28 per share each year, on research and development to stay ahead of the competition.
Speaking of competition, several good companies specialize in the crowded laser treatment field, but Solta Medical also owns dozens of patents for thermal and ultrasound procedures to distinguish itself from the crowd. Syneron Medical (NASDAQ:ELOS), Cutera Inc. (NASDAQ:CUTR) and Cynosure (NASDAQ:CYNO) are three that compete in the aesthetic device field largely with laser and light treatments, but each has its own proprietary technologies. Compared to the general market, each of these could be considered undervalued by some metrics, due to the same pricing concerns affecting SLTM. Following is a table comparing these four:
| | | | | |
| --- | --- | --- | --- | --- |
| Comparisons | STML | ELOS | CYNO | CUTR |
| Price | $ 2.20 | $10.03 | $25.52 | $12.25 |
| Market Cap | 153 M | 357 M | 413 M | 178 M |
| Revenue | 145 M | 263 M | 153 M | 77 M |
| EBITDA - 2012 | 7.2 M | 3.3 M | 19 M | (4.7) M |
| Quarterly Growth | 20% | 19% | 25% | 21% |
| Book Value | $ 1.60 | $ 6.24 | $12.22 | $ 6.38 |
| Price to Book | 1.38 | 1.61 | 2.09 | 1.92 |
| Price to Revenue | 1.06 | 1.36 | 2.70 | 2.31 |
| Cash Flow per Share | $ 0.37 | $ 0.09 | $ 0.44 | negative |
| 2013 EPS Projection | $ 0.03 | $ 0.52 | $ 0.83 | $ 0.04 |
| 2014 EPS Projection | $ 0.13 | $ 0.83 | $ 1.22 | $ 0.27 |
| Price/Earnings - 2013 | 73 | 19 | 31 | 306 |
| Price/Cash Flow | 5.9 | 111.4 | 58.0 | negative |
According to the Yahoo statistics, STLM is clearly a better value proposition if only taking into account the Price to Book, Price to Cash Flow and Price to Revenue. Using the most common value comp, Price to Earnings, ELOS is the winner. None of the listed PEs are particularly attractive at face value. It should be noted that EBITDA to market cap is also higher for SLTM, despite the Yahoo EBITDA being substantially less than the company calculation of $12M for 2012.
In this case, we think that the cash flow may be a better indicator than PE, as amortization of patents and research and development expenses can turn an EPS negative for tax purposes. Another aspect of Solta Medical's cash flow is that last year 49% of revenue came from high-margin recurring revenue from disposable supplies and support services for its equipment. A small cash flow driver is also the royalty stream that SLTM receives from Philips for technology it developed for that international giant for hand-held home dermatological devices.
Another reason that the market is wary of medical device companies is because there are frequently new alternative medicines and inventions that could make the best current technology outdated. The fact that SLTM has established its systems in many Dermatologist offices with high profit margins for the docs helps insulate some against new competition. Recurring revenue from these systems' supplies and cross-selling new technology to these clients gives SLTM an advantage. The company has provided the following market research that indicates that its brand is far and away more recognized than the competition: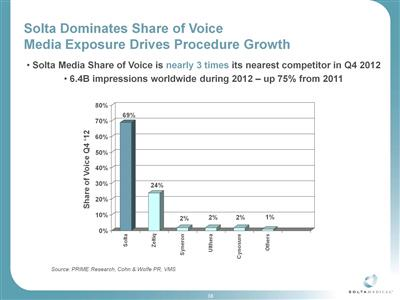 Our second $2 medical device stock that is at the inflection point of making good on its growth initiatives is Dehaier Medical Systems Limited (DHRM). DHRM provides medical devices in China, and it was recently approved by the PRC to expand operations to Europe. In the past, it has distributed devices manufactured by others, but has now developed and patented its own equipment, including CPAP machines for the burgeoning sleep apnea market. Obesity is a leading cause of sleep apnea. It has been in transition in these efforts, changing its focus to reduce dependence on foreign manufacturers and the China market. The work of obtaining copyrights, ramping up sales, building manufacturing capability and getting legal approvals has been a two year effort. DHRM is now in position to start sales of its own CPAPs in China and parts of Europe. The US market is in its sights.
These are lofty goals for a company that is by far the smallest in our portfolios. DHRM has a market cap of less than $10M and less than 5M shares outstanding. This might be deceptive as a US company selling for book value, ten times earnings and less than double the revenue of DHRM would be valued at $7, not $2. The problem is that DHRM is a Chinese micro-cap and those have lost investor credibility due to phony accounting and unpredictable government interference. We will discuss those factors later, but below is a quick comparison of DHRM to the world leader in CPAP equipment, ResMed, Inc. (RMD):
| | | |
| --- | --- | --- |
| Comparisons | DHRM | RMD |
| Price | $ 1.86 | $ 44.16 |
| Market Cap | 8.6 M | 6.34 B |
| Revenue | 21 M | 1.44 B |
| EBITDA | 4.9 M | 420 M |
| Quarterly Growth | 5% | 13% |
| Book Value | $ 7.06 | $ 12.22 |
| Price to Book | 0.26 | 3.61 |
| Price to Revenue | 0.41 | 4.40 |
| Cash Flow per Share | $ 0.37 | $ 2.47 |
| 2012 EPS | $ 0.70 | $ 1.80 |
| 2013 EPS Projection | N/A | $ 2.23 |
| Price/Earnings - 2012 | 2.66 | 24.53 |
| Price/Cash Flow | 5.03 | 17.88 |
| Dividend Yield | 0% | 1.5% |
Although it really is not possible to compare the tiny DHRM with a $6B company, it is easy to see that, if the accounting is accurate, DHRM is extremely undervalued. RMD has a more consistent history of good growth and provides dividend income, so DHRM is very speculative in comparison.
Dehaier Medical has a low float and is volatile, but since November it has been in a slow uptrend. It had some unusual volatility and volume in October due to positive publicity from theStreet.com.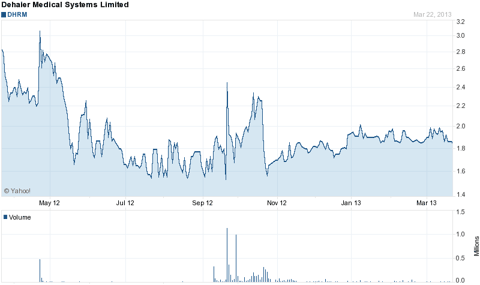 While we were fortunate to be early in the Chinese stock market, we stayed too late at the party in some cases. Some unusual value stocks developed into scams, and most Chinese micro-caps now sell at a small fraction from their high-flying days. We keep thinking that investor confidence will return eventually, and we are looking for situations where the "baby was thrown out with the bath water" in China. As crazy-cheap as the metrics for DHRM are now, it actually had larger profits a couple years ago, before the transition initiatives.
The auditors, Friedman, LLP of New York, seem to be organizing realistic evaluations of accounts receivables and allowances for non-collectible accounts...common killers of China micro-caps. Friedman has been doing public accounting for 78 years, so its reputation is invested in preventing any frothy bookkeeping. DHRM has recently seen its Chinese credit rating upgraded from BBB+ to A- and has no long-term debt and an ample credit line. The only item in the DHRM books that concern us is the "loans to suppliers" item, which is common in developing countries where manufacturers must depend on volume delivery from suppliers that have little access to credit. This accounts for about $1 of the DHRM book value of $7.08 per share.
As for government relations, DHRM has initiated a program of pursuing long-term, government procurement contracts for medical equipment province-by-province. This translates into lower margin business, but it is getting the DHRM products accepted as the standards, while keeping the government relationship healthy. It likely will result in recurring revenue, which we value more than one-time sales. DHRM enjoys special low interest government loan availability, being rated as a "National High Technology Enterprise." The PRC granted DHRM authorization to market its products outside of China, and the company subsequently has established a distribution arrangement in the Ukraine. Dehaier Medical has proven that it knows how to navigate the Chinese government processes.
We should mention that the market for CPAP equipment for sleep apnea in China has barely been scratched, and that alone could create explosive growth for DHRM, which is laying the groundwork to be the government-preferred leader in that market.
Conclusion
One thing that all analysts can agree on is that the aging baby-boomer generation will create strong demand for health services. It is also common knowledge that obesity has increased in epidemic proportions, and the high percentage of obese youths guarantees a strong market for solutions for years to come.
Recent concerns over regulatory controls of healthcare product pricing and rapidly changing technology has muted the advance of some medical device stocks. The two featured in this article, Solta Medical and Dehaier Medical Systems, have also been held back by investment in research and acquisitions for future growth that is penalizing the bottom line for the short-term.
The fruits from these investments should become apparent in 2013, and once the market recognizes the value of SLTM and DHRM, they could enjoy a dramatic rebound in stock prices. These micro-cap investments can remain under the radar for long periods, and investors need patience with this "dead money." It is difficult to time with precision a jump in prices, but true value eventually is recognized.
Solta Medical has almost half recurring revenue, and it has established a foothold in medical offices, so we have a confidence level that it has some safety net under the earnings and stock. On the other hand, Dehaier Medical Systems has the stigma of a Chinese micro-cap and ambitious goals, so it has higher risk/reward characteristics.
We think that long-term portfolios should have some exposure to these macro factors. There are many good large and mid-size medical device stocks for the more conservative investor. For more speculative portfolios, the two micro-caps here may provide wild rides that lead to triple-digit profits.
Disclosure: I am long DHRM, SLTM. I wrote this article myself, and it expresses my own opinions. I am not receiving compensation for it (other than from Seeking Alpha). I have no business relationship with any company whose stock is mentioned in this article.
Additional disclosure: We do not know the circumstances, risk tolerance or investment objectives of our readers. There is no guarantee that any investment mentioned in this article will be profitable or appropriate for readers.