Below is an updated look at where the S&P 500 and its ten sectors currently stand within their normal trading ranges. In the table below, the red shading represents overbought territory, while the green shading represents oversold territory. The black vertical "N" line represents each sector's 50-day moving average.
As shown, the S&P 500 and six of ten sectors remain in overbought territory, with Consumer Staples the most overbought. Nine of ten sectors are above their 50-day moving averages. The Materials sector has moved solidly below its 50-day with today's declines.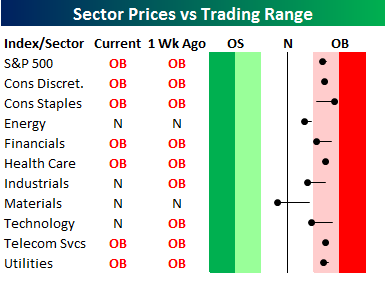 Interestingly, while the US remains on solid ground, the rest of the world has been struggling. Below is our trading range screen run on the 30 largest country ETFs. As shown, 14 of the 30 countries are actually in oversold territory, while just two (Japan and the US) are overbought. Brazil is the most oversold, while countries like Spain, Columbia, India, South Africa and Taiwan aren't far behind. In late 2012, it was the US that struggled while the rest of the world rallied. That trend has completely reversed as the first quarter of 2013 comes to an end.