For traders with a short-term time horizon who are looking for big moves over a short period, we have updated our list of the S&P 1500 stocks trading above $10 that have the largest intraday high-low ranges (based on the average percent spread between the intraday high and low over the last 50 days). We then grouped the stocks based on whether they have a rising or falling 50-day moving average (DMA). Stocks highlighted in gray are new to the list this month.
Although there has been a slight uptick in daily volatility of the overall equity market, individual stock volatility remains low. As shown in the list below, there are currently only five stocks in the S&P 1500 that are trading above $10 per share that have had an average intraday range of more than 5% over the last 50 trading days. Four of these stocks (DDD, ESI, JCP, and EBIX) are currently in downtrends (falling 50-DMA) and just one (NYSE:BTH) is in an uptrend (rising 50-DMA). For 3D Systems (NYSE:DDD), 2013 has certainly been a reversal year. After being one of the top performing stocks in 2012, shares have gone nowhere but down since topping out at more than $46 per share in mid-January.
The highest priced stock in the list is Netflix (NASDAQ:NFLX), which has averaged an intraday range of 4.7% over the last 50 trading days. With a share price of $189, that works out to a daily price range of $9. The only other high priced stock on the list is Geospace Technologies (NASDAQ:GEOS), which averages a daily range of nearly $4. Overall, of the 50 names on the list, stocks in uptrends outnumber stocks in downtrends by a margin of 35 to 15.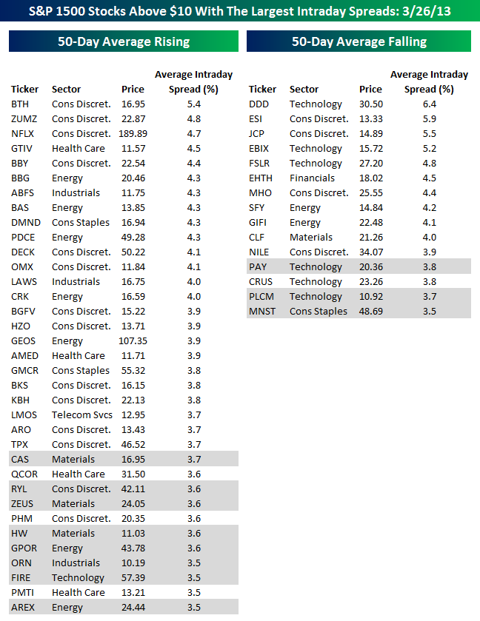 Click to enlarge