We're now almost finished with the 1st quarter of 2013. It's been a good year for the US markets … and the strong start to the year by the major broad stock market indices points to a strong year on the whole, based on previous analysis we've done of 30 and 50 years of data.
But there's been some interesting divergence in performance going on between some of the "established" economies and the more emerging ones. Specifically, the popular "BRIC" countries - Brazil, Russia, India, China - have underperformed in 2013 thus far.
We're using the major US based ETFs to track the performance of these various countries and sectors:
For the USA - S&P 500 Index ETF (NYSEARCA:SPY)
Japan - iShares Japan ETF (NYSEARCA:EWJ)
Brazil - iShares Brazil ETF (NYSEARCA:EWZ)
Russia - Market Vectors Russia ETF (NYSEARCA:RSX)
India - WisdomTree India ETF (NYSEARCA:EPI)
China - iShares China ETF (NYSEARCA:FXI)
You can see on the first chart below that SPY and EWJ (US and Japan) are both nicely higher in 2013, up around 9% - while the 4 BRIC single country ETFs are all down between 5% and 10% ytd. There is often a presumption among some traders and investors that growth areas (and/or emerging markets) such as the BRICs must lead the market higher or lower - that doesn't appear to be the case this year. The 2 established economies are outperforming, stock market wise.
Relative Performance Chart SPY/EWJ vs BRIC ETFs 2013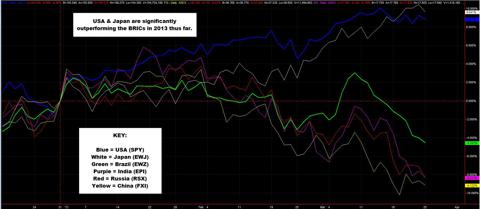 But what if you zoom back to look at the bigger picture? If you go back to the October 2007 market top (when the S&P 500 Index hit its all-time high, before a massive plunge that lasted through March 2009), the SPDRs are back to even (not including dividends). Meanwhile, each of these other ETFs is down over this timeframe. See the next chart. As far as this single country ETF comparison goes, the blue chip US index has been the place to be.
Performance Chart SPY vs International ETFs Since 2007 Market Top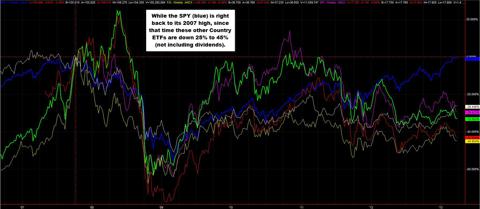 You will note that we didn't include Europe in the above comparisons. Europe is somewhat a different creature - they've had their own financial problems in recent years, and it's a composition of many individual countries. Looking at Europe, we focused on some broad based ETFs and also single country ones to compare performance to the SPDRs.
The chart below is the SPY versus 6 different Europe ETFs, including single country ones for Germany, France and England. (EFA is technically a non-US, not just Europe … but it almost always holds a large portion of blue chip European companies, and has been a strong ETF for trading in recent years):
iShares EAFE ETF (NYSEARCA:EFA)
SPDR Euro STOXX ETF (NYSEARCA:FEZ)
Vanguard Europe ETF (NYSEARCA:VGK)
iShares Germany ETF (NYSEARCA:EWG)
iShares France ETF (NYSEARCA:EWQ)
iShares United Kingdom ETF (NYSEARCA:EWU)
What we see here is that unlike the Japan ETF, the European ETFs have all lagged the S&P 500 (SPX) in 2013 thus far. EFA has been a relative outperformer in this group, while FEZ has been a laggard. Not much difference in the Germany vs France vs United Kingdom ETFs.
Relative Performance SPY vs Europe ETFs 2013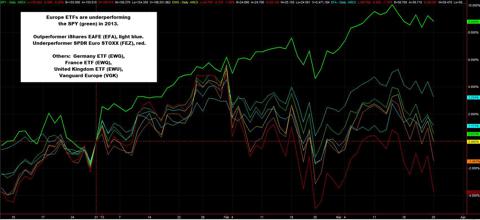 Going back to the 2007 stock market high, it's more of the same. The SPDRs are back to even, while these 6 different European ETFs are all still down 30% to 45% from those levels. See the next chart.
Relative Performance Chart SPY vs Europe ETFs Since 2007 Market Top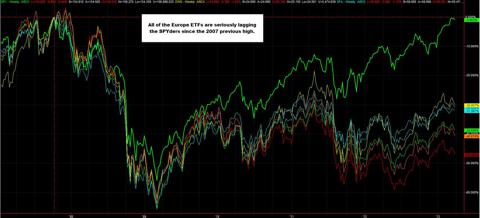 Bottom line here is that the US stock market has been the place to be in 2013 - and many other country/region ETFs around the world have lagged significantly. Japan has kept pace, but Europe hasn't. But also, this points out that while the SPDRs are back to their old highs, many other sectors (international in focus here) are still down heavily from the 5 year old+ market top (in the case of the Nasdaq Composite, it's a year 2000 market top that hasn't come close to being approached).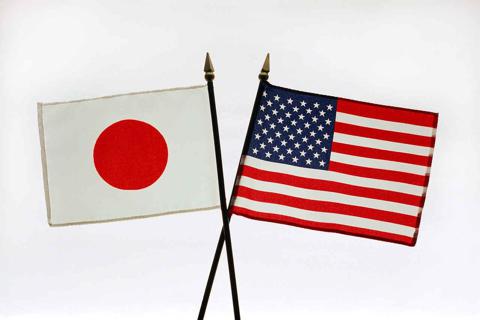 Disclosure: I have no positions in any stocks mentioned, and no plans to initiate any positions within the next 72 hours. I wrote this article myself, and it expresses my own opinions. I am not receiving compensation for it. I have no business relationship with any company whose stock is mentioned in this article.
Additional disclosure: BigTrends.com Rapid Options Income subscribers have an open SPY options position.