I, like many Intel (NASDAQ:INTC) shareholders today, am quite surprised - and pleased, of course - by the pop that we saw in shares today. Shares surged ~2.84% into its close of $21.75. The rally was on average volume, and it came on a day when the SOX (NASDAQ:SOXX) saw a healthy 0.76% pop, and the Nasdaq (NASDAQ:QQQ) rallied 0.54%. Intel significantly outperformed today, and on the surface it seemed to be due to reports that the company has made significant progress on its Web TV service, but I believe that this is only the tip of the iceberg.
Call Buyers Made 7.5X Their Money Overnight
Take a look at the weekly options expiring on March 28th. Yesterday, the $21.50 weekly calls were worth about $0.04/contract. Following the close, they were worth $0.30/contract, or roughly 7.5x their initial investments overnight.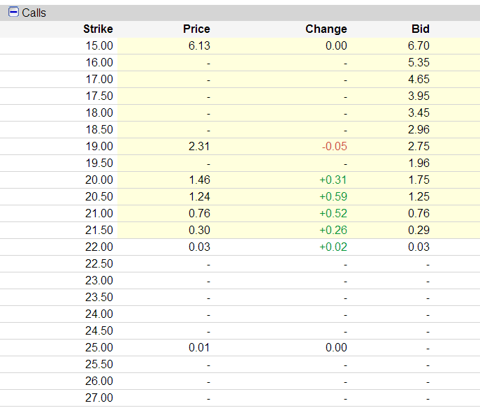 Now, this isn't too unusual, as options give you quite a massive amount of leverage, but it is somewhat surprising that a stock that is constantly being "trashed" by the media and sell side would be able to garner enough momentum to yield some big gains. That being said, the only way such an opportunity has any real shot of paying off big is when the unexpected happens.
Is there any opportunity worth mentioning here? There seems to be some action heating up in the $22.00 calls, which have already tripled in value after today's action. With fairly minimal risk, a bet on a close above $22.03 for the week could yield some very significant gains, although as always, the options could end up expiring worthless (this is the big risk with options) if the stock fails to follow through for the rest of the week. More conservative investors may actually want to write the $21.50 calls against their long positions (assuming your cost basis is <$21.50 and you wouldn't mind selling them at $21.50 + $0.30 premium) to either protect profit, or perhaps fund a speculative venture into the $22.00 weeklies.
That being said, are there any potential catalysts that could keep the mojo going longer term? Sure - the upcoming Intel Developer Forum.
Intel Developer Forum Is Coming, Investors Paying Attention?
Intel holds what is known as the "Intel Developer Forum," which is an event that occurs either twice or three times per year (depending on the year) at which Intel shows off next generation technologies platforms. This year's IDF in Beijing seems particularly exciting, as the catalog is filled with interesting - and relevant - goodies such as:
Microservers

There's a lot of hype from the ARM (NASDAQ:ARMH) camp that in 2014, the first 64-bit designs will hit the market. In this talk, investors should get a nice, clear picture on Intel's 2013 & 2014 plans as well as architecture details. This will allow the analyst community to assess Intel's competitive positioning in this market, and if it looks good, could lead to some "mindshare" in the microserver market shifting back to Intel, further building on today's momentum.
Tablets
Another major talking point against Intel is that it's not a major player in tablets, and that the "cheap Chinese SoCs" will bar them from the high volume, mainstream tablets. Well, Intel's got a session dedicated to that in which it will talk not only about the broader tablet opportunity and the Windows 8 tablets it has out today, but it will also be previewing the upcoming "Bay Trail" platform (hitting the market this year) as well as going into how Intel will get into the low cost tablet market:
Smartphones
Intel will also be talking about smartphone platforms, as well as its LTE modem, and we will likely get some deeper insight into Intel's future plans in these two areas: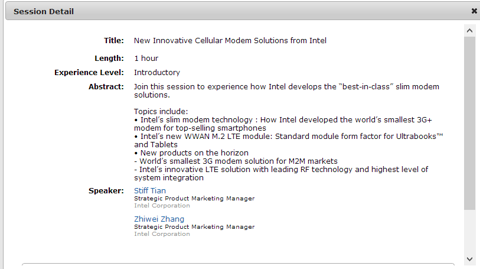 Intel is really pushing on all of these fronts and I'm expecting that the presentations here (they will all be available online) will at least get the attention of the industry analysts who have written Intel off. This could be an interesting catalyst for a share price movement.
Conclusion
As the presentations happen, I hope to cover them in deeper detail for my readers and try to get a picture of what the Intel's competitive position will likely be in all of these major segments. I think it'll be interesting, and that once the presentations made here are widely absorbed by the mainstream media/tech sites, it will go a long way to help get investor sentiment on this name back on the right track. Stay tuned.
Disclosure: I am long INTC. I wrote this article myself, and it expresses my own opinions. I am not receiving compensation for it (other than from Seeking Alpha). I have no business relationship with any company whose stock is mentioned in this article.
Additional disclosure: I am short ARMH