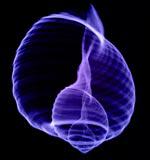 The Permian Basin Royalty Trust's (NYSE:PBT) principal assets are comprised of a 75% net overriding royalty interest carved out by Southland Royalty Company from its fee mineral interest in the Waddell Ranch properties in Crane County, Texas, and a 95% net overriding royalty interest carved out by Southland from its major producing royalty properties in Texas. As a result of a succession of mergers and acquisitions, these properties are now primarily operated by ConocoPhillips (NYSE:COP).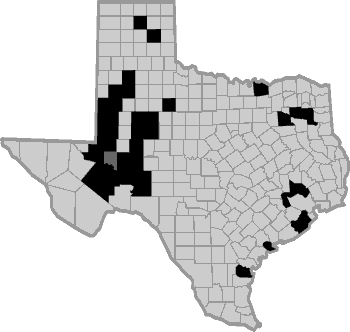 Texas Royalty properties are located in 33 Texas counties.

Waddell Ranch properties are located in Crane county.
Monthly Income
PBT pays a monthly dividend based on its royalty interest in the property's oil and gas production. So far in 2013, the distributions are as follows:
Month
Payable
Date
Distribution
per Unit
January
2-14-13
$0.049757
February
3-14-13
$0.035963
March
4-12-13
$0.057998
The Trust's six-year distribution history is shown below (per Unit). The end-of-year yield, which I define here as the total year's distribution divided by the year-end stock price, is also shown in parenthesis.
2012: $1.158198 (9.4%)
2011: $1.360448 (6.7%)
2010: $1.375629 (6.0%)
2009: $0.808766 (6.5%)
2008: $2.391355 (17.6%)
2007: $1.450777 (9.1%)
Although the Trust's yield looks tempting, it has come at a cost: the shares were down sharply in 2012.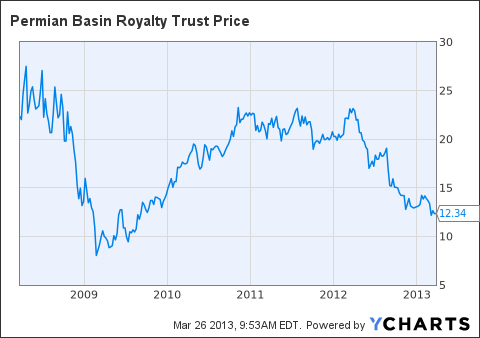 While the stock yielded 9.4% in 2012, its shares were down 46%. Although the low price of natural gas can explain some of the stock's weakness, gas made up less than ~20% of revenue in 2012, and average realized prices for gas were not appreciably lower in 2012 over 2011. So what's going on with PBT?
Production
According to the Trust's 2012 10K, the 3 year production history is summarized in the chart below: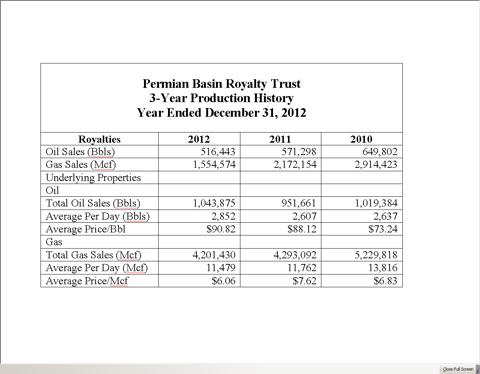 One thing that jumps out at me is that production of the underlying properties increased substantially in 2012 over 2011 (+9.7%), yet the Trust's oil sale were down a similar amount (-9.6%). As the 10K explains:
Since the oil and gas sales attributable to the Royalties are based on an allocation formula that is dependent on such factors as price and cost (including capital expenditures), production amounts do not necessarily provide a meaningful comparison. Total oil production decreased approximately 31% from 2011 to 2012 primarily due to increased capital expenditures allocation reducing volumes attributable to the Trust. Total gas production decreased approximately 6.6% from 2010 to 2011 primarily due to a natural production decline of the properties.
I am not sure where they came up with the 31% decline figure, as the chart clearly shows a decline of 9.6%.
Reversing The Production Decline Curve
The 10K further explains efforts by operator ConocoPhillips to stem the production decline curve in Waddell Ranch:
Total capital expenditures in 2012 used in the net overriding royalty calculation were approximately $65.8 million (gross) compared to $11.48 million (gross) in 2011 and $4.2 million (gross) in 2010. The operator of the Waddell Ranch properties has informed the Trustee that, in order to halt the production decline curve and to exploit the remaining potential of the Trust's assets more fully, a more aggressive, robust capital expenditure budget will be necessary in the future and is being pursued.
To summarize, COP is implementing aggressive fracking operations to increase oil & gas production in the Trust's underlying properties. These capital expenditures have and will continue to negatively affect the oil and gas sales attributable to the trust. The goal, of course, is that increasing production will more than offset the capital expenditure subtraction such that, net-net, the Trust will show increasing sales and shareholder distributions.
Summary
If I take the distributions for the first 3 months of 2013 and simply annualize them (x4), the Trust would distribute $0.575/share this year, for a yield of 4.7% based on today's stock price. Clearly, the Trust's distributions are down compared to previous years, and this is obviously weighing on the price of the stock.
However, according to the 2011 annual report, the "production index" for the Trust properties based on the reserve report prepared by independent petroleum engineers as of December 31, 2011, was approximately 9.8 years. But according to the latest distribution release, the Trust has a life span of 11 to 13 years. That is a significant lifespan increase in one year for a Trust with a depleting asset base. Clearly, increased fracking on the properties is beginning to increase access to additional oil deposits.
Total proved reserves should increase further as a result of the increased levels of capital expenditures by the operator. Indeed, according to the 2011 annual report and latest distribution press release, total proved reserves have already been increasing. Estimated quantities of proved developed reserves of oil and gas as of the dates indicated were as follows:
Oil (Barrels):
Jan 1, 2009: 5,662,000
Jan 1, 2010: 5,429,000
Jan 1, 2011: 6,160,000
Jan 1, 2012: 6,150,000
Jan 1, 2013: 6,400,000
Gas (MCF):
Jan 1, 2009: 20,664,000
Jan 1, 2010: 18,220,000
Jan 1, 2011: 22,422,000
Jan 1, 2012: 21,204,000
Jan 1, 2013: 18,300,000
So, the trust has seen a 13% net increase in proven oil reserves from 2009-2013. Not bad for a "depleting trust." Gas reserves have decreased over this period -- I assume due to the operator's decision to prioritize oil production.
Bottom line: Increased production and development costs attributable to the Royalties will result in decreased Trust distributions unless revenues also increase. Since the assets of the Trust are depleting assets, if COP and the other operators developing the Underlying Properties do not perform additional development projects successfully, the assets may deplete faster than expected and shareholder distributions will fall.
So the future of PBT distributions depends the ability of operator COP to increase production via increased cap-ex for fracking. Considering COP's technical prowess and the company's success in growing production in the Eagle Ford and Permian Basin, as well as Occidental Petroleum's (NYSE:OXY) success in the Permian Basin, odds are PBT will benefit from coming increases in oil production, increases in proven reserves, and an extended lifespan for the Trust. Risks include lower oil and gas prices and the possibility that increases in production don't make up for increased capital expenditures. It will pay investors to view the monthly distribution and production reports. You can view the Trust's latest report for the February cash distribution here. Note oil production, net to the trust, increased from 19,839 to 25,862 barrels over the previous month.
Disclosure: I am long COP, PBT. I wrote this article myself, and it expresses my own opinions. I am not receiving compensation for it (other than from Seeking Alpha). I have no business relationship with any company whose stock is mentioned in this article.
Additional disclosure: I am an engineer, not a CFA. Please do your own research and contact your investment adviser. I am not responsible for investment decisions you make. Thanks for reading and good luck!