The four horsemen of regulated southern electric utilities could be Southern Company (NYSE:SO), Dominion Resources (NYSE:D), Duke Energy (DUK) and Scana (NYSE:SCG). Combined, these firms cover the majority of the southeastern US from Mississippi to Virginia. In addition, each has ancillary assets such as natural gas distribution, electric transmission and merchant power.
Below are maps outlining their respective service areas and asset locations, where available from their websites:
Southern Co - Market Capitalization $39.6 billion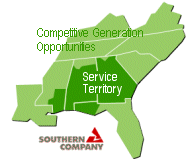 Dominion Resources - Market Capitalization $32.7 billion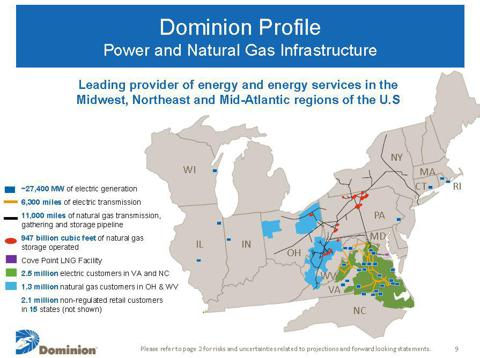 Duke Energy - Market Capitalization $49.5 billion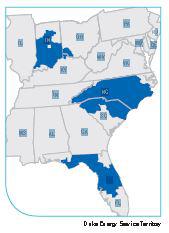 Scana - Market Capitalization $6.55 billion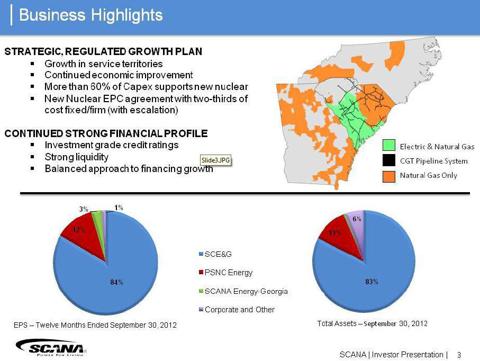 Below is a table outlining various fundamental values for each:
| | | | | |
| --- | --- | --- | --- | --- |
| | Southern Co | Dominion | Duke | Scana |
| Price | $46.66 | $56.90 | $70.33 | $49.50 |
| 2013 EPS est | $2.75 | $3.37 | $4.33 | $3.33 |
| 2014 EPS est | $2.90 | $3.56 | $4.59 | $3.47 |
| 2013 PE | 17.0 | 16.9 | 16.2 | 14.9 |
| Beta | 0.25 | 0.44 | 0.32 | 0.50 |
| EPS Growth Rate | 5.0% | 6.8% | 4.2% | 4.4% |
| Forward PEG Ratio | 3.4 | 2.5 | 3.8 | 3.4 |
| Yield, Current | 4.3% | 4.0% | 4.3% | 4.1% |
| Payout Ratio | 72% | 368% | 101% | 62% |
| Div Growth 5-yr | 4.0% | 7.6% | 3.2% | 2.3% |
| ROE TTM | 13.1% | 2.9% | 5.7% | 10.4% |
| LT Debt to Equity | 0.99 | 1.55 | 0.88 | 1.19 |
| RIOC TTM | 6.6% | 1.2% | 3.0% | 4.8% |
| RIOC 5-Yr Avg | 6.4% | 5.5% | 3.2% | 4.9% |
| S&P Equity Ranking | A- | B+ | B | A- |
| S&P Credit Rating | A | A- | BBB+ | BBB+ |
Source: reuters.com, finance.yahoo.com
From this table come the following observations:
Southern Co has the lowest beta, the highest TTM return on equity, the highest TTM return on invested capital, the highest 5-yr average return on invested capital, tied for the best S&P Equity Ranking, the best S&P credit rating;
Dominion Resources offers the best value, based on the forward PEG, the highest estimated eps growth rate, the highest 5-yr dividend growth rate 2008-2012;
Duke Energy has the lowest long-term debt to equity ratio;
Scana has the lowest payout ratio, tied for the best S&P Equity Ranking;
They all are about equal current yield.
The latest investor/4th quarter/2012 year-end presentations are here:
Southern Co (pdf); Dominion; Duke (pdf); Scana (pdf).
Most analysts have most utilities pegged as "neutral" due to the sector's price appreciation over the past year and the lack of potential for additional price appreciation going forward. Utilities have moved about in lock step with the S&P 500 this quarter, but have underperformed over the past 12 months. Utilities do not usually participate in rallies as much when the markets are in a "risk on" mode, which has been the approach over the past 6 months. Being mainly considered as "defensive," utilities do relatively better during "risk off" times.
Below is a 5-year price chart of SO, D, DUK and SCG compared with the S&P Utility ETF (NYSEARCA:XLU). What becomes very obvious is the outperformance of any and all of these compared to the broad-based utility ETF. Based on their particular company attributes, it should be assumed this relative outperformance will continue over the next few years.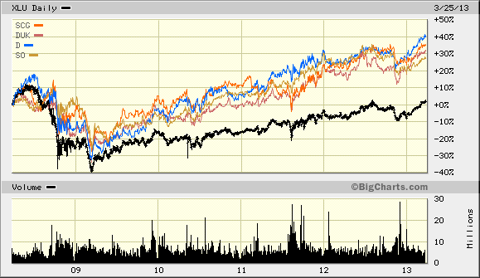 Historically, southern states are a bit more conducive to rate requests and the allowable returns on equity are a bit higher than other sections of the country. There is an underlying population growth trend as the sunny south continues to attract retirees. Over time, these factors should translate into a bit better performance than some other areas such as the northeast.
In addition, these specific utilities tend to be an acceptable distance from the disruptive nature of substantial wind generated power.
Southern Co's positive attributes includes its great reputation with regulators for customer satisfaction. SO has raised its dividend for the past 11 years. The firm has excellent in-house engineering capabilities and is able to build and maintain its generating plants at a lower cost than some peers. The average power purchase agreement for its merchant power segment is 11 years, again, better than some of its peers. On the downside, a large percentage of SO generating fuel is coal, which needs to be either upgraded or shuttered. There could be substantial cost overruns on the construction of the new nuclear plants Vogtle 3 and 4.
Dominion Resources' positive attributes includes its large exposure to the higher profitability of regulated electric transmission in faster growth areas such as Virginia and its expansion in energy-hungry data centers. Dominion has extensive pipelines in the Utica shale natural gas field in Ohio and virtually all new wells connect to its network. The recoverable costs associated with Hurricane Sandy may push the allowable ROE to 10.6% until 2016 for its VIPCO segment. Construction of natural gas export facilities from its Cove Point MD facility was recently approved by the courts in a decision favoring Dominion over the Sierra Club, and could be a big driver of earnings in 2016 and beyond as Utica and Marcellus shale gas moves onto the international markets. On the downside, low natural gas prices continue to hurt Dominion's merchant power business as electricity pricing remains depressed in the northeast, where the company has several merchant plants. There is potential for a slowdown of electric demand if the federal budgets sequester starts to take a bigger bite from Northern Virginia's economy. The state of Virginia may begin to reduce the allowable ROE for new generating plants as Dominion builds out its power generation assets in the state, meeting preset goals for in-state generation.
Duke's positive attributes include its large capital expenditure budget in regulated assets. Over the next few years, an increasing regulated asset base will drive higher rate cases and earnings growth. More than half of revenues are generated in North and South Carolina that are viewed as friendly regulatory states. Management is actively reviewing its environmental footprint, upgrading some facilities and retiring others. On the risk side, management still has hurdles to overcome with its acquisition of Progress Energy, along with meeting proposed fuel savings that are to be passed along to customers. Due to its ambitious capital expenditure plans, the company will be requesting more frequent rate increases. The merchant power assets have similar problems with its peers concerning depressed power pricing. Duke has international assets which increases the company's exposure to currency risk.
Scana's positive attributes include its good relationship with state regulatory agencies, especially its $5.7 billion nuclear power plant. About 25% of its power generation is from lower cost hydro and nuclear sources. Rate relief in North Carolina's gas distribution segment has helped push cash flows higher. On the potential downside, cost overruns on its nuclear construction project could hurt earnings if higher costs are not passed along to consumers.
Conservative utility investors should review these southern regulated utilities. Investors may prefer the better management at Southern, as demonstrated by better returns on invested capital and the diversified assets of Dominion Resources along with slightly better current valuation based on the forward PEG ratio.
If you do not have at least one of these in your utilities portfolio, it would be behoove you to conduct your due diligence to see how one or more of these regulated electric utility firms would fit.
Author's Note: Please review important disclaimer in author's profile.
Disclosure: I am long SO. I wrote this article myself, and it expresses my own opinions. I am not receiving compensation for it (other than from Seeking Alpha). I have no business relationship with any company whose stock is mentioned in this article.