A sense of "poorness" is becoming more and more relevant to the average American as the degrees of separation between those with jobs and those without is shrinking. While many US consumers remain employed, wages and hours are declining and further dragging down buying power.

It is during trying times that consumers turn to credit as a means of maintaining their lifestyle and spending patterns. However, the economic downturn of late has made this lifeline less appealing and more socially unacceptable. Outstanding consumer credit made an abrupt reversal in February, down by $7.4 billion compared to the revised $8.1 billion in additional credit reported for January. Personal savings rates have risen dramatically as individuals fear they will need a reserve of cash on their balance sheets in the face of potential income losses.

As personal savings has risen simultaneous to a decline in outstanding credit, the ability of consumers to purchase goods is rapidly declining. As a result retail sales have subsequently fallen over the past year, forcing retailers to cut costs and reduce profits in order to remain viable.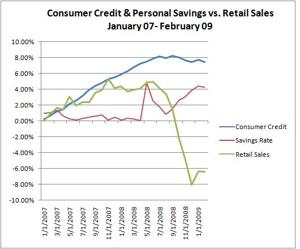 Retail sales numbers for the Q1 2009 earnings season will be dismal and reflect the harsh reality facing consumers and firms alike. It will be the language and not the numbers that will move retail stocks, as forward looking statements from industry leaders paint the landscape for the sector moving ahead.
To capitalize on retail stocks declining, get long SCC (Proshares Ultra Short Dow Consumer Services Index).
Disclosure: Long SCC