Two Harbors Investment Corp. (NYSE:TWO) is a REIT that specializes in investing in RMBS -- both Agency and Non-Agency and related investments. It is externally managed and advised by PRCM Advisers, LLC, a wholly owned subsidiary of Pine River Capital Management LP. For Q4 2012 TWO had core earnings of $0.28 per share and GAAP earnings of $0.64 per share. Its leverage declined from 3.8x to 3.4x at the end of the quarter. TWO paid a $0.55 quarterly dividend (18.06% annually at TWO's close Thursday February 7, 2013 of $12.18). This dividend alone seemed to make TWO a great investment, but in addition to that dividend TWO announced it would also pay a special dividend of the 17.8 million shares of Silver Bay Realty Trust Corp. (NYSE:SBY) it had acquired in exchange for a portfolio of single family homes.
Since that time TWO's stock has risen to $13.95 per share (roughly +$2). This is far above its book value on December 31, 2012 of $11.54. Since mortgage REIT stocks usually trade close to their book values, this is a negative for the stock. Further, TWO slightly disappointed investors with its announcement of a distribution of 0.049 shares of Silver Bay Realty Trust Corp. for each share of TWO stock investors own of record as of April 2, 2013. The NYSE has established March 28, 2013 as the ex-dividend date for this dividend. This was slightly less than what investors had been led to expect by prior announcements.
The recently completed public offering of 57,500,000 shares of TWO stock probably explains this. The former expectation had been that each investor would receive 0.0595 shares of SBY per share of TWO stock. On top of this the price of SBY stock has fallen since its December 2012 high of $21.99 per share to $19.60 at the close on March 26, 2013. All told this means each TWO shareholder will now get what amounts to $0.96 per share through the special dividend distribution of SBY shares. The former expectation had been for approximately $1.25 per share.
Another disappointment was the recently declared Q1 regular dividend of $0.32 per share. This was also a disappointment to investors. For the four quarters of 2012, the dividends had been from Q1-Q4: $0.40, $0.40,$0.36, and $0.55. Many had expected the dividend to at least be higher than $0.40 for Q1. Again this may be a temporary situation. The lower dividend is likely mostly due to the dilution of the stock due to the recent stock offering (57.5 million shares). Once the proceeds from the offering (approximately $763 million) are fully invested and producing income, the dividend should go back up. That offering was only completed on March 22, 2013. There has not been much time for investment and generation of returns yet from those new funds.
Investors should consider that this will still look very bad to the casual investor in TWO. A mini sell off in TWO seems likely. Some traders may even react badly to the sure drop in share value of about $0.96 per share when TWO passes the special dividend X-dividend date. This will bring down the book value by that same amount (from $11.54 to $10.58 based on the Q4 2012E book value). Therefore, TWO can logically fall into the high $10 range.
One can actually buy $14 April put options on TWO for $0.45. Given the almost certain fall, this might be a good play. I like this play even better when you consider that the overall market is overbought at this time. Some are even expecting a run on Cyprus banks on Thursday March 28, 2013 (the ex-date for TWO's special dividend). If this does occur it would pressure the world's equity markets downward. Cyprus' finance minister said March 26, 2013 that large deposit holders at Cyprus Popular Bank PCL, the island's second biggest lender, could face losses of as much as 80% on their deposits as the government moves to wind down the bank's operations. Losses facing large depositors at rival Bank of Cyprus PCL could reach as much as 40%. Cyprus is further talking about implementing capital controls to keep money from rushing out of the country. That decree is supposed to be ready by midday March 27, 2013. The above is all part of a 10 billion euro bailout agreement with the EU. There are many other negative economic influences that are due to come into play soon. If you want more information on these follow this link. The link also includes information about what may be an excellent investing idea.
With an already overbought market, the above situation could easily pressure the market and especially financial stocks of all kinds downward. With that in mind, a trader might want to temporarily sell his/her TWO stock. An aggressive trader might want to invest in some TWO puts.
The two year chart of TWO provides some technical direction for this trade.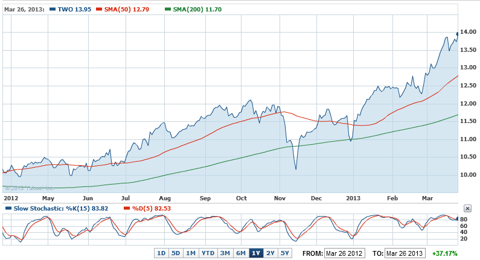 Click to enlarge
The slow stochastic sub chart shows that TWO is overbought. The main chart shows that TWO is in a strong uptrend. The stock really took off with the announcement of the $0.55 Q4 2012 dividend and the further special dividend of the distribution of the SBY shares to TWO shareholders. The main chart shows that TWO is now far overextended. Both the special dividend and the Q1 dividend have been diluted by the 57.5 million new stock offering shares at the very end of Q1 2013. A lot of people will be angry about this. This action by TWO management was really rude to TWO investors. Some may sell because they are angry. I think it could have been timed better.
In any case TWO could easily retreat to the high $11 range or even the high $10 range, especially if the overall market decides to sell off at this point. Taking a small risk on some April $14 put options seems like a decent trading idea. Taking profits, so you don't suffer from a "disappointment sell off" seems a good idea. I am in no way saying TWO is a bad stock now. However, Yahoo Finance is now listing its annual dividend as 9.30% based on a $1.28 dividend (the Q1 2013 dividend of $0.32 annualized). Not long ago it listed TWO's dividend at 18%. I don't believe the 9.30% dividend will last long as the investment of the $763 million of recent stock offering proceeds will soon return a significant amount of money.
However, there are a lot of people that only believe the numbers they see on Yahoo Finance and elsewhere. They do not dig deeper; and it is a good idea to keep their likely emotional reaction in mind. They may only see TWO's dividends heading south. I still think TWO is a good long term investment. After you sell March 27, 2013, you might buy it back in the near future at a lower price.
NOTE: Some of the above fundamental financial data is from Yahoo Finance.
Good Luck Trading.
Disclosure: I have no positions in any stocks mentioned, but may initiate a short position in TWO over the next 72 hours. I wrote this article myself, and it expresses my own opinions. I am not receiving compensation for it (other than from Seeking Alpha). I have no business relationship with any company whose stock is mentioned in this article.
Additional disclosure: When I say a short position, I mean a put option position in this case. Shorting the stock itself would mean that you are responsible for the stock dividend. The options carry no such obligations.