It's been a tough couple of weeks for Canadian yoga and apparel retailer lululemon (NASDAQ:LULU). The company warned for fiscal Q1 on the heels of a black luon pants shortage, which was due to certain products not meeting technical specifications. Despite a great fourth quarter, the pants issue has sent the stock lower, to levels not seen since August 2012. For lululemon, this issue should be a small bump in a road. Today, I'll explain why this company is still set up for a great future, and why I think shares will eventually recover.
Fourth Quarter Results:
For most of last week, all I saw across various media and business outlets was that LULU had a pants problem. Yes, you can imagine the multitude of jokes that were told about the company's see-through pants. However, I didn't hear many people talking about the company's fourth quarter results, which were actually quite impressive.
For the fourth fiscal quarter, which ended at the end of January, the company reported revenues of $485.5 million, a bit above the $475 to $480 million the company guided to. The revenue figure represented 30.7% growth over the prior year period. However, the period had an extra week, and factoring out that week gave growth of 23.6% growth. On the bottom line, the company reported earnings per share of $0.75, also above their guidance range of $0.71 to $0.73.
The company also produced impressive results when it came to margins. As you can see in the table below, all three primary margin categories rose over the prior year period. As was stated on the conference call, the company received some slight benefits from product mix as well as a reduction in air freight costs. SG&A expenses as a percentage of revenues were flat year-over-year at 25.1%. On the bottom line, the company significantly lowered its tax rate from 36.55% to 28.99% due to the ongoing impact of revised intercompany pricing agreements.

*Profit margins calculated before taking out non-controlling interests.
For the full fiscal year, 53 weeks in total, the company came in at $1.37 billion in revenues and $1.85 in earnings per share. Although that includes a tax break from Q2 of about a nickel, the company's original guidance for the year was revenues of $1.3 billion to $1.325 billion and earnings per share of $1.50 to $1.57. This company continues to execute which is why I believe in them for the long term.
An excellent balance sheet:
If lululemon was a company whose financial future was in question, like Netflix (NASDAQ:NFLX) for example, this pants issue would be fairly significant. However, lululemon has one of the best balance sheets around, one that I've continued to state rivals that of Apple (NASDAQ:AAPL). While lululemon doesn't have a $137 billion cash pile, the company's financial ratios are quite impressive. The table below shows some key ratios, with dollar values in thousands. I've analyzed their balance sheet at the end of the prior two fiscal years, plus threw in this fiscal year's Q3 to show the quarter-over-quarter changes.

Due to the somewhat seasonal nature of the business, some of the ratios appear to get worse from Q3 to Q4. This is why I included Q3 to show the impact of seasonality. The important quarter to quarter numbers to look at are the cash balance and working capital numbers, which improved tremendously. Over the past year, the company increased its cash pile by $180 million and working capital by $230 million. The current ratio and debt (liabilities to assets) ratios also got stronger. This company has tremendous financial flexibility, which is why I would not be too concerned with this pants issue. Not only does this company have the ability to overcome the problem, but they will surely be able to execute their international growth strategy going forward. Also, should this stock go any lower, I wouldn't be surprised if the company announced a small buyback program. This would not only signal they believe the stock is undervalued, but will help push away some of the short sellers. More on this issue later.
Giving conservative guidance:
Everyone wanted to know how much of an impact the pants issue would cause, and in the end, it probably wasn't as much as some might expect. As I've detailed in the past, and will show again shortly, this company always provides conservative guidance, and they mentioned on the call that this guidance was definitely conservative. As a point of reference, I had stated on this site a few weeks ago that I believed their Q1 guidance would be $345-$350 million in revenues, and $0.41 to $0.43 in EPS. This was before the pants issue was disclosed.
The company stated that Q1 revenues would be in a range of $333 million to $343 million and earnings per share of $0.28 to $0.30. They believe the pants issue will cost them $12 to $17 million in revenues, and $0.11 to $0.12 in earnings per share. They also believe that gross margins will be around 48% or 49%, compared to the 55% range they previously would have expected.
Obviously, there will be some impact from the pants issue, but this company is one that is known for giving conservative guidance and then beating it quite handily. Before the pants issue was announced, analysts were expecting $353.66 million in revenues and $0.44 in earnings per share. Thus, their guidance would have been below analyst estimates to begin with, which is not an unusual occurrence.
I mentioned above how the company handily beat their own Q4 and full-year estimates. The following table shows how their guidance has been conservative over the last nine quarters.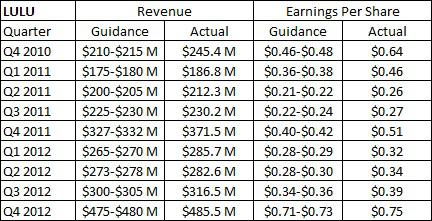 Now I can't say for certain that they will crush estimates again, not yet anyway until we see the full extent of the pants problem. However, when a company like Apple or lululemon is this conservative, I would not be surprised to see them come in towards the upper end of this range, or even above it.
For the full year, the company expects a slightly larger impact, with a large impact on Q2. Here's the statement on the full year:
For fiscal 2013, we expect net revenue to be in the range of $1.615 billion to $1.640 billion and diluted earnings per share to be in the range of $1.95 to $1.99 for the full year. This outlook reflects our current expectations of the impact from the black Luon issue, including lost revenue in the range of $57 million to $67 million, additional costs expected to be incurred and the write down of affected product on hand and expected to be received during the first half of 2013, resulting in a negative impact on EPS of $0.25 to $0.27. This guidance also assumes a tax rate of 30% and 146.6 million diluted weighted-average shares outstanding.
Before the pants issue was announced, analysts were at $1.70 billion in revenues and $2.25 in earnings per share. If you factor in the impact from the pants problem, their guidance was in line to slightly below analyst expectations.
Current expectations and comparisons:
We have seen a mixed bag of analyst changes when it comes to both the first quarter and full-year estimates. For Q1, current analyst estimates stand at $349.78 million and $0.30, respectively. You might notice that analysts are a bit above the company's revenue range, but right at the high end of the earnings range. The same is true for full-year estimates, which stand at $1.69 billion and $1.98. I believe that over the next couple of weeks, we will continue to see estimates come down, and that forms the basis of my recommendation, which I will provide a little later.
When it comes to comparisons, the best name to look at is Under Armour (NYSE:UA). Under Armour is a US-based athletic apparel maker, but also is a name that's more of a growth company as well. The following table shows some growth and valuation comparisons between the two. Under Armour uses a calendar year, but for lululemon the "2013" fiscal year I'm using below is the one ending in January 2014.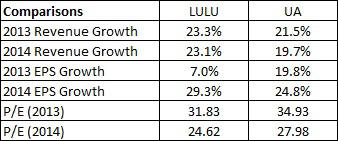 Now these numbers are based on current analyst estimates. You would expect that LULU's revenue growth numbers will come down as analysts revise their numbers. Don't forget, however, that the previous fiscal year had an extra week. If you take out that 53rd week, you can then bump the growth numbers back up a bit. In terms of the next fiscal year, LULU obviously is projected to show more growth than UA. The pants problem will also hold down the earnings per share growth for LULU this year, and both companies are expected to show earnings growth acceleration next year.
You may notice that lululemon trades at a discount to Under Armour. Normally, one might expect that this is due to the recent decline in the stock price. That is true to a point. However, lululemon has traded at a discount to Under Armour, despite higher growth numbers and potential. I firmly believe that this discount will soon be eliminated, but I don't expect it to happen overnight. Lululemon must first get past this short-term issue.
Continued International Expansion:
This company is only in the early stages of its growth, with stores in just four countries at the end of the 4th quarter. Detailed in their 10-K filing is the growth from the prior year. In the United States, they expanded from 108 to 135 stores, and the US represents their largest store base. In Canada, the company grew from 47 to 51 stores. The company also added 5 stores in Australia to 23, and one more in New Zealand, bringing that country's total to 2. For the year, the company's total store count rose from 174 to 211. Most of the stores are branded as lululemon athletica, but eight of their corporate-owned stores are branded ivivva athletica and specialize in dance-inspired apparel for female youth.
I mentioned in a prior LULU article that the company was in the seeding process to enter up to 15 countries within the next two years. During her opening comments on the call, CEO Christine Day provided the following statement (she was in Australia at the time):
It is fitting that I'm joining you from one of our international locations, given our increased focus on growing globally for the coming year. This year, we will expand our foothold in two key markets, London and Hong Kong, while establishing local community connections and introducing our beautiful product to guests in a variety of markets in Europe and Asia through strategic sales, showrooms, and ecommerce.

But of course, our primary growth over the next few years will still come from same-store sales increases and expansion in North America. We are being very intentional and methodical regarding how we will operate globally to maximize both our current business in North America while growing internationally.
With just over 200 stores in four countries at the end of Q4, there is plenty of room for expansion. This company has been called the second best retailer behind Apple in terms of sales per square foot. During the fourth quarter, lululemon stores averaged $2,058 in revenues per square foot.
Trying to roast the shorts:
Over the past year, the number of shares short has nearly doubled from under 11 million to almost 21 million. At the end of the fourth quarter, the company's outstanding share count was just over 144 million, and Yahoo! Finance shows the float at over 101 million. Thus, about 20% of the float and 15% of the outstanding share count is short. That's not the highest number around, but that's a lot of shares short that could need to be covered. The three-month average volume is almost 2.9 million shares, which means that the number of shares short equals about 7 plus full trading days of volume.
The chart below shows the history of the short count over the past 10 months. The end of February number was the recent peak, and we saw the first decrease in shares short in three months. The last update on short data was prior to the pants shortage announcement.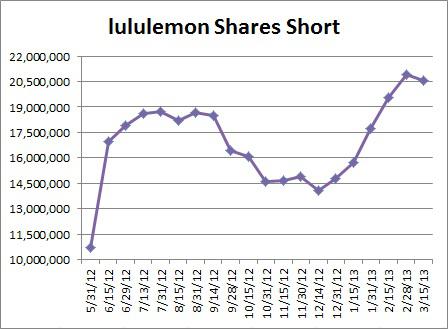 The real question here is will the number of shares short come down at the end of March update because the stock has come down, or will the number of shorts increase? My guess is that the short count will come down, but not tremendously. To me, the short proposition isn't as great at $63 as it might have been at $75 to $80. The last time this stock traded down to the $55 to $60 range, it rallied to the upper $70s. With such a large short count, any positive news could create a nice short squeeze. You probably won't see a squeeze like the one we saw in Netflix, but there is definitely room for a 10% to 15% jump in this name.
Final Thoughts / Recommendation:
I believe that lululemon will eventually overcome the pants problem, and that over the long-term, this stock is a good one to be in. Just to summarize, here are my main reasons:
The company is in the early stages of international growth.
Even with the lost revenues, revenue growth for the fiscal year is expected to be in the 20-25% range.
The balance sheet is in great condition, and the company has tremendous financial flexibility.
Comparisons to similar names show the valuation is fair.
The company usually provides conservative guidance.
A high short count could lead to a squeeze on any good news.
Obviously, I'm recommending the long side of this trade, but not just yet. Revenue estimates from analysts are still high and I think they will come down, which may push the stock a little lower from here. Also, we haven't gotten the full story on the pants problem, and I would certainly like to hear more on the issue.
At just over $63 at Tuesday's close, this name is a 3-5 on a 1 to 10 buy scale, with 10 being the strongest buy. A 3-5 in my opinion means that investors could buy here, but there are issues that could push this name lower in the short term. That means that over time, upside is limited, and there may be a better entry point. If shares were to break below the $60 level, I'd up the buy recommendation to a 5-7. That means a fairly strong buy, where there's more potential upside than downside. I think that if this name were to trade all the way down to $55, or even the lower $50s, I would have to bump the recommendation level closer to a 10, the maximum level. I really don't see this name going that low, so if we get close to $55, investors might want to take a very hard look at buying.
Disclosure: I have no positions in any stocks mentioned, but may initiate a long position in LULU over the next 72 hours. I wrote this article myself, and it expresses my own opinions. I am not receiving compensation for it (other than from Seeking Alpha). I have no business relationship with any company whose stock is mentioned in this article.
Additional disclosure: Investors are always reminded that before making any investment, you should do your own proper due diligence on any name directly or indirectly mentioned in this article. Investors should also consider seeking advice from a broker or financial adviser before making any investment decisions. Any material in this article should be considered general information, and not relied on as a formal investment recommendation.