A bold prediction?
It's no secret that Sirius XM (NASDAQ:SIRI) has authorized a $2 billion share repurchase program. It's no secret that share repurchases are expected to "start any day now." But the question of if and / or exactly when repurchases will, or have started, is left up in the air.
The company itself has not been particularly forthcoming about its share buyback plan other than the initial announcement. And why should it be? Beyond initial required disclosure, investors should not expect further details of the buyback program as it would disadvantage the company to release details. I expect investors will find out details which must be disclosed only upon completion of the plan, or within quarterly statements which disclose shares outstanding.
That being said, watching daily activity and understanding what may be majority holder Liberty Media's (NASDAQ:LMCA) goals can point to certain activities which may tip off an observant investor that share repurchases have begun.
Understanding Liberty Media's goals is quite simple. It should be concerned about preservation of the value of its stake or preferably increasing the value of its stake. Liberty will also likely wish to sell back some of its high basis shares eventually in order to recoup the cash spent bringing it over 50% ownership of the satellite radio company.
Let's focus on preservation of value. Currently, Sirius XM has been in a rather predictable longer term trend shown by my graph from a recent article here: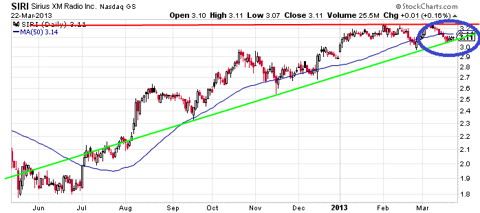 That green trend line is slowly ascending at a rate of roughly half a cent per day. Follow the line to the end of the year, you will arrive at a point only a few pennies shy of my end of the year $4.25 target. That being said this trend line is fairly well known, and considerable volume may be found very close to this line as traders place their bets, long or short.
Where is Sirius XM's best choice to buy? Right on that line, and an algorithm could easily be put in place to do just that. By providing support for the share price Sirius XM can buy relatively low while simultaneously maintaining the trend. Given that this line just reached $3.08, and miraculously Sirius XM closed at $3.085, the trend thus stays intact.
It's a balancing game for Liberty, who will wish to see gradual and maintainable appreciation in the share price so that when it sells back its higher basis shares, it can sell those shares back at higher pricing. But remember, Liberty owns over 50% of Sirius XM with 40% being low to no cost basis. That's important.
While one may come up with the notion that it may be best for Liberty to guide a buyback that takes Sirius XM's share price to the moon, it should be considered that while this would add profitability to Liberty's sell back on the high basis shares, it would be to Sirius XM's eventual disadvantage and could harm Liberty's 40% low basis stake.
So, it's logical to conclude that what is best for Sirius XM should be best for Liberty Media and vice versa. That means, for now, the desires of Liberty Media and Sirius XM share holders should be aligned.
My first clue that buybacks have started has been the gradual appreciation of Sirius XM's share price following the trend. When many technical signals were pointing to a break to the downside, Sirius XM held the line and most importantly, posted significant money flows and bought / sold ratios.
Consider Monday and Tuesday's activity, both days remained relatively flat yet money flows were rather high. Each day posted above a 1.0 ratio, and averaged almost two shares bought for every share sold. This resulted in money flows in the green at $19 million for Monday and $43.87 million on Friday.
Is it possible there's another buyer in the mix causing this activity? Certainly. But I would assume support is being found through Sirius XM's share repurchase program, and I will expect to find evidence in Sirius XM's Q1 report when it is released (generally in early May.)
Disclosure: I am long SIRI. I wrote this article myself, and it expresses my own opinions. I am not receiving compensation for it (other than from Seeking Alpha). I have no business relationship with any company whose stock is mentioned in this article.
Additional disclosure: I am long SIRI January 2014 $2 calls.