The relentless 19-month price decline in gold and silver and in the precious metal mining stocks from early September 2011 until this month, March 2013, has resulted in exaggerated discounts in the mining sector relative to the price of gold and steeply discounted valuations for the mining stocks.
Gold decreased in price 17% in this 19-month period, but investors and hedge funds in fear of further imagined declines for gold have extrapolated mining stocks to lower levels based on prices for gold that have not materialized. This "fear factor" has left the mining sector below normal valuations. While gold declined 17% in the 19 months, Goldcorp (NYSE:GG), one of the highest quality senior mining companies lost 43% and (NYSEARCA:GDXJ) the Junior Gold Miners ETF lost a huge 62% of its value over this time period. Yet there are those who continue to call for gold to go lower simply because it "should" continue to keep on sinking, because that's what it has been doing. Rationale: If the roulette wheel lands on red five times in a row, then that's what it should keep on doing.
The following table shows the price and percentage declines for gold and popularly followed gold investments over this period.

Table by author
There is one disparity to bring to attention here, and one observation to consider:
The excessive discount of the mining stocks relative to Gold. I will use the SPDR Gold Shares ETF (NYSEARCA:GLD) as a representation for gold and compare the decline of Market Vectors Gold Miners ETF (NYSEARCA:GDX) to it. The large drop in the mining stocks relative to gold have created the "disparity" spread - the "window of value." I will also examine the low valuations that have resulted due to the decline in share price of the largest five mining stock holdings in GDX. This has occurred while earnings have only decreased marginally or remained flat. A few have increased earnings.
Observation: There has been "stealth accumulation" of mining stocks: While there has been much focus and attention given to gold flowing out from SPDR Gold Shares fund, there has been increasing volume in select mining companies with heavy surges of buying (like 3 million shares in 10 minutes) in these companies. GLD, "virtual gold," however, has had outflows of gold and "wimpy" volume in the same time frame.
Point 1: The "window of value" due to excessive discount. The best way to introduce this point is with a visual representation. The chart below shows the percentage price comparison of Market Vectors Gold Miners ETF to SPDR Gold Shares from end of Feb. 2012 when they began to diverge, until now. There are three points of interest for GDX in this chart:
Point A: July 25, 2012 at $40.40
Point B: September 21, 2012 at $55.25
Point C: March 6, 2013 at $35.57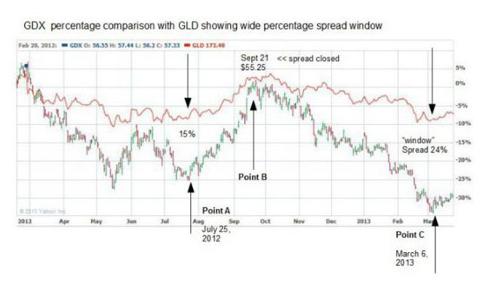 July 25 (point A above) was the low spot from which gold began its summer 2012 run-up to its September high. GDX had about a -15% spread below the value of GLD then. By September 21 (Point B) it had closed this spread to almost zero and in doing so gone from $40.40 to $55.25 and had gained 37%. The 15% spread between GDX and GLD was a value "window" that "closed."
From point B, September 21, the high, GDX declined from $55.25 down to point C at $35.57, losing $19.68, and -36%. GLD however only lost -12% between point B and Point C. On March 6 (point C) there was (or is now) a percentage spread of about -24% between GDX and GLD. If gold has bottomed, this represents a "window of value" that will soon close as the earnings of mining companies proceed to recover along with the price of the underlying asset - gold. Remember the previous window (a -15% spread) represented at point A, resulted in a 37% gain in two months. The spread now is 1.6 times greater now than it was at point A.
Could this translate into a 59% potential snap back if the discount spread was closed (37% x 1.6)? Remember, if a $100 stock goes down $36 to $64 and loses 36% (like GDX) did, it would have to gain 56% to break even. Short term, it appears that gold and the mining stocks are turning up. I am not saying that the spread has to close completely. Even a reversion to half of the spread would be significant. The "window" could be starting to close. Also, let me respond to criticism that I know will be made. I realize that over a longer term, e.g., 5 years, that GLD has outperformed GDX by about 85% and the spread only gets larger over time without "closing." I am looking at a short-term correction of an oversold condition from a particular point of reference - from 2/28/12.
The low valuations of the mining stocks. Share prices as noted above have declined sharply while earnings for many mining companies have only decreased marginally or remained flat. True, some mining companies are laggards. Barrick Gold (NYSE:ABX) showed a large $3.1B Q4 loss due to write downs. Newmont Mining (NYSE:NEM) is somewhat better, showing positive earnings with a P/E ratio ttm of 11.26 and Forward P/E of only 8.2 and a low price to book of 1.48. NEM has had a slightly negative -10.5 yoy earnings growth and has shown declining earnings even as production and revenue has increased. Its P/E ratio though is very low, especially the forward P/E ratio of 9.97. Below is a table showing the largest five holdings of the Market Vectors Gold Miners ETF.

Table by author
Goldcorp is one of these that is increasing earnings. Its earnings are higher now than in September of 2011 when gold peaked. Its earnings are about 13% higher now while its P/E ratio is about 22% lower (than in 9/11). It delivers consistent growth as evidenced in this gold decline, and pays a monthly dividend that was recently increased by 11%.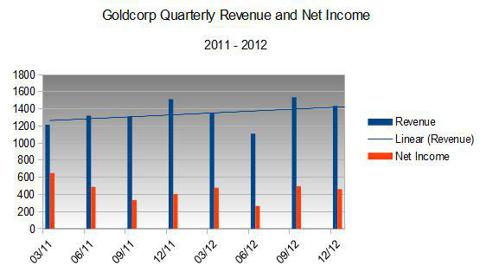 Chart by author
Is it surprising that Silver Wheaton (NYSE:SLW), thought of primarily as a silver streamer/producer, is now the fourth top holding in GDX? SLW is rapidly becoming a player in gold production. From their 2012 Annual Report:
Silver Wheaton is the largest precious metals streaming company in the world. Based upon its current agreements, forecast 2013 attributable production is approximately 33.5 million silver equivalent ounces, including 145,000 ounces of gold
Silver Wheaton is perhaps the most attractive of the group with its P/E down from 26.55 in 9/11 to 18.99 now and 15.61 forward. The earnings graph below shows that SLW's earnings in Q4 2012 are higher than Q3 earnings in 2011 when gold peaked.

Charles Schwab earnings graph
Strong Silver Wheaton buying activity noted: In the last 4 weeks SLW which has a daily average volume of 3M shares, has seen periods where 1 to 1.5 million shares were traded in a 30 minute period. This is visible on a one month 30 minute chart. Goldcorp also experienced huge buying surges. On March 15, 3 million shares traded in the last 10 minutes with GG closing up one cent on the day. This was the Friday the Cyprus bank story broke. This brings up the second observation:
2. Observation: Stealth Accumulation
As I noted above, there has been much focus and attention given to gold flowing out from SPDR Gold Shares fund. It continues to be a topic of discussion with articles such as: Gold ETF Sees Over $5 Billion Outflow As Prices Slump. What these writers are missing is that while there may be outflows from GLD, i.e. virtual gold, and paper gold, there is, conversely, accumulation of the physical metals and the companies that produce the gold and silver. The conventional thinking is that when gold forms its bottom and begins to move up, you will look first to the SPDR Gold Shares for confirmation. The buying has been under the radar as everyone is looking at the outflow from GLD and not looking at the mining stocks very closely. Physical gold and silver is being accumulated as well as the mining companies that produce the metals. The virtual and paper gold investments will be forced to follow along.
The well managed and profitable companies are especially being accumulated. This is where the buying is taking place. It may be seen on the one month charts of SLW, GG, and AUY. The buying and accumulation is occurring more in mining stocks rather than in the ETFs for gold and silver such as GLD and SLV. The volume on a chart of GLD is unimpressive. The volume on a chart of GG or SLW shows accumulation in large blocks on upticks with the overall price improving. Here is a one month chart with 30 minute intervals for SLW that show high volume spike of buying after bottoming on March 6.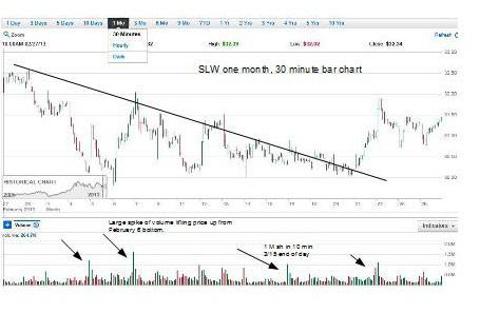 Schwab chart
In conclusion, all mining stocks as represented by GDX and GDXJ have suffered drastic share price discounts across the board without regard to the quality of the company and its earnings strength. High quality mining stocks such as Goldcorp, Silver Wheaton and Yamana Gold (NYSE:AUY) are on sale at discounts around 25%. This has created a discount spread in relation to the price of gold, the underlying asset of these companies. This appears to be a window of opportunity that will soon close as gold rebounds.
Investors also may not have noticed the accumulation of mining stocks and the bottom that is being completed as they are distracted by the futures markets and outflows of gold and funds from GLD. Gold has recently closed above $1600 again. Mining stocks have been trending up. The window of value may already be starting to close.
Disclosure: I am long GG, SLW, SIL. I wrote this article myself, and it expresses my own opinions. I am not receiving compensation for it (other than from Seeking Alpha). I have no business relationship with any company whose stock is mentioned in this article.