Walter Energy (NYSE:WLT) is a producer and exporter of metallurgical coal (also known as coking coal) for the metallurgical industry. Recent times have been hard for the company and its stock. After reaching a historical high of 143.76 in 2011, the stock has been in a fall ever since and closed at 28.10 in March, 25. This is an impressive 80.45% drop in price. Walter Energy is down 24.1% year-to-date.
Other coal companies showed similar performance. As of March, 25, Peabody Energy (BTU) is down 24.66% YTD, Arch Coal (ACI) shed 29.23% and Alpha Natural Resources (ANR) lost 18.82%.
Walter Energy is not a small company with some indistinct product or service. It is an established company with a business that operates in multiple parts around the world. What happened to the company? Does it represent a buying opportunity?
What went wrong?
On April 1, 2011 Walter Energy acquired all the outstanding common shares of Western Coal. This helped the company to gain access to high quality metallurgical coal mines in British Columbia (Canada) and West Virginia (US), as well as anthracite coal mines in South Wales (NASDAQ:UK). Of course, such an acquisition should be financed, and it was. That turned Walter Energy into an indebted company.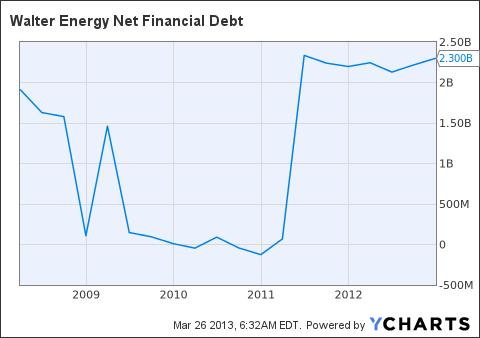 WLT Net Financial Debt data by YCharts
Metallurgical coal is used to produce steel. There is another major component for steel production - iron ore. The main steel producer is China. The problem is that China is self-sufficient on coal. It means that China's growth gives little boost to international coal prices, if any. Europe showed continued economic weakness during last years, and that contributed to coal prices drop.
The time wasn't the best one for the purchase. Walter Energy acquired producing capacity in the face of the stagnant market. To make matters worse, the company took debt to do this.
Where is the company now?
The company is trying to make the ends meet. It is exploring possibilities of asset sale and prodution cuts, while waiting for the coal market to grow and prices to stabilize at more comfortable levels. Walter Energy needs to be able to produce more from assets that it has or to get rid of them. If we look at the asset utilization chart, which shows how much total revenue is earned for every dollar of assets a company owns, we can see that the problem exists for the whole industry. BTU, ACI and ANR experience low level of asset utilization too.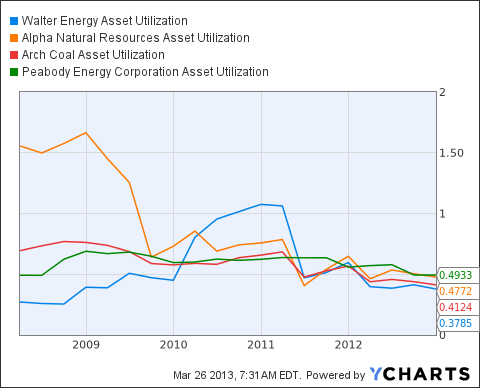 WLT Asset Utilization data by YCharts
Walter Energy announced an offering of $450 million of senior notes due 2021 with a coupon of 8.5% per annum. The proceedings would be used to repay $250 million of indebtedness and the remainder for general purposes. The company has recently taken debt. In the 4th quarter of 2012, it issued $500 million amount of senior notes due 2020. The main purpose was to repay indebtedness.
A British hedge fund Audley Capital Advisors, which owns WLT shares, stated that it can improve miner's performance by replacing half of its board. Not surprisingly, Walter Energy urged shareholders not to respond to Audley propositions. This shows the amount of tension that is currently around the company.
Is Walter Energy A Buy At Current Levels?
When considering adding WLT to your portfolio, one should think about several important things.
Debt. The company is going to take debt to finance previous debt. Hopefully for the company, most of its debt is long-term. When financing its purchase of Western Coal, the most short-term credit facility was for 5 years. It means that it should be repaid in 2016. Before that moment, the company has space to maneuver. Walter Energy could be vulnerable to credit conditions, as it clearly relies on debt to repay previous debt.
Coal prices. Coal prices remain under pressure, although they are expected to show some rise in 2013. Fragile economic recovery does not present a sure case to support coal prices. Latest news from Cyprus could hurt economic recovery in Europe, which would hurt steel prices and coal prices.
Production costs.The company needs to further reduce the cost of production if it wants to stay in good shape during the period of low coal prices.
The company will be holding an annual meeting of shareholders on April, 25. It would be useful to listen what the management has to say about recent developments. Would Walter Energy be successful in selling non-core assets? What does it plan to do with debt? I would like to hear answers to those questions before investing in the company. I believe that in the short term there is a significant risk of more downside for the stock.
Disclosure: I have no positions in any stocks mentioned, and no plans to initiate any positions within the next 72 hours. I wrote this article myself, and it expresses my own opinions. I am not receiving compensation for it (other than from Seeking Alpha). I have no business relationship with any company whose stock is mentioned in this article.