You would think that Best Buy (NYSE: BBY) stores would be seeing at least similar spending levels as last year, maybe even increases due to the retailer's main competitor going out of business. Recent MSSI statistics, however, show that the tough economic conditions are keeping Geezeo users spending less on their electronics and media. MSSI monthly spending has dropped by almost 7% since December and in the last twelve months an overall decrease of 5.67% has been observed. With weak consumer confidence this is not necessarily a surprise, however, it is indeed worrisome for Best Buy.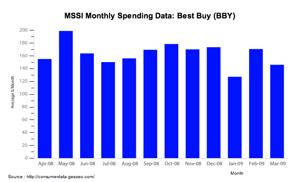 Looking at the customer frequency shows that compared with March 2008, the average Geezeo Best Buy customer increased their shopping there by 2% year over year and almost 4% overall in the last twelve months, which means that shoppers are spending less per trip. This trend, however, has slightly reversed in the last three months, with customer frequency lower in each month compared to December's figure.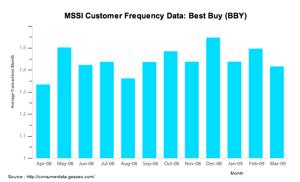 Circuit City's exit from the consumer electronics market should be helping Best Buy keep its numbers up, but rising competition from big-box retailers, such as Target (NYSE: TGT) and Wal-Mart (NYSE: WMT) seems to have negated any positive impact for Best Buy. The services that Best Buy provides are more specialized, but an uncertain economic future makes price levels more important. Rising digital media service use may also be a factor in this overall decline, services like TiVo (NASDAQ: TIVO) and Netflix (NASDAQ: NFLX) have made purchasing personal copies of the latest movies almost superfluous. In order to stay competitive with stores that offer customers a more all-around shopping experience, Best Buy must pick up their game. This data was compiled by the Geezeo Main Street Spending Index (MSSI).

Disclosure: No positions