There have been some interesting story lines since we last updated you on GT Advanced Technologies (GTAT) institutional shareholder holdings. The Top 20 Institutions held 72% of the 114M shares outstanding at the end of Q4, compared to almost 81% of 119M shares at the end of Q3.
The largest seller in Q4, Wellington Management sold 5.3M shares of GTAT during Q4 and if you remember from our last article - Wellington was the top buyer of GTAT shares in Q3 with a whopping 8.3M add. We can only speculate as to what is going on at Wellington but suffice it to say that if it bought in Q3 and sold in Q4 it probably lost a boatload of money. The largest seller in Q3, UBS Securities added 600K shares in Q4.
On Tuesday 3/25/13 GTAT shares rocketed 13% higher on positive news for the sapphire industry. Rumors that the new Google (NASDAQ:GOOG) X phone will have a sapphire screen coupled with tech reports suggesting the technology has come a long way and could be in everyone's next smartphone.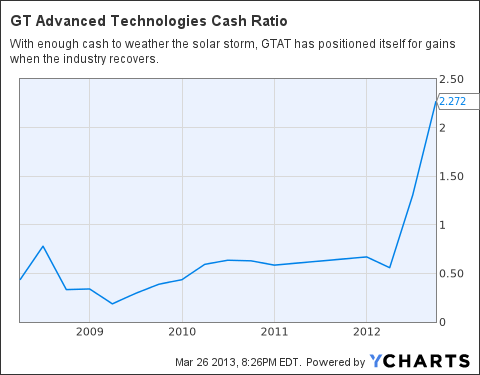 GTAT Cash Ratio data by YCharts
The fuel may have finally been lit under the shares with the first positive news story in over a year. Short interest is up since our last article 1.9M shares to 38.2M shares or 33.6% of shares outstanding. The reduced share count and increased short interest make playing the short side of GTAT even more dangerous than before.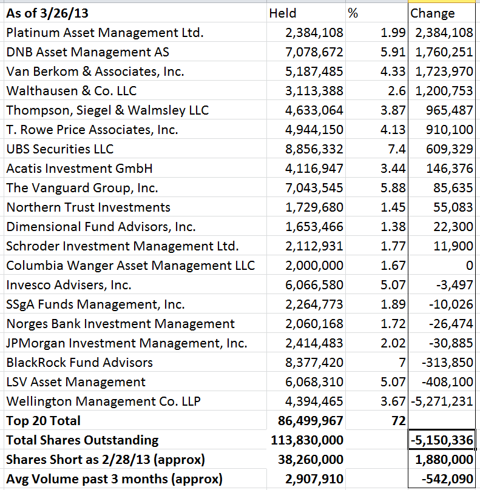 Disclosure: I am long GTAT. I wrote this article myself, and it expresses my own opinions. I am not receiving compensation for it (other than from Seeking Alpha). I have no business relationship with any company whose stock is mentioned in this article.