Share price of Costco Wholesale (NASDAQ:COST) has risen by 17% over the past 12 months. At $105.97, the stock is trading near its 52-week high and offers a 1.0% dividend yield. In my view, investors should continue buying the shares as there remains a solid price upside. My opinion is supported by the following:
1. Costco shares are inexpensive compared with their long-term historical valuation. The stock's trailing P/E multiple of 23.7x is currently trading in line with its 10-year historical average, which stands at 23.3x (see chart below).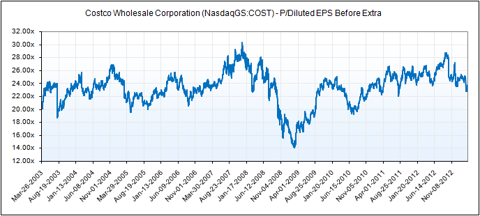 The company's revenue, EBITDA, and EPS growth rates appear to be the primary valuation drivers as they have been trending in a similar pattern as the stock's P/E ratio and their consensus estimates for the current and next fiscal years are almost consistent with their 10-year averages (see chart below).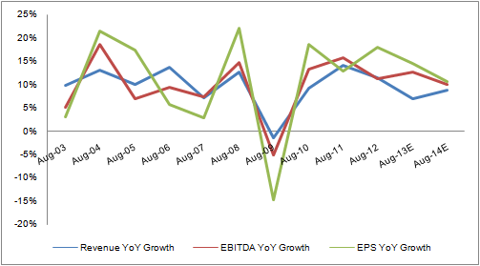 In addition, Costco has also experienced the following positive developments which should justify a higher stock valuation:
1) The company has been able to generate a higher return on investments as reflected by the rising ROE, ROA, and ROIC metrics (see chart below).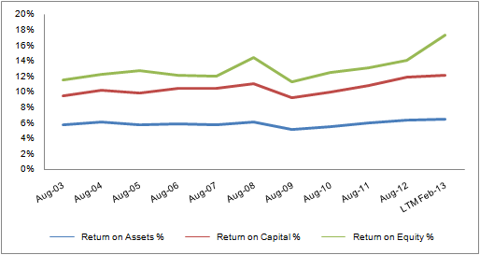 2) Costco has also been able to sustain a steady profitability performance as suggested by its stable margin measures (see chart below).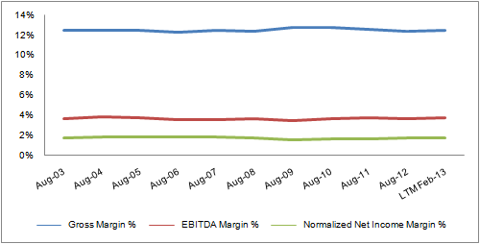 3) Over the past 10 years, although the company has taken additional debt load, it has managed to maintain the interest coverage ratio at a healthy level (see chart below).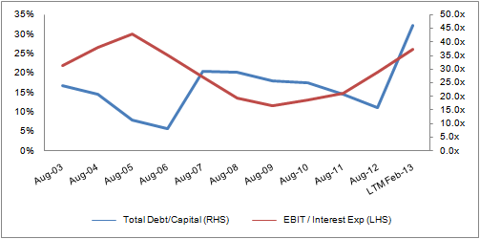 4) Lastly, Costco's same-store sales growth has trended steadily over the past 10 years, despite a one-time decline in 2009 (see chart below).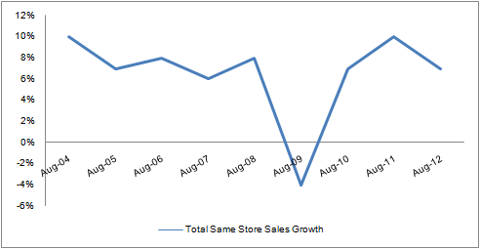 2. Costco's forward P/E multiple (next 12 months) at 22.4x trades at almost the same level in a year ago (see chart below).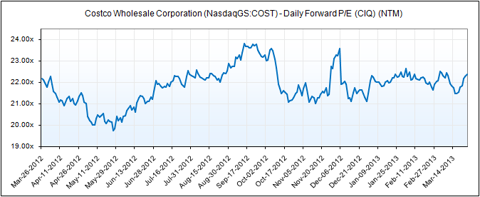 Given the fact that market's consensus revenue, EBITDA, and EPS estimates for fiscal 2013 and 2014 have experienced multiple upward revisions and their current levels are notably above the historical figures in a year before, the stock has actually become cheaper over the year (see charts below).



3. Mark Wiltamuth at Morgan Stanley has recently reiterated his overweight rating for Costco and raised the 1-year price target from $109 to $113 with the following positive comment (sourced from Thomson One, Equity Research):
"In our view, Costco's ability to deliver consistent mid single digit traffic trends in the face of a variety of economic landscapes highlights the strength of its customer loyalty driven business model. Looking forward, we see Costco's ramping international expansion as the next growth driver…We still like Costco at current valuations as investors get 1) the stability of 80% of earnings from membership fees 2) an upper income consumer ($96K avg. household income) 3) a way to play the new normal of economizing consumers 4) an emerging international growth story."
4. Since 2011, the share price has been riding on a strong technical support at its 150-day simple moving average.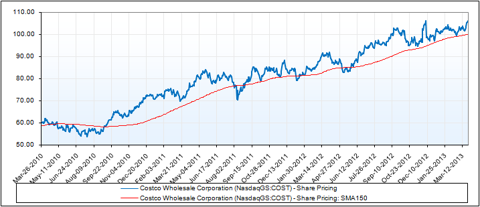 Bottom line, Costco's long-lasting price momentum will likely persist as the current stock valuations are completely warranted by the firm's solid fundamentals. Given the firm's solid growth potential ahead, investors should be a buyer now.
All charts are created by the author except for the consensus estimate tables, which are sourced from S&P Capital IQ, and all financial data used in the article and the charts is sourced from S&P Capital IQ unless otherwise specified.
Disclosure: I am long COST. I wrote this article myself, and it expresses my own opinions. I am not receiving compensation for it (other than from Seeking Alpha). I have no business relationship with any company whose stock is mentioned in this article.