The PowerShares CEF Income Composite Portfolio (PCEF), rolled out in February 2010, now has a brief record to give investors a better idea of how it performs. This fund of closed-end funds' distribution yield is currently (7.41%). Is that beauty only skin deep? A detailed look at the fund's holdings universe and other relevant issues sheds more light.
PCEF normally invests 90% of its total assets in securities included in the S-Network Composite Closed-End Fund Index. The Index serves as a benchmark for closed-end funds listed in the U.S. that seek to produce taxable annual yield. The Index divides these into three sectors: a) Investment Grade Fixed Income Funds; b) High-Yield Fixed Income Funds; c) Option Income Funds. Sector breakdown is currently: Investment Grade Fixed Income 40.47%; High Yield 19.35; and Option Income 38.00%.
The Investment-Grade Income portion includes government and corporate bonds, mortgage backed securities, and preferred stock, as well as various forms of debt securities or international fixed income securities in developed and emerging markets. The High Yield Fixed Income portion includes corporate high-yield bonds and senior bank loans, some of which may have allocations in non-U.S. government and corporate issuers. The Option Income sleeve invests in common stocks and write-call options with a focus on higher income, lower volatility, and favorable taxation.
The Index seeks a total universe of fewer than 200 fixed income and options closed-end funds with a minimum market cap of $100 million; with total expense ratios of less than 2.0%; and trading at a premium of less than 20.00%. Once those issues are factored into the mix, the S-Network Index Committee fine-tunes the list to exclude CEFs that do not meet its criteria for risk and sound business practices.
The Index, rebalanced and reconstituted quarterly, currently includes CEFs from a broad range of major securities players with fair to excellent track records, including Eaton Vance, AllianceBernstein, BlackRock, Nuveen, Putnam, Templeton, and John Hancock. The bond and stock coverage are roughly 75% U.S. and 25% non-U.S.
Top five holdings with their Morningstar rankings and YTD returns:
Eaton Vance Tax-Managed Global Diversified Equity Income Fund (EXG): 3-Star Neutral; YTD: 8.46%
AllianceBernstein Income Fund (ACG): 4-Star Gold; YTD: 1.73%
Eaton Vance Tax-Managed Diversified Equity Income Fund (ETY): 2-Star Neutral; YTD: 10.65%
BlackRock Enhanced Equity Dividend Fund (BDJ): 3-Star Bronze; YTD: 10.02%
AllianzGI NFJ Dividend Interest & Premium Strategy Fund (NFJ): 3-Star Bronze; YTD: 8.86%
PCEF resides within the Morningstar Conservative Allocation Category where it sports a 4-Star rating with High Risk/Average Return rating. The allocation breakdown is 53.39% bond; 11.88% non-U.S. stock; 27.46 % U.S. stock. The fund's expense ratio is a whopping 1.73%.
PCEF has offered a solid - though often volatile month-to-month - performance over the last three years: YTD: 5.73%; 2012 return: 12.79%; 3-Year return: 8.51%.
Here's how PCEF compares with iShares S&P Conservative Allocation (NYSEARCA:AOK) over the last three years.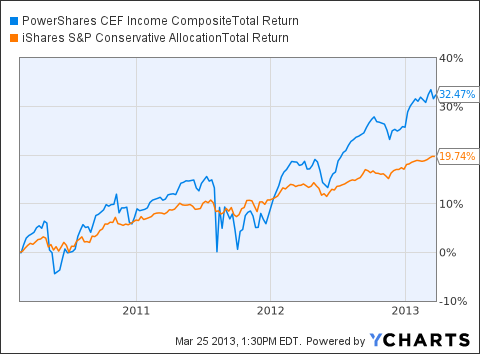 PCEF Total Return Price data by YCharts
In summary, this is an attractive fund with an excellent track record for a conservative allocation product with a tremendously attractive yield. Investors contemplating a purchase, however, should keep several things in mind.
Pluses:
There are very few conservative allocation ETFs within ETFdom. PCEF offers a very appealing package with a solid stock-bond-high yield mix. The S-Network Composite Closed-End Fund Index is well structured.
It offers a great yield, although this is likely to fall, rather than rise, over the near term.
The fund's holdings include a number of CEF gems, as well as a few with mediocre Morningstar ratings. However, a brief review of the CEFs in the fund with neutral Morningstar ratings shows that these funds have done surprisingly well in 2013.
PCEF has the potential, as yet not proven, to serve as an attractive long-term core holding with a generous yield around which to construct an extended ETF portfolio.
Minuses:
Expense ratio is high.
If buying or selling, use a limit order, as PCEF trading volume is relatively thin.
The fund is North American-centric, both in the stock and bond sleeves. Many conservative investors would prefer this, but the mix may not appeal to investors seeking more global coverage.
The fund is more volatile than other funds that might appeal to conservative-allocation and core-holdings investors. Losses could be major during periodic downturns.
Disclosure: I have no positions in any stocks mentioned, and no plans to initiate any positions within the next 72 hours. I wrote this article myself, and it expresses my own opinions. I am not receiving compensation for it (other than from Seeking Alpha). I have no business relationship with any company whose stock is mentioned in this article.