With the markets focused on the day-to-day situation in Cyprus, behind the scenes there is a tectonic shift going on in the global financial system, which is transferring enormous power from the west to the east. The end result of this shift will ultimately be the enormous devaluation of western fiat currencies (dollar, yen, euro, pound) and the enormous upward revaluation of gold and silver.
The significance of this shift is that it will substantially devalue western fiat currencies and most likely create a new global reserve currency that will be backed by gold. It is likely that the reserve currency, which emerges will be based on the Chinese yuan. How else would one explain this chart, courtesy of Agora Financial?: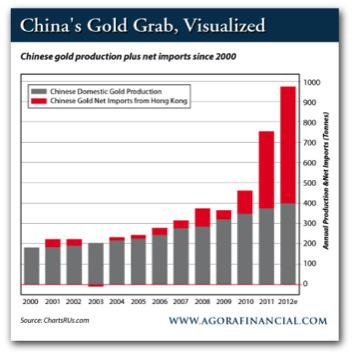 Further to my point, it was announced Tuesday that the BRICS countries (Brazil, Russian, India, China, South Africa) are planning to establish a new development bank that will bypass the World Bank and the IMF. Although this consortium of countries now possesses a majority of the world's foreign currency reserves and economic trading power, the U.S. has refused to give any of them a position of influence at the World Bank or the IMF. Given this, these countries have decided to by-pass these institutions in order to protect their currencies and economic interests:
The leaders of the so-called BRICS nations -- Brazil, Russia, India, China and South Africa -- are set to approve the establishment of a new development bank during an annual summit that starts today in the eastern South African city of Durban, officials from all five nations say. They will also discuss pooling foreign-currency reserves to ward off balance of payments or currency crises.
Here's the link to the Bloomberg news release: BRICS Bank.
Why is this significant? Because the leaders in these countries are increasingly worried about the amount of money that is being printed by the big western countries (Japan, U.S. and the EU) and the affects of that money printing on their massive foreign reserves: China/U.S. dollar. This is why China/Asia has been aggressively accumulating physical gold. In fact, Russia, Turkey, and Kazakhstan, just announced large additions to their Central Bank gold reserves in February: Asian gold accumulation.
Ultimately, the establishment of a BRICS development bank will enable the quickly growing developing BRIC countries to bypass the World Bank/IMF - the last bulwarks of western global financial dominance - and assert their growing influence in world trade and politics.
Interestingly, in a development for which I have seen no commentary, the U.S. banks have been quietly building a big short position in the U.S. dollar. In fact, last week per the latest COT report, U.S. banks ominously increased their U.S. dollar short interest by nearly 47% and the big bank U.S. dollar short position represents nearly 78% of the total USD open interest on the CME: $US COT report. Historically, when the big banks take an extreme position like this, it has been a bad bet to take the other side.
From a short-term perspective, the big bank short position in the U.S. dollar will be interesting to watch because I strongly believe that the price of gold and silver have bottomed and are getting ready to make a large move to the upside. I would argue that the big banks agree with this view because, as discussed in previous posts, the big banks that make markets on the Comex in gold and silver have reduced their net short position (gross longs minus gross shorts) to a historically low level. The big short position in the U.S. dollar further reinforces this view.
From a longer-term perspective, investors need to be aware of this growing shift in financial and economic power being asserted by the BRICS. Given that these nations are the ones accumulating gold - a natural hedge against an expected large decline in the value of the dollar/yen/euro - a wise investor will "follow the money."
I have personally been accumulating physical gold and silver on this recent price correction. For the fund I co-manage, I have been adding to the fund's physical holdings as new money comes in and I have been using our cash to slowly build leveraged positions in gold, silver and mining stocks using GLD, AGQ and NUGT. The physical metal we buy is for long-term holding, the leveraged ETF plays are to take advantage of what we believe will be a rapid and sharp move higher off this bottom. Don't forget that in 2008, after gold, silver and the mining stock indexes had bottomed, the Amex Gold Bugs Index [HUI] ran from its bottom of 151.5 (10/27/2008) to 302 (12/31/2008) - a 100% gain in two months. Ultimately it ran up to 635 (9/8/2011) - a gain of 420%. I expect we will see a move like that this time around as well.
Disclosure: I have no positions in any stocks mentioned, and no plans to initiate any positions within the next 72 hours. I wrote this article myself, and it expresses my own opinions. I am not receiving compensation for it (other than from Seeking Alpha). I have no business relationship with any company whose stock is mentioned in this article.
Additional disclosure: The fund I manage is long GLD, AGQ and NUGT