European markets are lower on news that they have stirred the bear to the North/East, and this could result in some very interesting events over the next 12 months. Russia apparently wants to force litigation to tie this up and prevent losing billions of its money, citizens' money, and undoubtedly slush funds of the politicians and various groups of influence. Our guess is that the Russians begin to put "surcharges," "special taxes," and/or "delivery tariffs" on natural gas and other energy going into the EU to not only get what they feel has been taken from them, but also to make a little interest off of the whole exercise.
If we were Europe this is one tree we would not be barking up, but it is Europe and it has a tendency to do as it pleases -- especially knowing that America has its back and that any military action is effectively off of the table. Much worse has happened over less than 10 billion euros, but we see an energy embargo as the worst case here.
Chart of the Day
It's obvious why Russia is mad about the tax on deposits as it makes up most of the 31% of outside eurozone sources and will have to shoulder most of the burden. Domestic accounts will mostly be spared from what we understand, which protects the politicians from the voting class. The real crooks in all of this turn out to be the European Union, which only had 7% of deposits located in the banks. Now there is no telling how many accounts qualify for the tax within that 7%, but it is obvious who had the most exposure here and did not have a say at the table (other than deciding to shoulder the majority of the bailout by doing it themselves). Thus we understand their desire to sue in order to block this bailout tax from proceeding.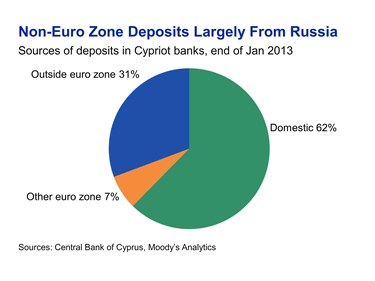 Chart courtesy of Economy.com.
We have economic news due out today, and it is as follows:
MBA Mortgage Index (7:30 a.m. ET): N/A
Pending Home Sales (10:00 a.m. ET): 2.0%
Crude Inventories (9:00 a.m. ET): N/A
Asian markets finished mostly higher today:
All Ordinaries -- up 0.85%
Shanghai Composite -- down 1.09%
Nikkei 225 -- up 0.18%
NZSE 50 -- up 1.52%
Seoul Composite -- up 0.49%
In Europe markets are trading lower this morning:
CAC 40 -- down 1.41%
DAX -- down 0.89%
FTSE 100 -- down 0.52%
OSE -- down 0.35%
Retail
Our favorite retail play, Gap (NYSE:GPS), was in the news again yesterday in a feature on CNBC's "Talking Numbers" segment due to its Athleta chain it is rolling out across the country and how this will affect Lululemon (NASDAQ:LULU). As investors in the retail sector know, Lululemon turned out not to be a fad stock but rather a new generation retailer with a strong core consumer group. Gap is doing what it does best and that is branding the experience and bringing the style, quality and experience to the masses.
We have always marveled at how the company is able to create new brands and successfully roll them out, and although we feel that this targeted audience is much smaller than that of Old Navy, for instance, we think that it could have a bigger impact than many are expecting. The pricing power among this segment is strong and so too are margins. This is part of the reason we have remained bullish on Gap, even when it was looking bleak a few months ago. Athleta is the wildcard right now because if it works, then it will be an added bonus, and if not the company still has the best management team in retail right now with the strongest results coming out of this "rebranding." We're still buyers here.
Gold
Lately we have been pretty wrong about gold. We have been thinking that the tide would turn at the $1,600/ounce level and we would either bounce back strongly or have a nice creep higher. Instead, prices have been stagnant within a range of +/- 10 points it seems. If having something not move down on you in any meaningful terms and essential remain neutral is being wrong we will take it, but needless to say we are a bit disappointed with the whole stagnating and inability to move on news. So short term we are shifting to a neutral stance with a 12- to 18-month bullish view.
With the ugliness in the gold market and the share repurchase already having taken place, it has almost been a round trip for readers in AuRico Gold.
Click to enlarge images.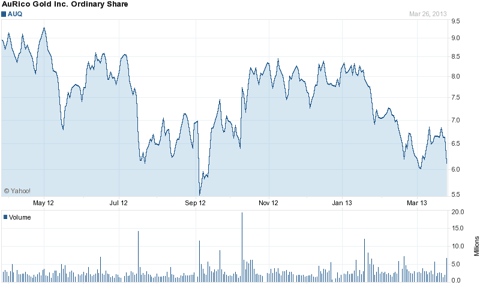 Chart courtesy of Yahoo Finance.
Even with gold performing the way it has, we figured that AuRico (NYSE:AUQ) Gold would be a good way to benefit from improving operations and a management team focused on turning the ship around. Yet yesterday we noticed shares having fallen $0.51 (7.68%) to close at $6.13/share on volume of 6.7 million. It is concerning from a short- to medium-term outlook, but with this sort of value we believe that our logic of a buyer emerging becomes more of a reality if shareholders are not impressed with the turnaround that management is working on. It was a great call on the fall by us, but many of our gains have now dissipated. We can understand readers who want to book the 10%-15% profits that would still be on the trade now and move elsewhere, because it sure has gotten ugly fast after the share repurchase.
Rare Earths
We wanted to highlight Molycorp (MCP) in this article today because at one point it was a Wall Street darling. Fact of the matter is, the company now finds itself the redheaded stepchild (nothing against redheads or stepchildren either!) and unable to get any love from investors or analysts. We have stated that we are watching this to see if it can create a base to make a move off of. However, it has acted bearish in recent sessions and yesterday investors saw the shares hit new 52-week lows, which coincidentally are all-time lows as well. We are not buyers at these levels with this price action and will remain on the sidelines until we either see a base or the start of a reversal. Make no mistake, though, this is a trade and not an investment.
Healthcare
A few months back we were heckled by some readers (that is being kind because we believe with DNA testing they would most certainly have been proven to be trolls -- most likely of the Internet troll variety!) due to our views on Star Scientific (STSI), which rose strongly on news of its new products. And we saw that strength turn the stock into a day trader's paradise for a brief period of time. It turns out our thinking was correct and we are right back down at levels that are more "normal." Everyone gets protective of their stocks and portfolio, and at times rightfully so. But when unforeseen rises and spikes happen that cannot be explained due to their suddenly sprouting up or larger increase than normally expected -- well, that is when we have found it best to book profits, feel lucky that you were caught in the right place at the right time, and take your capital elsewhere to invest. it would have worked out great here as the John Hopkins controversy would have been avoided as well as the just-released news that the U.S. Attorney General is investigating the company going back to 2006.
The round trip has now been completed here. Took a little longer than anticipated for it to deflate, especially with the news, but here we are.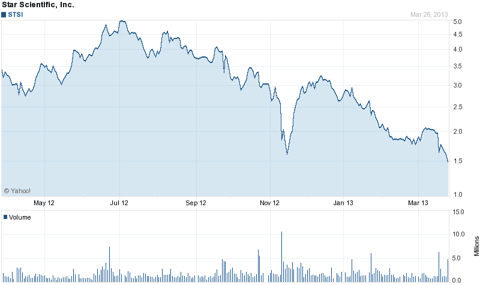 Chart courtesy of Yahoo Finance.
Investors in ZioPharm Oncology (NASDAQ:ZIOP) received an unpleasant surprise yesterday when its drug, palifosfamide, failed Phase III trials. The company was hoping that the drug would reduce and or slow the growth of sarcoma tumors. The company is going to continue to look to other cancers where the drug may prove beneficial to patients. However, investors made a hasty exit yesterday as shares fell $3.31 (64.52%) to close at $1.82/share on volume of 31.1 million shares. Billionaire Randal J. Kirk is still a shareholder, but he can afford to make all-or-nothing bets like this and is here long term it would seem.
Disclosure: I have no positions in any stocks mentioned, and no plans to initiate any positions within the next 72 hours. I wrote this article myself, and it expresses my own opinions. I am not receiving compensation for it (other than from Seeking Alpha). I have no business relationship with any company whose stock is mentioned in this article.