We are watching a rally take place in many of the names that have done precisely that over the past few months. It is a gains-on-gains trade, or momentum trade if you will. Markets climb on fear, be it fear that the market will fall and people on the sidelines keep their money out until they can wait no longer, or even fear that one will miss out on a market move and rush in to buy. Fear can drive a market lower, but also higher, and we are watching the mainstream media to see how much talk of the stock market rally is happening. Seeing the money sitting in bank accounts providing essentially zero yield moving into the market would be an uber-bullish sign. Seeing the money sitting in brokerage/money market accounts moving in would be just as bullish because there really is that much liquidity and capital sitting on the sidelines right now.
Commodity prices this morning are as follows:
Gold: $1597.70/ounce, down by $4.00/ounce
Silver: $28.20/ounce, down by $0.479/ounce
Oil: $95.84/barrel, down by $0.50/barrel
RBOB Gas: $3.1068/gallon, down by $0.0038/gallon
Natural Gas: $3.992/MMbtu, up by $0.001/MMbtu
Chart of the Day
Looks like we may have been wrong about our call on selling oil at the $94/barrel level or so earlier this week. This move has proven to be a bit more resilient than we figured. We would still rather own those increasing production through the drill bit than the physical commodity.
Click to enlarge images.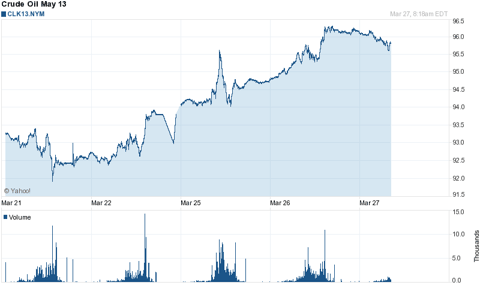 Chart courtesy of Yahoo Finance.
Oil and Natural Gas
It was another big day for Gulfport Energy (NASDAQ:GPOR) yesterday, and on no news it must be added. There could have been a newsletter writer or analyst whose reports we do not have access to publishing something; however,. we did not even hear anything through the grapevine of others we talk to who get the publications we do not. We are left to wonder whether this means that some drill results came back favorably or even some data -- much like what happened at Rex Energy a week or so ago. Needless to say, it was a good day for our portfolio on the back of that move as the position is now our largest and actually has been since we exercised our options before they were due to expire. We are within 10% of our initial price target of $50/share for the company, and have been working on a new estimate based on the recent actions of the company and adjusting for the results we already have. It obviously will be higher, but we are still smoothing out the numbers and adjusting prior assumptions made before some of these latest transactions, so it is a work in process.
Those who are bearish here have certainly had a rough go of it for some time. They had a brief period to celebrate around the offerings, but results sparked a fresh rally. Still long and strong.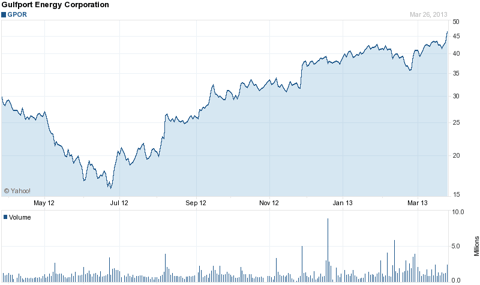 Chart courtesy of Yahoo Finance.
We are a little disappointed that Halcon Resources (NYSE:HK) rallies every time it gets within shouting distance of our previously stated entry point when we are watching. Granted, we have missed an opportunity or two lately when we have been out of the office (it is not our habit to leave standing orders in when not around and potentially big financial events occurring -- think the Cyprus news recently). We are still interested and will be looking to add a position here if we can ever get hold of a pullback. This is a perfect stock for a medium-term outlook for the oil and liquids plays as the company will most likely not be around long enough to develop half of their acreage. We think the shares are worth $10 to investors with a bit more development and could be worth $20-$30/share to the right buyer a few years out.
Shares in Quicksilver Resources (NYSE:KWK) rose sharply yesterday after they announced that Q4 earnings and full-year 2012 earnings would actually be higher than previously reported due to an accounting change. They moved deferred items into recognized gains/losses and obviously there were more gains than losses, which created a larger profit for the company. Not exactly the type of news we want to see move a stock dramatically higher in this sector, but up is up. Let us see drilling results and production results push them higher and the hedge business will usually take care of itself. That news does not make us buyers of the shares.
Yesterday we discussed Kodiak Oil & Gas (NYSE:KOG) and how $9/share has been an entry point for traders on both sides of the trade (bulls and bears alike). It proved to be the point yesterday as shares traded as high as $9.22/share or almost 3% higher and never traded in the red during the session. Shares ended the session up $0.20 (2.23%) at $9.16/share on volume of 7 million.
Coal
Speaking of trades, this one is nearing $8/share again and has proven quite a few times that an entry here can be quite lucrative. We are of course once again discussing Alpha Natural Resources (ANR), which closed yesterday at $8.12/share after falling just over 2.5%. Shares traded as low as $7.98/share before bouncing back so it indicates to us that there was a bid around that support and so long as it is not breached today on any downwards movement, then we could see an opportunity for a quick trade higher. Readers have made money trading in and out of this, and also buying on dips all the way up from the lows, so there are numerous ways to play it. But we find the short-term trading much more attractive at this time.
Yesterday's intraday chart shows strong support around current levels -- maybe a move higher is in order, although we are cautious after yesterday's failed attempt.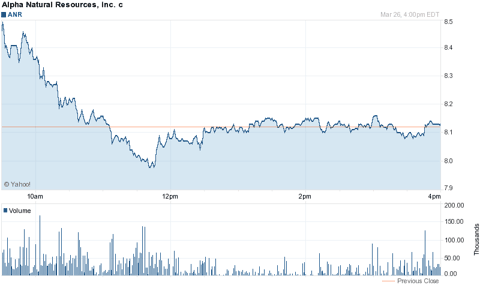 Chart courtesy of Yahoo Finance.
Disclosure: I am long GPOR. I may trade ANR today depending on markets. I wrote this article myself, and it expresses my own opinions. I am not receiving compensation for it (other than from Seeking Alpha). I have no business relationship with any company whose stock is mentioned in this article.