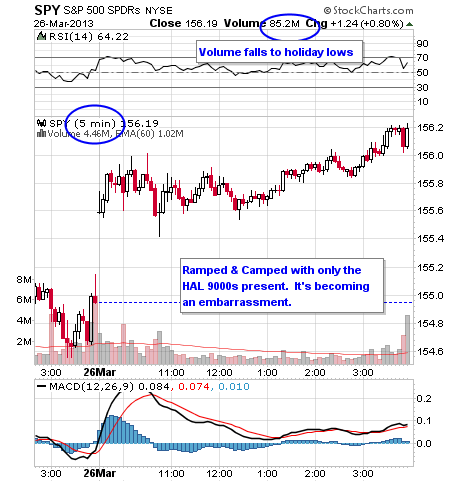 No 1,565 for you!
That was my comment to members in early morning chat today as the markets began turning sour in Europe as Cyprus continues to be a worry but, more importantly, Spanish and Italian 10-year notes are pushing back to 5% as the fantasy of EU support runs into the harsh reality of abandonment in Cyprus. This was no surprise to us as we had already labeled the run-up as fake, Fake, FAKE and have been tilting more bearish since last week.
We had some quick fun in the Futures this morning, riding the Nikkei and Oil down for quick profits, but I already (7:29) warned people not to be greedy as we're just looking for that Egg McMuffin money in the morning and oil already hit $350 per contract and the Nikkei was good for $250 per contract - which is never bad for an hour's work, is it?
Why not stay bearish? Because we figure we're still good for a big prop job into tomorrow's close and we have 4 Fed doves putting up a wall of Fed-speak between 11 am and 1pm (Evans, Rsengren, Pianalto and Kocherlakota) ahead of the 5-year note auction so it's not very likely they'll say any words other than encouraging ones for the bulls. If the S&P Futures (/ES) fail to hold 1,550, however - it will be "game on" again with our futures shorts.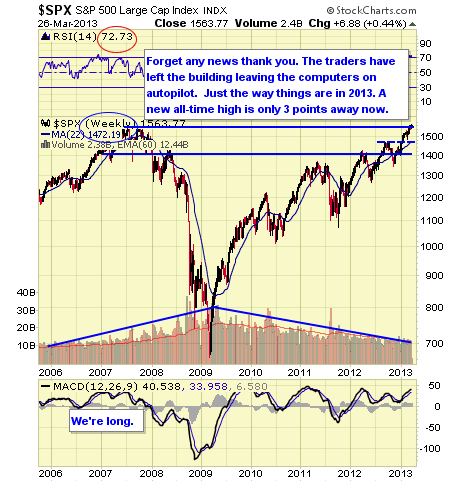 As noted by Dave Fry on these S&P Charts, reality and the indexes are not currently on speaking terms when even the collapse of an EU nation and its banking system resulting in massive losses for bondholders and uninsured depositors can't get the markets to take a pause that lasts through lunch - give us a break!
Obviously, I'm no perma-bear - just last week I said we could ignore Cyprus because it wasn't big enough to interrupt the planned prop job for the end of quarter and I pointed out that the average global citizen does not give a crap if a bunch of rich people lose 40% on their deposits over $130,000. Now we've seen that that's true but what next?
Now we have a bit of a trough until earnings season kicks in around April 8th (NYSE:AA) but we're already starting to see from some early reporters that expectations may have been set a tad high for Q1. JASO, FMCN, PRTS, LGP, NEOG, TRQ and MFRM already missed this week and that's 7 of the 17 companies that reported Monday and Tuesday. None of them are market leaders BUT - you sure can't call it a good start, can you?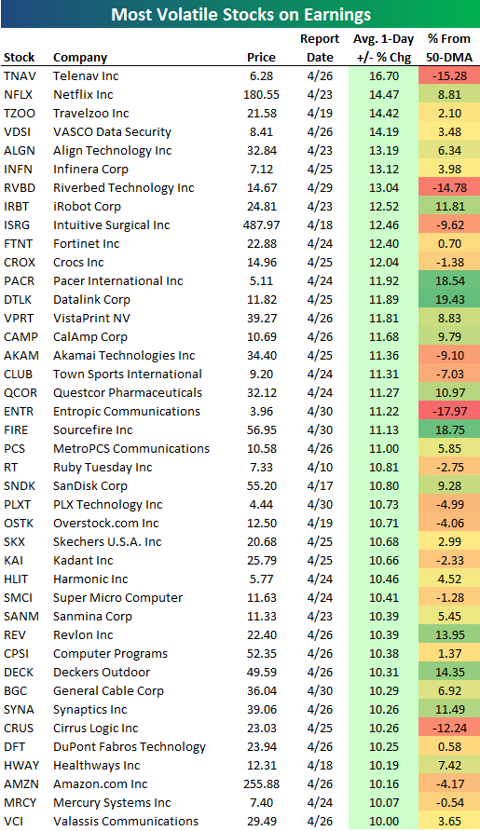 Click to enlargeIf the market was down 15% since Thanksgiving instead of up 15%, I'd be pointing out that 10 of 17 beat so things aren't that bad but the markets are not priced for "not so bad" - they are priced for great and 10 for 17 is not great, it's 58% and, 2 of those 10 were only in-line and ENVI beat a .16 loss with a .15 loss and MBLX beat a .29 loss with a .28 loss so take out those 4 and now we're missing 7 of 13, more than 50% misses!
So it's going to be a fun and exciting earnings season and we rocked our predictions last Q so we're very excited by Bespoke's very helpful list of the Most Volatile Stocks on Earnings as StJ and I have a nice system for playing them, which combines TA and FA, that's been delivering fantastic returns on our earnings spreads - so we'll certainly give it another run next month.
As I write this, oil is creeping back to $96 (we set a stop at $95.75 when we were below it) but, unfortunately, we have inventories at 10:30 and there's usually a pump into those so we may have to wait to jump back in on our Futures shorts but, as with last month, we're generally thrilled to commit to selling all the $96 barrels of oil the NYMEX crooks want to pretend to be interested in buying as there are still over 300M barrels worth of open contracts for May delivery when, in fact, last month they only actually accepted delivery of 9Mb, lower than the average 15-20Mb, which is still A LOT lower than 300Mb.
I'm still waiting for Obama to get back to me as I laid out our plan for breaking the backs of the NYMEX speculators in 30 days or less last month and I know these things take time to go through committee but jeez guys, let's get the ball rolling before summer driving season.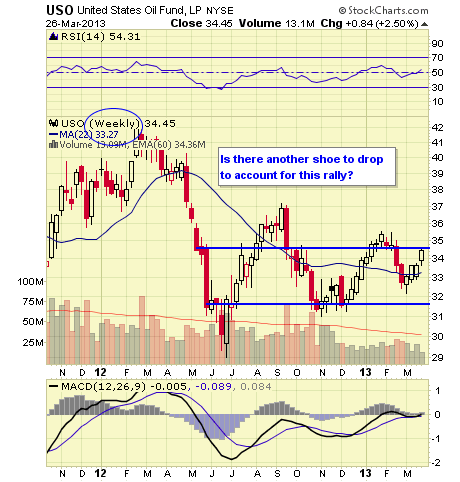 Without Obama's help, we have so far had to content ourselves to those quick $250-$500 gains (.25 or .50 moves) but, like Fred Sanford - I can feel the big one coming...
Morningstar just downgraded "five coal companies" which included TCK, ANR, ACI, CNX and CLF, citing "slowing economic growth," which is another reason not to like oil today but we do hold Cliffs in our virtual income portfolio at net $19.90 and I should point out to Dave Sekera at Morningstar that CLF only mines coal (4% of the company's total business) because they are BUYERS of coal to MAKE IRON (95.9% of company value) and that lower coal prices are a NET BENEFIT to the company and, since CLF is 68.5% North American Iron Ore Sales and just 27.4% Asia-Pacific Iron Ore Sales - we thought they'd be an ideal way to play (long-term) for a US recovery.
Maybe we're wrong and, so far, we have a commitment to buy 1,000 shares at 20 in 2014 but, as they drop to $19 on the downgrade, it's a fantastic chance to bet against the sheeple and sell the 2015 $18 puts for about $4.50, which is net $13.50 and puts the stock price well below book value but MS has now dropped their 2013 price target to $14 and CS to $10 on debt concerns ($6Bn) so, while we're happy for the opportunity to roll to a lower strike, we won't be very quick to add shares until we feel confident we're not catching a falling knife.
In fact, I just noted to Members yesterday that, even in this massive rally, there are still plenty of bargains to be found - especially around earnings but a misguided downgrade like this is a gift that should be gratefully accepted - especially when you are on an early entry, scaling into a stock - as we generally do.
Still, we're not too keen on buying things this week as we expect a bit of a correction next week, once the EOQ prop job is over tomorrow so we'll plan on keeping bearish through the weekend and we'll be pleasantly surprised if the rally is determined to continue next week.
Disclosure: I am long AAPL, GDX, TZA, GLD, ALU, DBA, GLW, FCX, CLF, SCO. I wrote this article myself, and it expresses my own opinions. I am not receiving compensation for it (other than from Seeking Alpha). I have no business relationship with any company whose stock is mentioned in this article.
Additional disclosure: Positions as indicated but subject to change (fairly bearish mix of long and short positions - see previous posts for other trade ideas). Commodity positions are very short-term and not tradeable by the time you read this.