Introduction:
In this article I will see what prospects PVH Corp (NYSE:PVH) is having for the next 4 years and will compare its prospects to the global leader of the apparel industry, VF Corp (NYSE:VFC). This way we can decide if PVH would be a good investment at current levels and whether or not VFC would be a better investment. Current shareholders will find out what they can further expect from their stock since PVH has been up 41% since August last year.
To start my thesis, I'll give you a short introduction to both companies and will compare their current valuation, profitability and financial strength in three simple excel-tables.
PVH Corp (in this article: PVH) is one of the biggest apparel clothing companies in the world with almost 6B in revenue and a market capitalization of 8.33B. The company's most important brands are Tommy Hilfiger (52% of total revenue) and Calvin Klein (18% of total revenue). PVH has proven to be very recession proof (EPS past 5 years +10.57% and sales past 5 years have gone up at an average of 23.02%).
VF Corp (in this article: VFC) on the other hand is the biggest apparel clothing company in the world by revenue (10.88B). VF launched a Growth Plan in 2004 that began the process of transforming VF into a global lifestyle apparel company. Today, VF's biggest and fastest-growing business is Outdoor and Action Sports, accounting for half of global revenues. Its most important brands are: The North Face, Vans, JanSport, Eastpak, Reef, Kipling, Napapijri, lucy, Eagle Creek, Timberland and Smartwool.
Both companies are counting on the BRIC for further growth opportunities.
Comparison:



VFC is more efficient and is getting higher margins than PVH.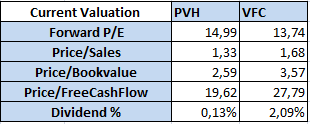 Both companies are valued at around a forwarded P/E ratio of 15 and against multiple times their book values. PVH seems "cheaper" but if you would buy VFC at current price levels, it would reward you with a 2.09% yield, PVH would not. You should keep this in mind.


Following these ratios, VFC is financially healthier than PVH. But PVH's strong free cash flow should prevent it from getting into trouble.
Future earnings:


The above projected earnings are made by the management of PVH. They expect to earn $11 per share by 2016. This would indicate a CAGR of 15%. I believe this is a realistic target even though there are some economic difficulties going on in the world. The company has proven to reach goals in the past (during the financial crisis etc.) so I don't see any reason why they won't be able to do reach this goal in the future.


For \VF's model, I've used the projected earnings forecast for the next 4 years, made by 24 analysts following VF. They expect the company to report $15.3 EPS by 2016. This indicates a CAGR of 12%.
(I used the consensus so these targets seems fair).
Future valuation: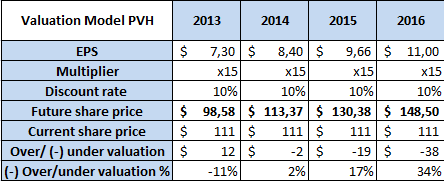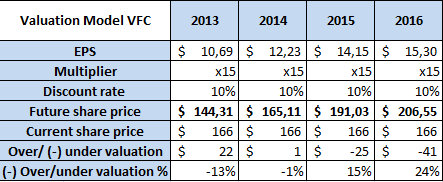 Following my valuation model which is using a multiplier of 15 and a discount rate of 10%, PVH could have a 34% upside potential by 2016 which would indicate a 8.5% annual return.
VFC would be fairly valued within 4 years at around $206.55 which indicates an upside potential of 24% or a 6% annual return (dividends excluded). If dividends were included and would grow by 8% each year, which is realistic as the annual growth rate of VFC's dividend has been 8.3% the last 7 years, then you would have an 8.35% annual return
Conclusion:
I feel that both companies are very alike and are currently overvalued (or at least fairly valued) and not worth an immediate buy. I'd wait for a nice pullback of at least 15% and would then consider initiating a first position in PVH as it is having a larger upside potential than VFC and a very low payout ratio (2.55%) which is likely to rise in the future. This could mean an extra increase in return during the next 4 years. Investors who are currently holding a position in one of these stocks have no reason to sell but they could take some of the profit and should wait for a pullback to get back in.
Disclosure: I have no positions in any stocks mentioned, and no plans to initiate any positions within the next 72 hours. I wrote this article myself, and it expresses my own opinions. I am not receiving compensation for it (other than from Seeking Alpha). I have no business relationship with any company whose stock is mentioned in this article.
Additional disclosure: The opinions in this document are for informational and educational purposes only and should not be construed as a recommendation to buy or sell the stocks mentioned or to solicit transactions or clients. Past performances of the companies discussed may not achieve the earnings growth as predicted. The information in this document is believed to be accurate. All the project earnings in this article are not accurate. They are a result of the assumptions used in my personal earnings model. Under no circumstances should a person act upon the information contained within. I do not recommend that anyone act upon any investment information without first making an analysis yourself or without first consulting an investment adviser.