The University of Texas San Antonio (UTSA) released preliminary findings today for its second annual study of the impact of the Eagle Ford Shale on the Texas economy. In its first study for 2011, UTSA found that the oil and gas rush in South central Texas had an economic impact of $25 billion in the 20-county area, and supported 48,000 jobs in the oil and gas industry. But from 2011 to 2012, oil output in the Eagle Ford Shale nearly tripled from 128,000 barrels per day to 363,000 barrels per day, and that surge in oil production boosted the economic impact significantly according to UTSA's new study for 2012.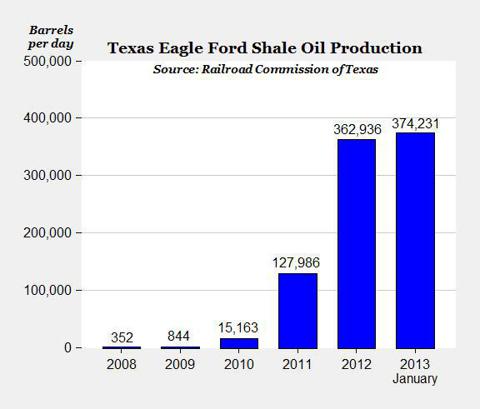 Here are some of the preliminary findings of UTSA's most recent estimates of the economic impact of the Eagle Ford Shale in 2012 (full report will be released on Thursday):
1. Total economic impact on the 20-county area: $61 billion, up from $25 billion in 2011.
2. Number of jobs supported: 116,000, many in Texas counties that just five years ago were declining in population, up from 48,000 jobs in 2011.
3. Tax revenue in 2012: More than $1 billion in local government revenue and $1.2 billion in state tax revenue.
Here are some news reports today from the Houston Chronicle, the San Antonio Express News, and 24/7 Wall Street about the UTSA economic impact study of the Eagle Ford Shale.
Economic activity related to the oil and gas boom in the Eagle Ford Shale area of Texas is delivering a stimulus to the state's economy of more than $1 billion every week. In addition, Eagle Ford Shale area companies hired more than 260 new workers every day in 2012 for shovel-ready jobs in the oil and gas industry, and paid almost $5.5 million every day in tax revenues to the state.
What makes the Eagle Ford Shale story so amazing is how fast development, investment, and production has taken place there. As the chart above illustrates, the Eagle Ford Shale oil boom didn't even really start until 2011, and then oil output almost tripled in just a single year. Suddenly, Eagle Ford Shale became the "single largest oil and gas development in the world" last year and created an unexpected $61 billion economic "windfall" for Texas that came out of nowhere. One of the strongest reasons to be optimistic about America's economic future is the energy revolution, which is best illustrated by the amazing job- and prosperity-creating shale formations of Eagle Ford in Texas, the Bakken in North Dakota, and the Marcellus in Pennsylvania.